'I Dream of Jeannie': Larry Hagman Admitted to Flipping Out on Set: 'Even the Wax From My Ears Was Coming Out'
Acting legend Larry Hagman earned his stardom for his work in I Dream of Jeannie and Dallas. Behind the scenes, he also earned a reputation for being demanding and at times, flat out rude.
The late actor even came clean about being difficult, and Barbara Eden shared tales about some of his less than stellar conduct too. Hagman had moments where he spoke candidly about his behavior, and one story revolved him having a "breakdown" on the set of I Dream of Jeannie.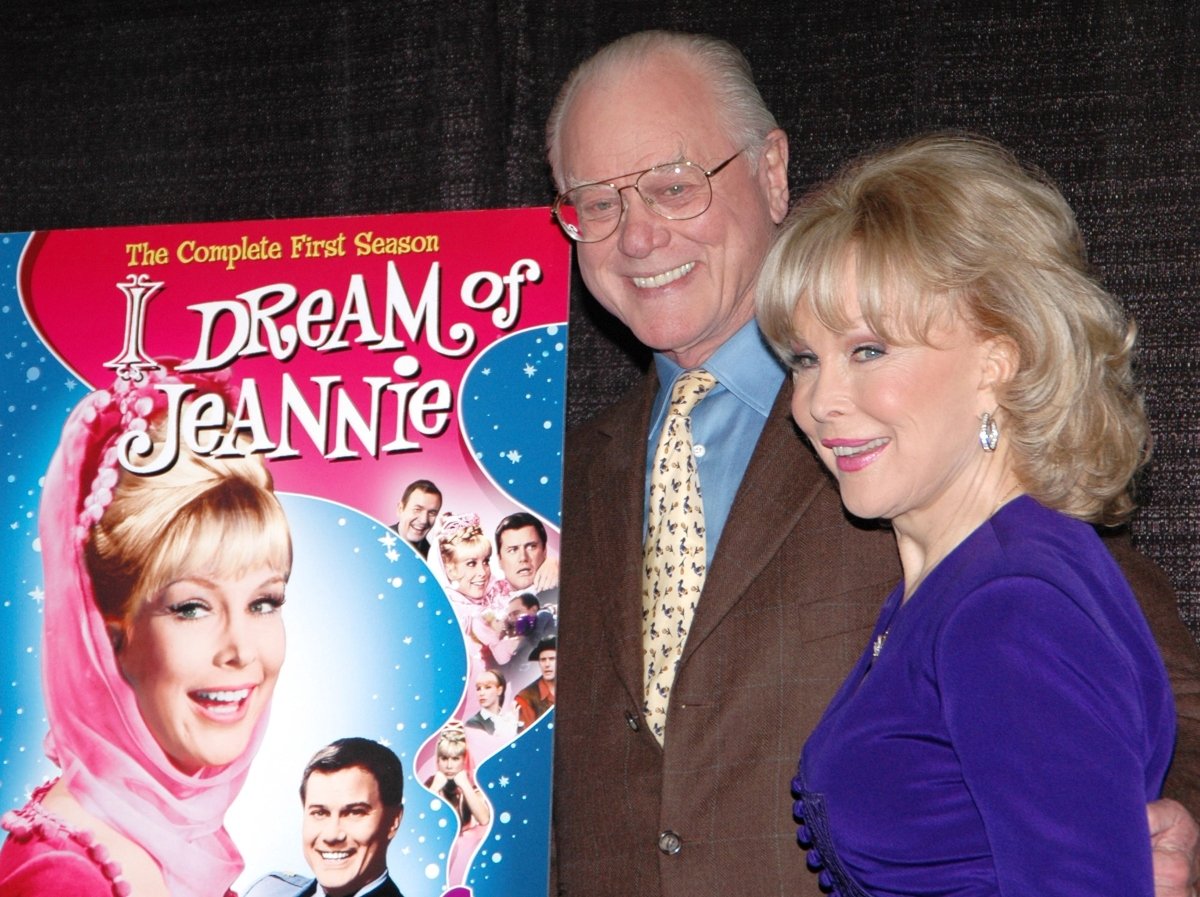 Larry Hagman quit pills and tobacco cold turkey
Although Larry Hagman admitted to having an alcohol addiction, he also experimented with taking pills.
After his wife Maj gave birth to their son, her doctor gave her a prescription that was intended to assist with weight loss. According to Hagman's autobiography, Hello Darlin': Tall (and Absolutely True) Tales About My Life, he started taking some too.
What they didn't realize is that they were stimulants, and they gave Hagman extra energy and more. "Throughout Jeannie's first season, I took them twice a day without knowing the psychological effects they were having on me," he wrote.
Hagman explained when his wife went for a refill they both learned something. The pharmacist explained it was against the law to keep selling that particular drug due to its addictive properties. He and his wife quit the prescription and tobacco right then.  
Hagman broke down on the set of 'I Dream of Jeannie'
Going through withdrawal was not easy. Hagman described how hard it was for him to "come down" from nicotine and amphetamines, and that it caused obvious problems. His I Dream of Jeannie director Ted Flicker noticed he "flipped out" and recommended a therapist.
At first, Hagman resisted the idea. "I pooh-poohed it until one day on the set I lost it all," he wrote. "I don't know what triggered it, but I had a breakdown. I was crying, vomiting, and shit*ing at the same time. Even the wax from my ears was coming out. I was exploding," Hagman recalled.
He went on to say he finally decided to see the therapist his director recommended. They loaded Hagman into a pickup truck and drove him straight to the man's house. There, Hagman finally calmed down and the first piece of advice he received was to stop worrying.
That initial therapist visit turned out to be life-changing and he continued to go to sessions for a few years. From there, Hagman started delving into metaphysical studies and psychedelics. As many fans know, he also experimented with LSD. To him, it was for healing.  
Hagman had other outbursts
Hagman's book is full of anecdotes about the highs and lows of his career, including his penchant for being pushy. In another incident, he attempted to urinate on Columbia Studios because he was angry.
In the mid-'90s, Hagman received a liver transplant which he attributed to his drinking. He died in 2012 at age 81 following a leukemia diagnosis.