'I Dream of Jeannie': Larry Hagman Took This 'Anything Goes' Approach to Relax Before His Scenes
The sitcom I Dream of Jeannie featured a love story between a genie and the U.S. astronaut who rescued her. Larry Hagman portrayed Major Tony Nelson who finds Jeannie, played by Barbara Eden, on a beach and releases her from her iconic purple bottle.
In Eden's 2012 memoir, she shared details of Hagman's explosive personality on set. Often succumbing to outbursts and temper tantrums, Hagman ended up using some vices that were often utilized in the 60s to help him relax.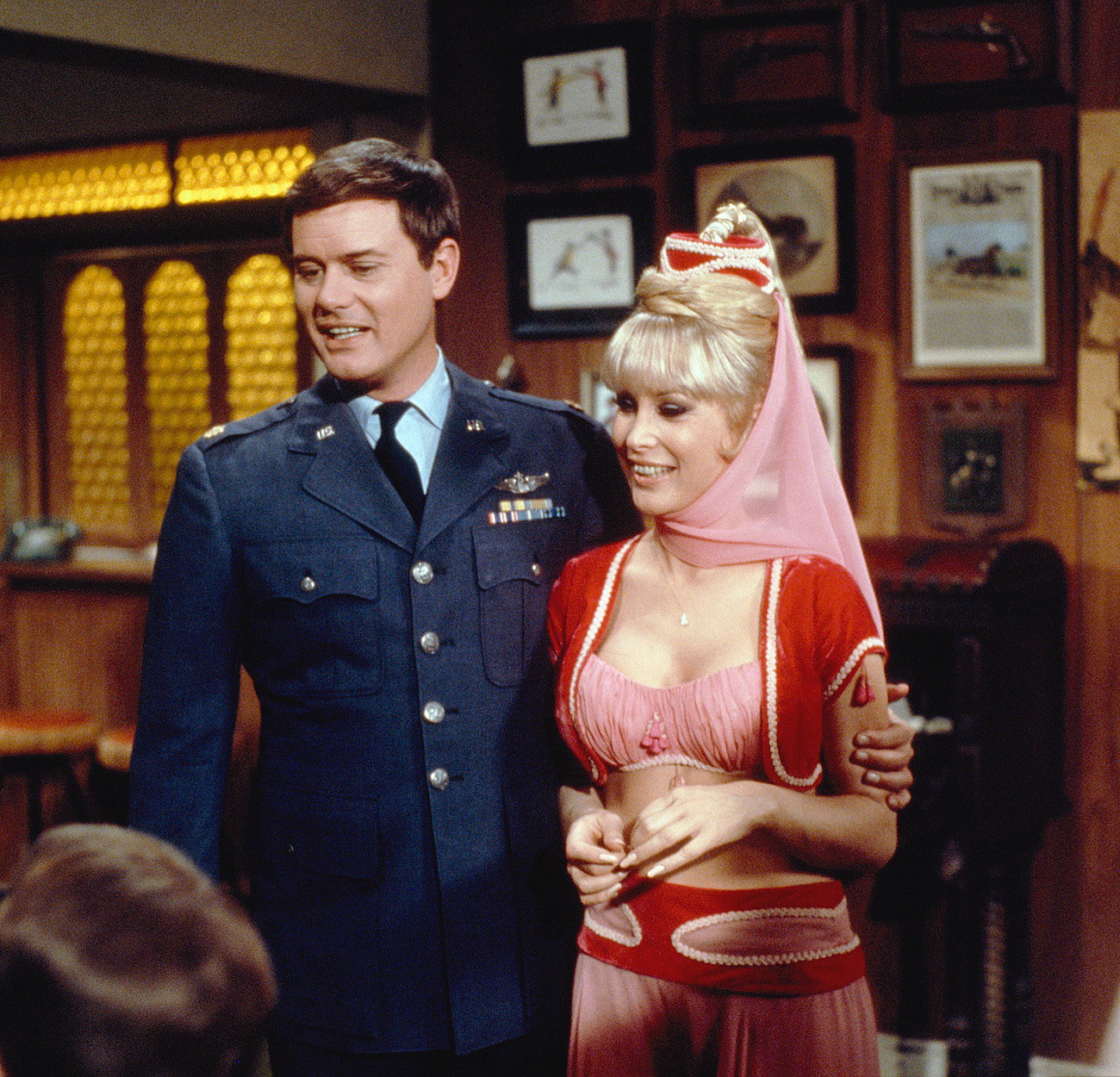 Larry Hagman was prone to erratic behavior
During its series run from 1965 to 1970, I Dream of Jeannie was considered a ratings hit. Hagman immediately had his sights set on superstardom.
"When he got the part of Captain Nelson in the pilot, he swung into action to exercise as much control over the show as he could," Eden wrote in her book Jeannie Out of the Bottle. "Larry was set on I Dream of Jeannie making him a star. … That hope would fuel his actions right from the start of filming the pilot."
The actor often fought with executive producer Sidney Sheldon to improve the scripts. Eden admitted Hagman's character wasn't fleshed out enough.
"Sidney had written [the show] in such a way that the character of Major Nelson would play straight man to my Jeannie," she revealed. "It was in truth a thankless role, and Larry would kick against it every step of the way… Even on the first day of shooting the pilot on Zuma Beach, Larry made no bones about the fact that he despised the script."
Sidney Sheldon recommends therapy for Larry Hagman
Hagman's antics on set often included full-blown temper tantrums and some unlikely costume choices, which began to weigh on the cast.
"I liked and respected Larry as an actor," Eden shared. "But his shifting moods and off-camera theatrics (arriving for work in a gorilla suit, for one) grew wearying."
With Hagman's behavior causing turmoil, Sheldon recommended the actor get some professional help. A therapist was soon enlisted, who gave Hagman some out-of-the-box suggestions.
"Sidney arranged for Larry to see a therapist, and reluctantly or not, Larry went along with the idea," Eden explained. "However, in keeping with the anything-goes ethos of the early 60s, the therapist ostensibly advised Larry to smoke pot and drink champagne on the set, to help himself relax."
Larry Hagman took the 'prescription' to extremes
The I Dream of Jeannie star revealed that Hagman followed the therapist's advice, yet to a drastic degree.
"Larry, being Larry, naturally didn't do anything by half measures," Eden wrote. "Henceforth, instead of being nervous, on edge, and confrontational, he started every day at the studio by drinking vast quantities of champagne."
Hagman's self-medicating continued during breaks, where he added to his quest for calm. His high doses of substances only created more tumult.
"In between scenes, he sequestered himself in his dressing room," Eden recalled, "smoking pot and downing yet more champagne, all in the interests of attaining a state of calm serenity. The result? Mayhem."
Despite Hagman's combative nature, Eden still considers him a "terrific actor" and a "warm and kind human being." Hagman died in November 2012.