'I Dream of Jeannie': Why Barbara Eden's Popularity on the Show Made Larry Hagman 'Frustrated and Very Angry'
The comedy I Dream of Jeannie showcased the unique love story between a rescued genie and a U.S. astronaut. Larry Hagman portrayed nice guy Major Tony Nelson who releases Jeannie, played by Barbara Eden, from her now legendary purple bottle.
Hagman's hopes for superstardom were dashed when Eden became the focus of the show. Sporting pink silk harem pants and a bare midriff in every episode, Eden was the one viewers noticed.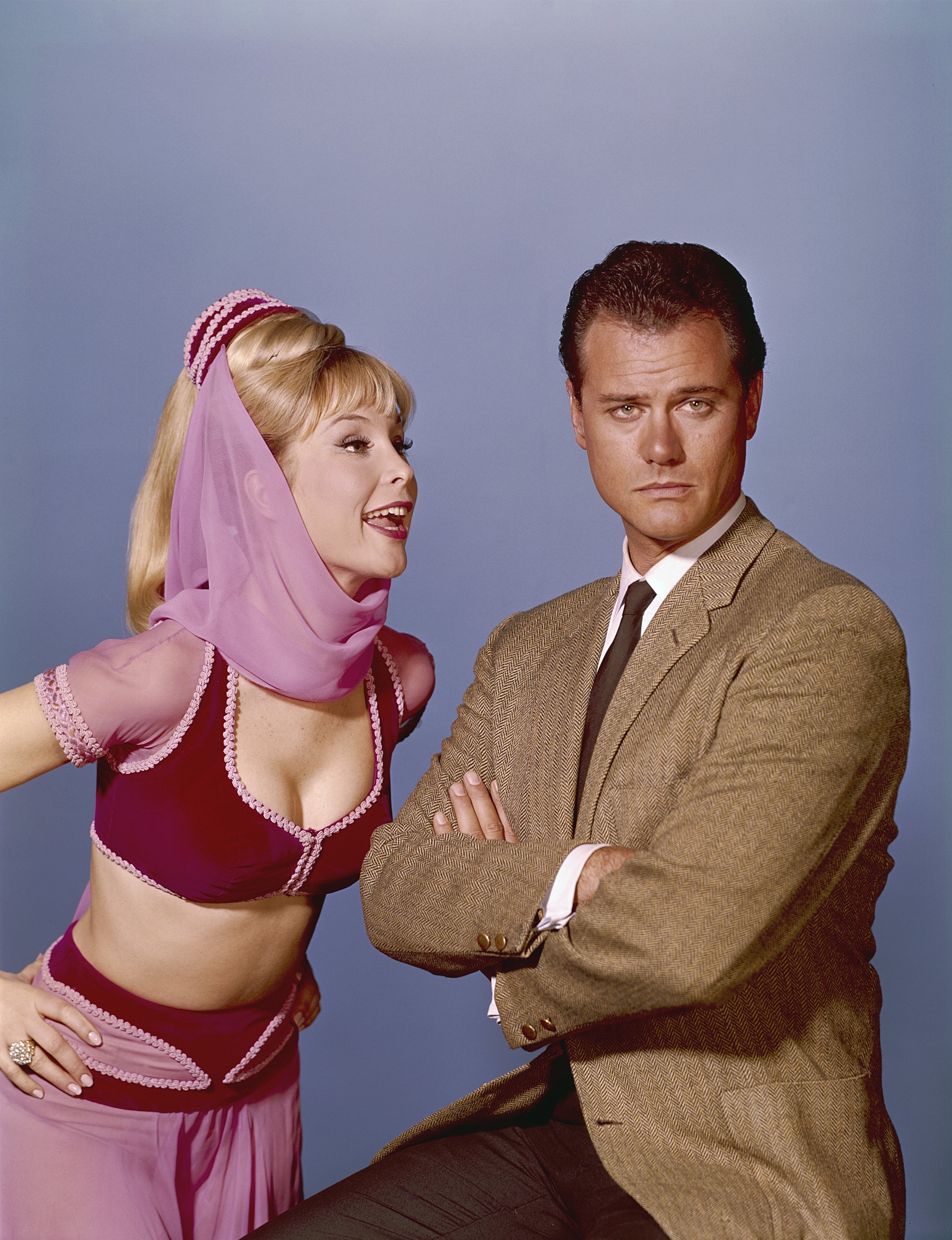 Larry Hagman didn't like working with guest stars
On the air from for five seasons, I Dream of Jeannie was a hit when it debuted in 1965. The sitcom would sometimes feature big-name guest stars, including Sammy Davis, Jr. and Milton Berle, which didn't sit well with Hagman.
"The problem was Larry Hagman," show creator and executive producer Sidney Sheldon revealed in his book The Other Side of Me. "I planned to use more guest stars, but Larry was always antagonistic toward them. He would be sullen and ignore them, and spend time sulking in his dressing room."
Sheldon attributed Hagman's strong aspirations for fame to his being the son of Broadway star Mary Martin. Growing up with his mother in the spotlight, Hagman longed for the same type of notoriety.
RELATED: This 'I Love Lucy' Guest Star Went to Embarrassing Lengths 'To Avoid Desi Arnaz's Sexual Advances'
"He wanted to be the star and he wanted it now," Sheldon wrote. "Larry wanted to show the world that he could be as successful as his mother. The result was that he put himself and everyone else under tremendous pressure."
Barbara Eden gets the attention
Eden was immediately on everyone's radar when I Dream of Jeannie hit its stride. Decked out in a particularly revealing costume for that time in history, Eden's stunning appearance was getting the most attention each week.
"Suddenly, Larry found himself in a show with a beautiful half-naked girl, and there was no way that it would be his show," Sheldon explained. "I tried everything, but it was always only Jeannie the public was interested in, and through five seasons he became frustrated and very angry."
The I Dream of Jeannie creator attempted to create more compelling storylines for Hagman in order to raise his popularity, but to no avail.
"It was Barbara who was getting all the magazine covers and interviews," Sheldon remarked. "I began to write scripts to build up Larry's character and make him more prominent. But when an actor is in a show with a scantily dressed actress as beautiful and enticing as Barbara Eden, it is very difficult for him to become the star."
'I Dream of Jeannie' co-stars enjoyed working together
Eden recalled Hagman's yearning for stardom, where she picked up on his craving to be a Hollywood heavyweight right after they filmed the pilot.
"Here in the limousine speeding back to Hollywood after the first day of filming the I Dream of Jeannie pilot is Larry Hagman, clearly burning with red-hot ambition to become a star," Eden wrote in her 2012 memoir Jeannie Out of the Bottle. "And, more important, passionately believing that I Dream of Jeannie will instantly make him one."
Despite Hagman's resentment on not being the center of attention, Eden revealed they had a solid relationship.
"We had a lot of fun, but it wasn't usually on the set," she commented, according to Closer Weekly. "It was I'd go to his house and he'd come to mine and then he was a stitch, but he was all business when we were doing Jeannie. I must say it was wonderful, because I've never worked with anyone that I felt so comfortable with once that camera started rolling … Our timing seemed to mesh, so I guess that made it comfortable for both of us."