'I Love a Mama's Boy': Meet the Season 3 Cast
TLC's I Love a Mama's Boy is now in season 3. Here's a rundown of the celebrity reality TV stars in the cast.
Shekeb and Laila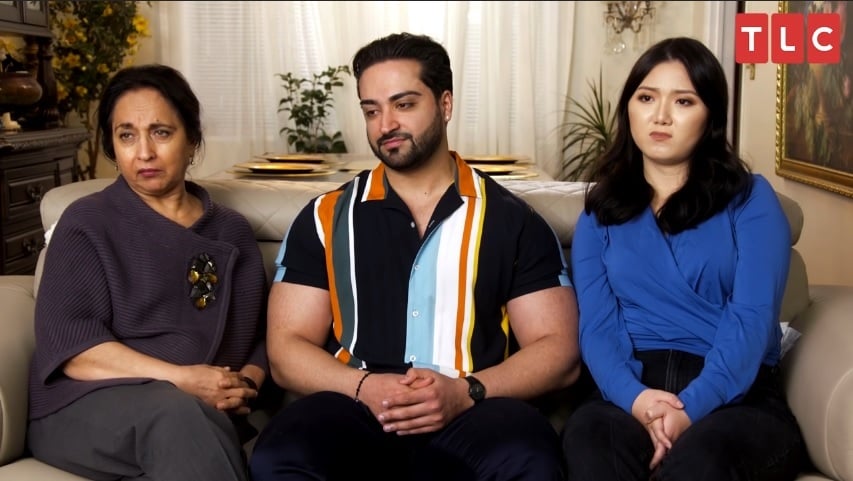 Shekeb is dating Emily. They broke up briefly but later got back together. Shekeb says he takes some of the responsibility for the breakup, but he also says Emily went "crazy" because he gave her a promise ring instead of an engagement ring. Emily took out her frustration by throwing the ring and throwing his mother's flowers. After Shekeb and Emily reunited, the couple decided to move in together. Emily says Shekeb is her soul mate.
Shekeb's mother, Laila, doesn't like Emily and she wants him to meet her friend's daughter, Yussra. She thinks Yussra would make a better match for her son. However, Shekeb thinks it would be wrong to meet her because he's living with Emily. Shekeb's mother wants Emily out of the picture.
Robert and Kristy Hernandez
Robert and Kristy met at the gym. Robert says he envisioned his future with Kristy the first month he met her. Kristy says she thought he was a sweetheart. Robert says he is a farmer by day and an MMA fighter by night. He has been training as an MMA fighter for 9 years.
Kristy is a stay-at-home mom of two daughters. Right now, she is helping Robert get ready for a big fight by being his nutritionist. If he wins, he could be fighting for the UFC next year.
Kristy says Robert's mom didn't like her from the beginning of their relationship. "His mom started to hate me when she found out we were having a baby and getting married," says Kristy. Robert and Kristy decided to elope. Kristy thinks Robert's mother is trying to "sabotage" their marriage.
Robert's mom, Nancy, says she doesn't like Kristy because she doesn't take care of her son. She claims Kristy doesn't cook for him or wash his clothes. She thinks Kristy got pregnant so Robert would marry her. Robert says he's afraid to stand up to his mom.
Kelly and Matt
Matt recently broke up with someone. He says it's been hard to heal. He and his ex-fiancée built a house on his mother's property. He says they were together for four years and engaged for one year. Although Matt says he is sad, he also says he doesn't think he and his ex were a match. He says his ex didn't accept his mom, who he describes as "110% invested" in his world.
"She's my best friend, so I hope to find another person that will accept that," says Matt. He mentioned that he started dating a woman named Brittany, but he hasn't said anything to his mom yet because it's still early.
Tre and Lorenda
Lorenda says Tre is the "apple of her eye." Tre and Lorenda spend time together by making social media videos. Lorenda says it's "really special." Tre's girlfriend, Abbey, says she's still trying to figure out where she fits in with Tre and Lorenda. The couple met in high school and have a 7-year-old son named Cam. Their son wants them to get married.
Tre thinks marriage might be in their future. Abbey wants to get married, but she thinks Trey still has some issues to work out with his mother. She thinks her relationship with Trey is toxic because his mother is always around, and she does everything for him. Her typical day involves waking up at 5:00 a.m. so she can cook and clean for Trey.
RELATED: Joanna Gaines' New Magnolia Show With Her Sister: It's 'the Business of Her Dreams'
Follow Sheiresa Ngo on Twitter.