'iCarly': Miranda Cosgrove Reveals Which One Direction Member Was Her Favorite Guest Star
iCarly premiered in 2007, and its original run lasted until 2012. Throughout its original six seasons, the show had a number of memorable guest stars, including the internationally-renowned boy band One Direction.
Miranda Cosgrove, who played the titular Carly Shay, recently revealed which One Direction member still has her heart.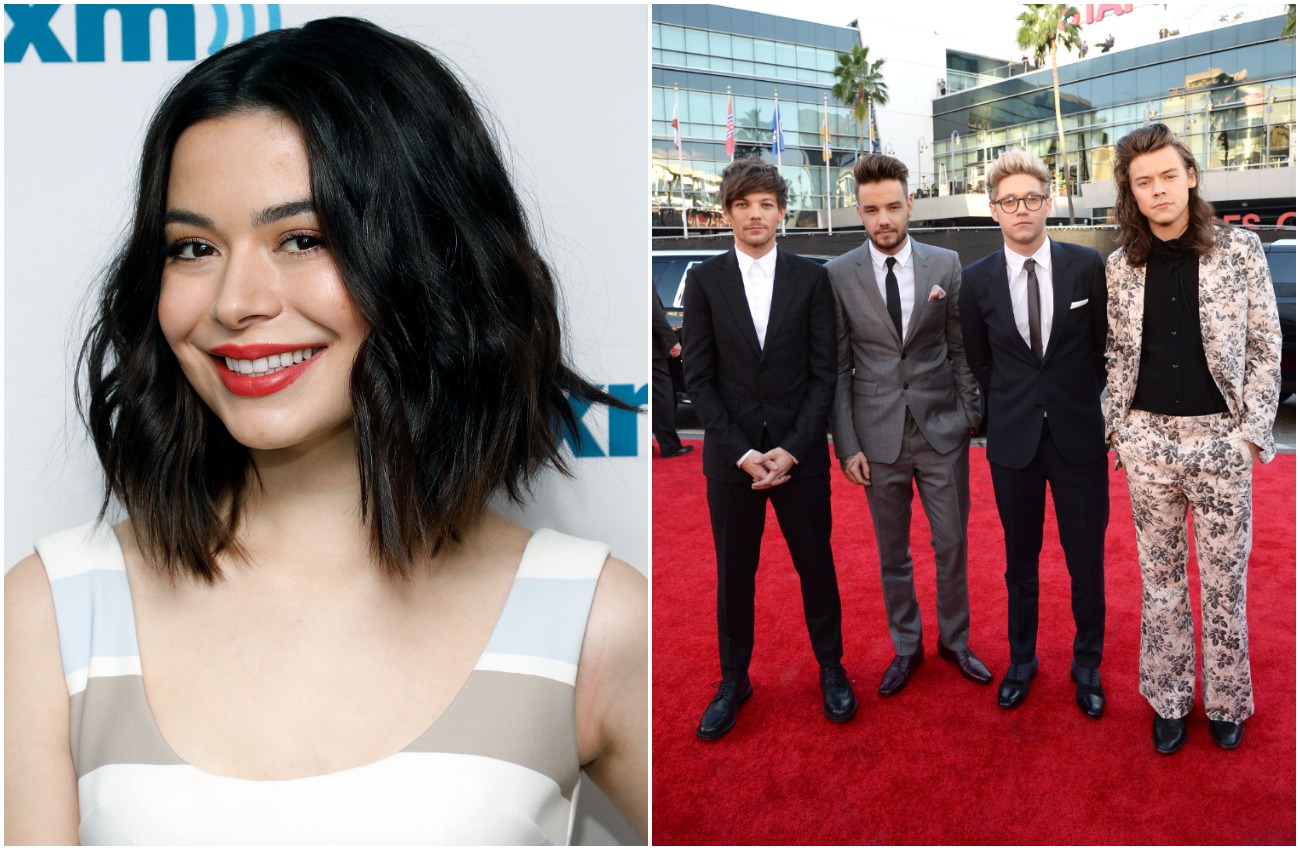 One Direction appeared on 'iCarly' in 2012
One Direction appeared on iCarly in 2012 on the episode "iGo One Direction."
The episode involves a fictional romance between member Harry Styles and Carly. On the show, Harry gets sick and Carly steps in to take care of him. Even after his condition improves, Harry continues to fake his illness because he enjoys spending time with Carly. Harry only snaps out of it after the other One Direction members pretends to replace him.
The episode received very positive responses from fans. Over 3.9 million people in the United States tuned in to watch it, making it one of the most-viewed episodes that season.
Creator Dan Schneider also felt the One Direction members were great guest stars despite initially not knowing if they could act or not.
"When I booked them to appear on iCarly, I didn't know if they could act or not," Schneider said during a Q&A. "I took a chance, and I was thrilled with their work. Also, they were extremely nice, polite, and professional on set. I'd love to work with them again, anytime."
Miranda Cosgrove reveals which member still makes her blush
RELATED: 'iCarly': Miranda Cosgrove's Character Went Through 2 Name Changes Before Being Called 'Carly'
To this day, many fans still remember the iconic One Direction episode of iCarly. Cosgrove herself is no exception.
Cosgrove—along with Nathan Kress (Freddie Benson) and Jerry Trainor (Spencer Shay)—recently had an interview with Paramount+ to promote the new iCarly revival. The trio were asked about guest stars whom their characters had romantic connections with.
"Was there ever a romantic guest for you that you were like 'Oh my gosh'?" host Hunter March asked Cosgrove.
Initially, Cosgrove evaded the question, saying, "I can't just pick one…" However, when pressed further, she responded, "Harry Styles."
What can fans expect in the new 'iCarly' revival?
RELATED: 'iCarly': What Happened to Carly's Mom on the Show?
The iCarly revival will premiere on June 17 on the platform Paramount+.
It follows Carly, Freddie, and Spencer as they grew up and are finding their way as adults. Carly decides to restart her popular web show after years of inactivity.
Fans can expect some cast changes this time around. Jennette McCurdy (Sam Puckett) and Noah Munck (Gibby), whom viewers might be familiar with from the original run, will not appear in the reboot. Instead, fans can now get to know two new characters: Harper (Laci Mosley) and Millicent (Jaidyn Triplett). Harper is Carly's roommate and best friend, while Millicent is Freddie's stepdaughter.
Because the characters are adults, the storylines might take on more mature tones.
"The whole point now is, this was a kids' show before, but we are evolving so that the kids who watched it from 2007-2012 and are now nine years older, are able to enjoy an adult show in the same universe," Kress told Page Six.
Trainor also revealed there will be some "sexual situations" happening in the revival series.