'iCarly': Miranda Cosgrove Says Jerry Trainor Blamed and Got 'Revenge' on Her After His Unfortunate Spray Tan Incident
Miranda Cosgrove plays Carly Shay on the popular series iCarly, which recently got a reboot after it went off the air in 2012. Jerry Trainor also returned as Carly's older brother, Spencer Shay.
Cosgrove and Trainor seem to have a good relationship when the cameras are not rolling, and Cosgrove even joked that Trainor blamed her once when his spray tan went wrong.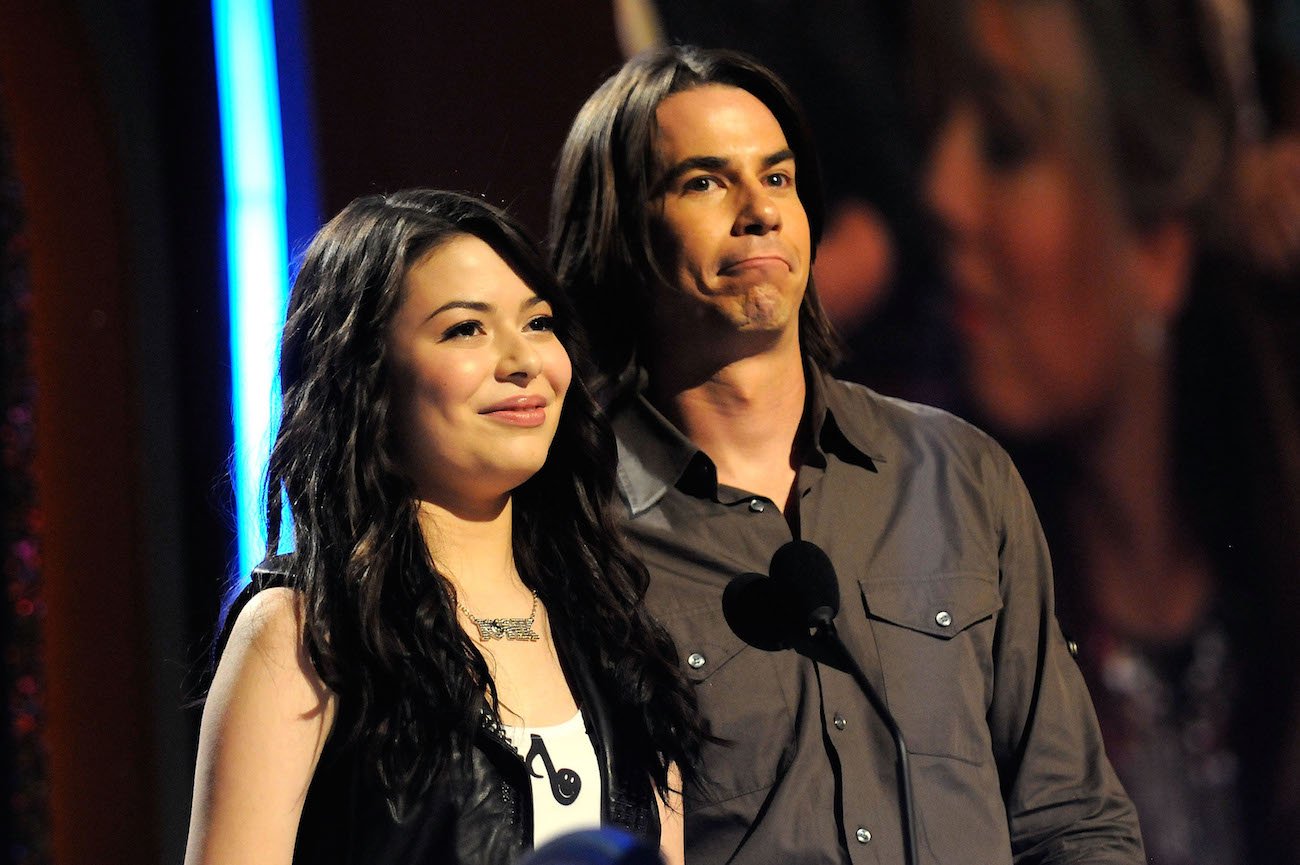 Miranda Cosgrove and Jerry Trainor have worked together for many years
Cosgrove and Trainor first worked together on the show Drake & Josh, in which Cosgrove played Megan Parker and Trainor played Crazy Steve. While Cosgrove and Trainor did not appear in many scenes together on Drake & Josh, they ended up becoming siblings on iCarly.
In an interview with Seventeen in 2018, Cosgrove shared that she, Trainor, and other cast members like Nathan Kress (Freddie Benson) and Jennette McCurdy (Sam Puckett) remained close even after the show's original run ended. They even tried to have dinner "roughly every year."
Cosgrove and Trainor started working together again when the iCarly returned with a reboot, which premiered on Paramount+ in 2021.
Miranda Cosgrove says Jerry Trainor blamed her for an unfortunate spray tan incident
During a recent visit to The Tonight Show Starring Jimmy Fallon, Cosgrove shared just how close she and Trainor are with a hilarious story about Trainor's spray tan.
According to Cosgrove, the two of them were supposed to attend an event in which the cast would inform the media of the iCarly reboot.
"He called me up and said, 'You know, with COVID, we've been inside. We could use some sun,'" Cosgrove said. "He was like, 'I know you've gotten a spray tan before. Do you think you could hook me up? The two of us could get a spray tan together.'"
Cosgrove agreed to get a spray tan with Trainor. However, she explained that Trainor had a mishap in his spray tan maintenance. "The way spray tans work—I don't know if you've ever had one… It keeps developing until you wash it off," Cosgrove said. "He fell asleep and he never washed it off."
Because of that, Trainor appeared extremely bronzed up at the Nickelodeon's Kids Choice Awards alongside Cosgrove and Kress. Cosgrove said she kept a picture of Trainor from the event as her phone wallpaper to look at whenever she was sad.
"He was very upset," Cosgrove said. "And he blamed me."
Trainor also posted a photo from the KCA's on Instagram and wrote, "Get a spray tan with me @mirandacosgrove said. You'll look so golden and natural she said. No one will notice she said. You won't look like a leather couch and smell like corn nuts she said."
Jerry Trainor got his own 'revenge'
Apparently, Trainor did not let Cosgrove live that incident down. She joked that he got "revenge" by having a "hideous" picture of her at his home.
"Later we were filming an episode for the show, and in the episode I'm supposed to make this crazy, hideous face," she said. "It's turned into this giant Andy Warhol-type piece of art in the episode."
Trainor decided to take the picture home after the episode was filmed and hang it in his house.