'iCarly': 3 Questions Fans Need Answered in Season 2
And just like that, the iCarly reboot's first season has come to a close. The finale launched on Paramount+ on Aug. 26 and left plenty of plotlines open for the next installment. At the time of this writing, there's no word on an iCarly Season 2 premiere date, but it's on its way. Season 1 left a handful of cliffhangers, which fans can expect to see addressed in season 2. Here are the questions many viewers have for the next season.
[Spoiler alert: The following story contains spoilers for the iCarly Season 1 finale.]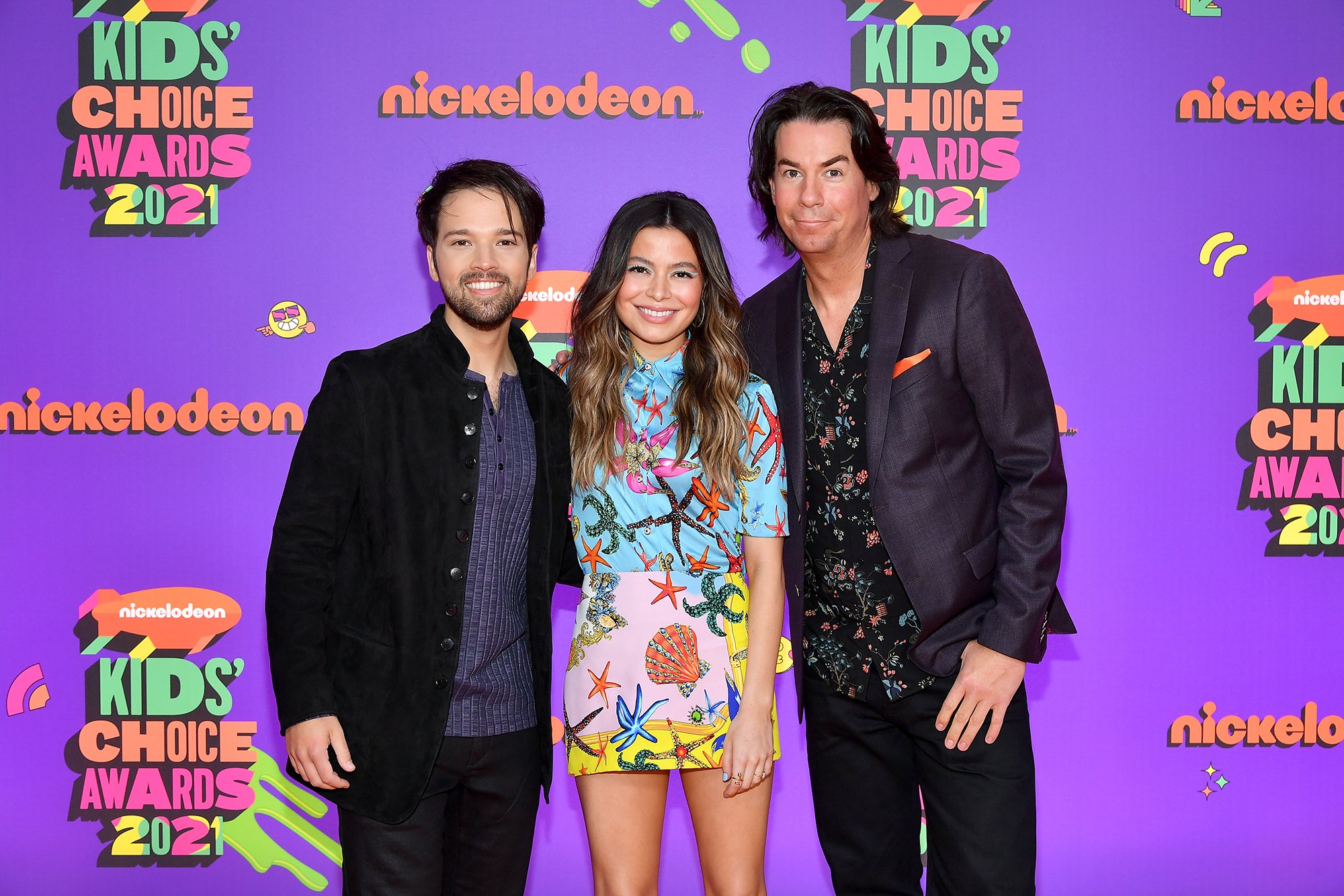 Who will Carly choose to be with in season 2?
In the last few episodes of the season, viewers see Carly Shay's (played by Miranda Cosgrove) relationship with her new boyfriend, Wes (Josh Plasse), grow. The couple meets in "iCan Fix It Myself," when Wes, a mechanic, tries to restore Carly's old car.
In the finale, Carly, Wes, Freddie (Nathan Kress), Spencer (Jerry Trainor), Harper (Laci Mosley), Double Dutch (Poppy Liu), and Millicent (Jaidyn Triplett) head to Webicon, where Carly is set to receive a Web Icon Lifetime Achievement Award. However, in a Fyre Festival-like twist, the event turns out to be a not-so-luxury camping trip in the forest.
Carly runs into a familiar face during their trip: her ex-boyfriend, Beau (Conor Husting). Wes and Beau clash over Carly. In one of the episode's final scenes, both of them confess their love for the influencer at the same time.
The trip sets up a tricky love triangle for season 2, as Carly finds herself confused by her feelings. In addition to Wes and Beau, there's also the lingering chemistry between Carly and Freddie — a couple many fans have rooted for since iCarly's Nickelodeon days. Which love interest will Carly choose?
In an interview with Entertainment Weekly, iCarly showrunner Ali Schouten teased that Carly will address her love life early in season 2.
"We do set up…a bit of a cliffhanger at the end of season 1 that will definitely be resolved at the top of season 2, and in a very iCarly way that has to do with the web show, and maybe not how you might expect," she said. "That's what we're thinking right now. We'll see what people think when they watch."
What will become of Freddie's app design, 'Kevin'?
While Carly explores her love life in season 1, Freddie attempts to determine where he'll take his career. After quitting his tech support job to temporarily join an MLM, the father of one considers returning to his app design days. Spencer previously invested in Freddie's ideas, but the plans fell through, losing Spencer quite a bit of money. However, Spencer and Millicent have encouraged him to continue his entrepreneurship.
Freddie's latest idea is an app that matches people in need of pet sitters with people in need of therapy animals. He wants to call the app "Kevin," named after the dog that inspired the idea. During the Webicon trip, Spencer and Millicent hatch a plan for Freddie to pitch the idea to Beau.
Freddie makes his pitch, but Beau says his father won't let him invest. However, it doesn't seem like he'll give up on the idea. Will Freddie receive funding for the app in iCarly Season 2?
Will Harper and Double Dutch start dating?
Another major moment in the finale sees Harper and Dutch confess their feelings for each other. However, Harper works for Dutch as her stylist, and she doesn't want to risk losing her position over a potential romance. Likewise, Dutch doesn't want to lose Harper as the best stylist she's had. Of course, their shared concerns don't stop them from sharing a passionate kiss.
When the group returns from Webicon, Harper brushes off her kiss with Dutch, saying they left it at Webicon. However, as PopBuzz reported, the kiss received plenty of positive responses on social media.
"THEY KISSED OH MY GODDJFJFJS IM GONNA PASS OUT WTF," one person wrote on Twitter.
"Best episode on every level legit had me not just smiling but belly-laughing I need season 2 now," another user wrote.
Schouten revealed to Entertainment Weekly that the writers often consider fan responses, so hopefully, that means Dutch and Harper will explore a relationship in season 2.