Ice Cube Says John Singleton 'Never Told Us That It Would Be Real Gunfire' on 'Boyz n the Hood' Set
Nearly 30 years ago, John Singleton burst onto the Hollywood scene with his first movie, Boyz n the Hood. The young filmmaker wrote and directed the film, which gave audiences an authentic glimpse into South Central LA life. Recently, Boyz n the Hood star, Ice Cube, dished some behind-the-scenes details about the film.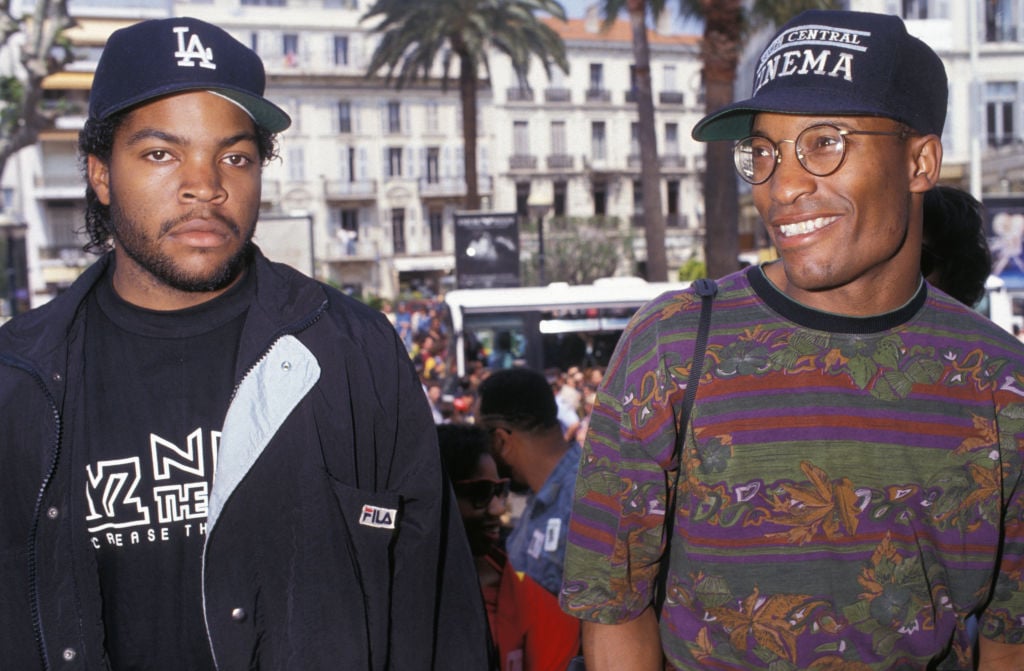 Budding stars made 'Boyz n the Hood'
Singleton was a recent film school grad in his early 20s when he filmed Boyz n the Hood. Talent, smarts, and unmatched instincts made up for his lack of experience. His casting decisions, in particular, affected not only the film but also changed the trajectory of several careers. Boyz n the Hood featured breakout performances from several actors, helping to propel them to stardom.
Cuba Gooding Jr. starred as Tre, while Laurence Fishburne and Angela Bassett played his separated parents, Furious and Reva Styles. Nia Long, who almost turned down the role, appeared as Tre's devout girlfriend, Brandi. Oscar-winner Regina King played a neighbor named Shalika. Rounding out the cast as brothers Ricky and Doughboy were Morris Chestnut and Ice Cube, respectively.
Critics and fans alike praised the film's script and acting. But there was one scene in which the on-screen reactions were authentic, not staged, according to Ice Cube.
Ice Cube describes Singleton's unusual filmmaking technique
An iconic scene from Boyz n the Hood centers around a gang conflict on a Crenshaw block. In the film, rival crews face off in a verbal confrontation but walk away without coming to blows. Moments later, gunshots ring out, bystanders scatter, and the characters hightail it out of the neighborhood.
It is one of the most memorable sequences in the film due in part to the palpable panic felt in the scene. What moviegoers didn't know at the time was that the fearful expressions were indeed genuine, according to a tweet by Ice Cube. The actor shared a photo that was taken on the set of Boyz n the Hood.
In the caption, he wrote, "Rehearsing the Crenshaw scene for Boyz n The Hood. John never told us that it would be real gunfire during the scene. All reactions were real. John was brilliant. I miss him."
John Singleton's legacy
As a young filmmaker who used unconventional techniques and a polished shooting style, Singleton struck creative gold with Boyz n the Hood. After that, he went on to make more socially conscious films such as Poetic Justice and Higher Learning, both of which featured stars from Boyz n the Hood.
Regina King appeared in Poetic Justice alongside Janet Jackson, Tupac Shakur, and Joe Torry. Higher Learning reunited King, Ice Cube, and Laurence Fishburne, who starred with Omar Epps, Tyra Banks, Kristy Swanson, Michael Rapaport, and Busta Rhymes.
Singleton went on to write, produce, and direct many other projects until his death on April 28, 2019. He leaves a legacy of powerful films that reflect the American experience and that continue to touch the lives of fans around the world.
Read more: 'Friday' Cast 25 Years Later: Who Has the Highest Net Worth?