Ice-T, Ice Cube, and 2Pac Collaborated in a Rare Video That Surfaced on Twitter
From Boogie Down Productions to N.W.A., gangsta rap is synonymous with the 1990s. As a war waged between the East Coast Rappers and West Coast OGs, MCs like Ice Cube and Ice-T solidified their statuses as icons, while other artists like 2Pac and The Notorious B.I.G. lost their lives. Recently on Twitter, Ice-T revealed a rare moment he captured on video with Ice Cube and 2Pac from that era of music. Here's what he said about the video and how fans reacted.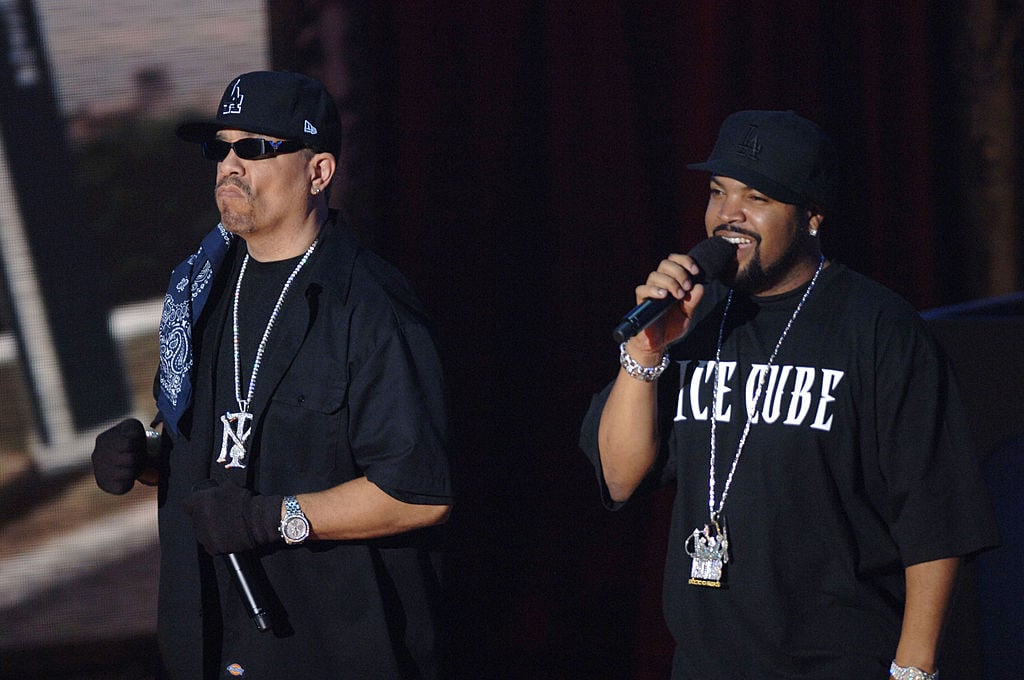 Ice-T, Ice Cube, and 2Pac in the studio
Ice-T re-tweeted a video of an inside look at a music studio taken in 1993. In it, Ice-T and Ice Cube are seen working on a song collaboration while others observe. One onlooker spotted in the studio is a particularly famous face in the hip-hop world, and their third collaborator, Tupac Shakur, aka, 2Pac.
Astute hip-hop aficionados will note that Ice-T and Ice Cube are actually tweaking their verses on a 2Pac song on which they are featured. The song, "Last Wordz" was a 1993 cut from 2Pac's album, Strictly for my N****Z… In the caption for the video, Ice-T wrote, "Throwback: Super Rare. Me, Ice Cube, and 2Pac in the studio."
Predictably, passionate fans were quick to react to the post. Some could barely contain their emotions, like this music lover who tweeted, "OMG. Wow, that was amazing having [been] together in one room with 2Pac and of course my other two favorites of all time Ice-T and Ice Cube. Wow. Wow!"
"It's all about the music. You three are icons. [I] love you all," wrote another.
One aficionado declared Ice-T, Ice Cube, and 2Pac, "Three of the hardest MCs to ever bless the stage!"
Ice-T, Ice Cube, and 2Pac beyond the studio
"The good days when they were gangsta rap. Now it's the guy from Law and Order and Ride Along. I love both them. They grew up," remarked a follower about the throwback video. That fan is referring to Ice-T and Ice Cube making the transition from rap to another sphere of entertainment. Aside from their significant contributions to the music industry, Ice-T, Ice Cube, and 2Pac all went on to become successful actors.
Ice-T's breakout role was in the 1991 film, New Jack City, directed by Mario Van Peebles and co-starring Wesley Snipes. He quickly followed up with Ricochet, alongside Denzel Washington and Trespass with fellow rapper, Ice Cube. Ice-T went on to score a slew of television and film roles before landing on Law and Order: Special Victims Unit. He has appeared in nearly 500 episodes of the show over the course of 20 years.
Ice Cube's feature film debut was as Dough Boy in John Singleton's Boyz n the Hood in 1991. After that, his acting career took off with roles in Trespass, Higher Learning, and The Glass Shield, among other films. He wrote and produced the blockbuster smash, Friday, and went on to star in and produce many other films, including the Are We There Yet? and Ride Along franchises.
2Pac, credited as Tupac Shakur in his films, began his acting career in the 1992 feature film, Juice, also starring Omar Epps. His next feature film was opposite Janet Jackson in Poetic Justice, followed by Above the Rim. Shakur's acting career quickly gained momentum but was cut short by his untimely death. The star's legacy lives on today through his on-screen performances and timeless music.
Read more: Ice Cube Says John Singleton 'Never Told Us That It Would Be Real Gunfire' on 'Boyz n the Hood' Set