If Queen Elizabeth Had Her Way, Camilla Parker Bowles Would Be Gone
Queen Elizabeth reportedly wanted Camilla Parker Bowles gone before Princess Diana died, but Prince Charles said it was 'non-negotiable.'
Prince Charles and Camilla Parker Bowles, Duchess of Cornwall, have been together for more than two decades, and the couple has been happily married since 2005. But, if Queen Elizabeth had her way, Bowles would not be a member of the royal family, claims royal biographer Penny Junor.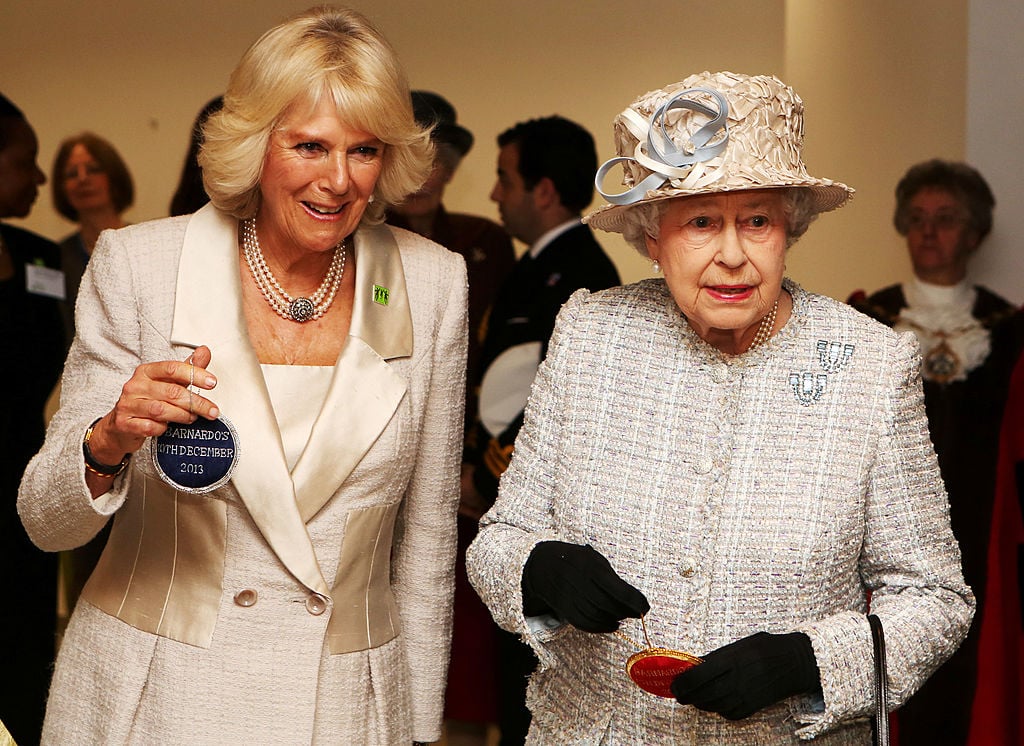 In her book, The Duchess: The Untold Story, Junor reveals what happened behind the scenes after Princess Diana's tragic death in 1997, and she claims that Prince Charles made it clear to his mother that Bowles was "non-negotiable," despite the monarch wanting her gone from her son's life.
It was 'nothing personal'
Junor wrote in her book that Queen Elizabeth wanted Bowles gone before Princess Diana died, and she didn't feel differently after the untimely tragedy.
"It was nothing personal. She had been very fond of Camilla in all the years she had been married to Andrew, but it was Camilla who had been responsible, wittingly or not, for all the disasters that had befallen the prince since his marriage," explained Junor to the UK Express.
The author then revealed that Prince Charles made it "perfectly clear" to everyone that "Camilla was a non-negotiable part of his life." The problem, says Junor, is that Queen Elizabeth took the stance of a monarch, not a mother. Charles needed the support, and he got it from Bowles.
Junor says that the Duchess of Cornwall rescued Prince Charles from the depths of depression, and showed him the love, comfort, approval, and tenderness that he wasn't getting from anyone else in his life.
Diana broke royal protocol
In 1995, Princess Diana shocked the world – and the royal family – when she gave an interview to Martin Bashir and detailed her crumbling marriage and revealed that Prince Charles was having an affair with Camilla.
According to the International Business Times, the Queen had no idea Diana had given the interview until it was broadcast on television, and the Princess had to go to great lengths to make it happen. The Princess of Wales broke some rules to do the interview while living in Kensington Palace. She reportedly snuck Bashir in by having him hide in the trunk of her butler's car
"At the time, for her press secretary and for Queen Elizabeth not to know that this explosive interview was being planned and then filmed and then broadcast without her knowledge was an extraordinary breach of protocol," explained royal commentator Daisy McAndrew in the documentary Scandals at the Palace.
Diana wanted to tell her side of the story, but the interview caused the Queen to advise her son and daughter-in-law to get a divorce.
Junor says that the Queen was worried about the bitter relationship negatively affecting Prince William and Prince Harry, and the couple eventually finalized their divorce in 1996.
Life after Diana was not easy
When Queen Elizabeth didn't invite Camilla to the Prince of Wales 50th birthday party in 1998, it "infuriated" Charles, says Junor. Charles was in love with Camilla, but the Queen's continued hostility towards her made him angry.
And, when the heir to the throne approached his mother about his then-girlfriend, asking his mom to warm up to her, she refused. The Queen reportedly told her son that she wanted nothing to do with Camilla and called her a "wicked woman."
Charles' romance with Camilla wasn't just hard for the Queen, it was also a challenge for Prince William and Prince Harry, who were slowly and carefully introduced to Camilla after their mother's death.
 "I think the relationship between them all is warm now, but if I'm honest, it wasn't then," an insider told Junor. "I think they found it very hard when they were little."
The relationship between the Queen and the Duchess has improved
Queen Elizabeth reportedly banned Camilla from the palace when she was informed of her affair with Prince Charles. But, after Charles and Diana separated in 1992, they continued their relationship discreetly. By 1997, they were ready to go public with their romance, but Diana tragically passed away.
Eventually, the Queen and Camilla's relationship improved, and she encouraged the Duchess and her son to go public in 1999. Eventually, she gave the couple permission to marry, and at the reception, Queen Elizabeth said, "My son is home and dry with the woman he loves."
It has now been more than a decade since Camilla became part of the royal family, and the Queen realizes she was a good match for her son. In 2012, the monarch asked Camilla to sit beside her in her carriage at the Diamond Jubilee, and she has also given her daughter-in-law two important honors: The Royal Family Order and The Grand Cross of the Victorian Order.
Queen Elizabeth also said during her speech at Prince Charles' 70th birthday party last year that Camilla has a positive influence in her son's life.