If You Loved The Lonely Island on 'SNL', You'll Love This Comedy Podcast: 'Off Book: The Improvised Musical'
The Lonely Island is a comedy group made up of entertainers Andy Samberg, Akiva Schaffer, and Jorma Taccone. The three young men met in junior high and formed the trio in 2001. Eventually, The Lonely Island made their way to Saturday Night Live, where some of their songs became entire cultural moments. The comedy trio had several hits come out of the 'SNL Digital Shorts' collection, including, but of course not limited to: "I'm on a Boat," "Like a Boss," "I Just Had Sex," and "Jack Sparrow." While SNL's Digital Shorts seems like a thing of the past, musical comedy is alive and thriving. Rachel Bloom's CW show Crazy Ex-Girlfriend threw it right onto network television, and now a podcast is making a huge dent in the scene. Off Book: The Improvised Musical Podcast might be as funny or funnier than The Lonely Island's songs–and the hosts make it all up off the top of their heads.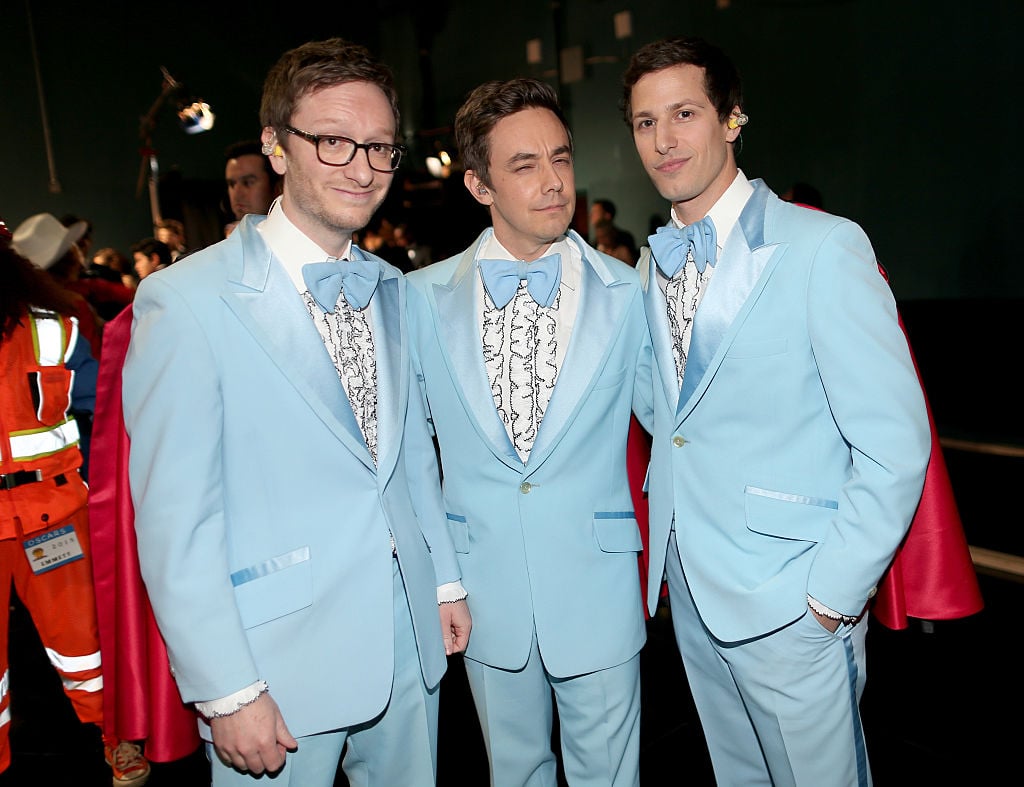 'The Lonely Island' blew up musical comedy with songs like 'I'm On a Boat' and 'Like a Boss'
Sure, you've probably heard of The Lonely Island; most are at least familiar with "I'm on a Boat." But if you were a true nerd like some of us, you also bought (and played on repeat) The Lonely Island's debut musical comedy album, Incredibad.
While the 2009 album did include some songs that became Saturday Night Live hits like "Lazy Sunday" and "Boombox," Incredibad also included some not-as-well-known bops that were truly next level wacky. (And we mean that as a compliment). "Dream Girl," which incredibly, features Norah Jones, comes to mind, as does "Who Said We're Wack?" and "Saxman (featuring Jack Black)" which honor the power of simplicity in comedy.
While The Lonely Island is now producing movies and working with Netflix, they originally became known for their laugh-out-loud funny songs. Since not many people even do musical comedy, let alone make it popular, that was an impressive feat in itself. Could anyone fill The Lonely Island's shoes?
Are Zach Reino and Jessica McKenna of 'Off Book' the new 'The Lonely Island'?
Zach Reino and Jessica McKenna are arguably doing just that, in podcast form. And, on Off Book–they make up the whole thing on the spot.
"It takes years for a Broadway musical to hit the stage," the Off Book podcast description says. "But on Off Book: The Improvised Musical, you get a brand new original musical every week!"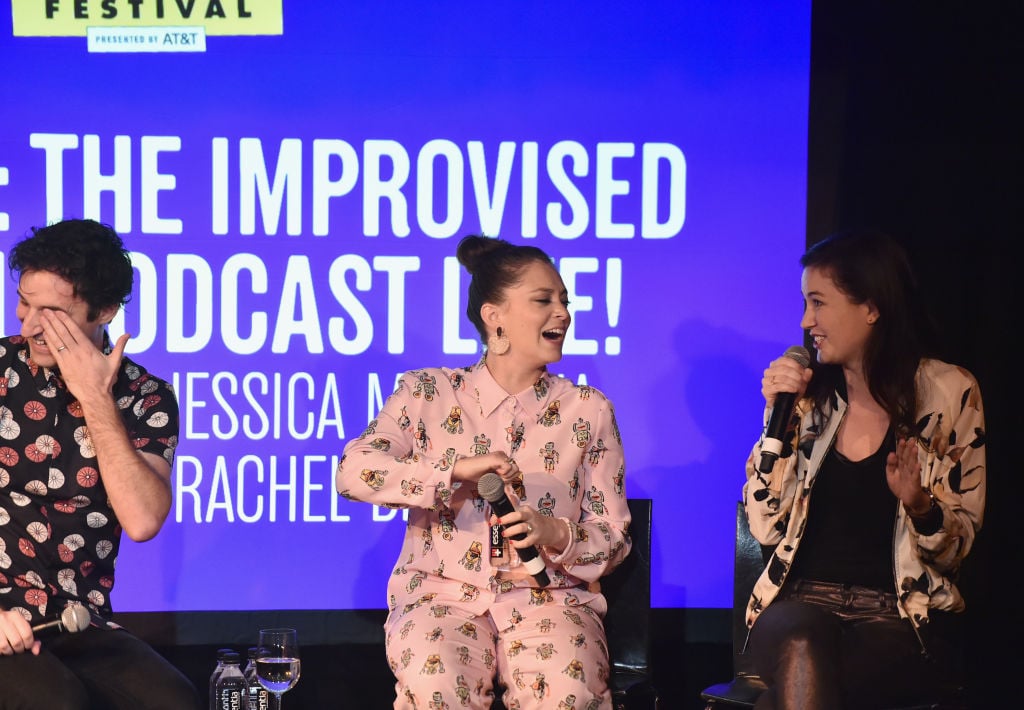 Each episode, Reino and McKenna invite a guest from the comedy scene to improvise with them. Off Book books some incredible guests like Rachel Bloom, Drew Tarver, and Paul F. Tompkins, to name just a few.
But even if you've never heard of the guest (or the hosts), it's hard to listen to this podcast and not tee-hee out loud.
McKenna and Reino and two people who are truly trying to make themselves–and each other–laugh as much as they are the audience. And when there's that much joy put into something–how can it be bad?
You won't believe the songs and lyrics they make up on 'Off Book'
What the musical improvisers do on this podcast sounds like a miracle. With the help of talented musicians on the piano, guitar, and drums, McKenna, Reino, and their guest(s) make up a forty-five-minute-long, narratively cohesive musical. You have to hear it to believe it.
It's undoubtedly different than what The Lonely Island did–first of all, it's improvised. But that adds an element of surprise which is so essential to (and fun for) comedy. It's also quite a bit nerdier than The Lonely Island; think fewer sex jokes and more talking animals, precocious children, and Dungeons and Dragons meet-ups. They're also pulling from every musical theatre trope in the book, meaning the hosts have to have an extensive knowledge of Broadway musicals (and they do). But again, that's what makes the podcast all the more wonderful–and impressive.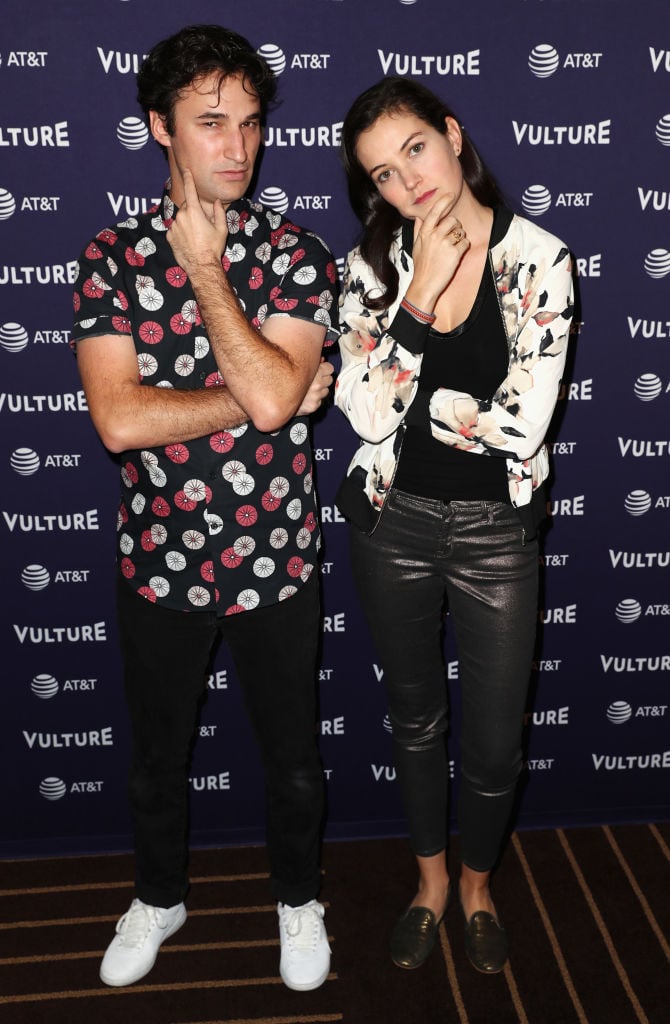 Although the entire collection of episodes is only available on Stitcher Premium, there's a whole batch of free episodes of Off Book on iTunes and Spotify, as well.