Iggy Azalea Fuels Bhad Bhabie Feud in Her New Single, 'Sally Walker'
It's been a hot minute since we've seen Australian-born Iggy Azalea of "Fancy" fame in the news. But that wasn't meant to be – at least, not if Azalea and 16-year-old Bhad Bhabie have their way.

You might remember Bhad Bhabie (Danielle Bregoli) from Dr. Phil where she rose to fame after calling the audience "hos" and telling them to "cash me outside, how bow dah?" That wasn't it for Bhad Bhabie. She went on to launch a music career.

Bhad Bhabie strikes first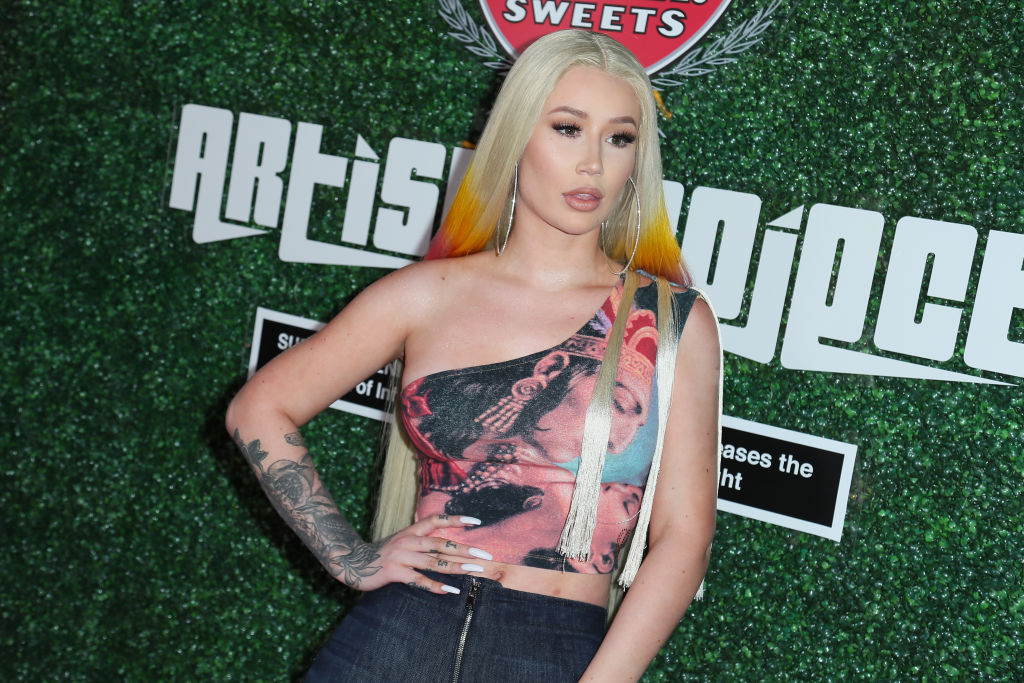 Bhad Bhabie decided to launch her first attack on Azalea in February 2018. She remixed her track "Hi Bich" to include the lyrics, "B*tch don't compare me to Iggy, that old ho is washed and I'm lit/Wouldn't pay her to wash up my whip (bye, broke bitch, bye, ho!)."

Azalea ignored Bhabie's slander, but Bhabie wasn't done there. Last year at a party hosted by Cardi B, she threw a drink at Azalea. Someone caught the event on video, and you can see Bhabie tossing the drink, mostly missing Azalea, and then hiding behind her security before being escorted out of the event.
Just not worth it
Azalea seemed amused, dismissing the action as childish and embarrassing on Twitter, and reassuring fans that she wasn't going to stoop low enough to turn it into a fight.

"Imagine me scrambling around on the floor in a dirty night club trying to hit a teenage girl. Girl. NO. I'm grown and will simply have you REMOVED and continue enjoying myself. – #YouNotSpecial Anything else from her mouth is ignored – it's too preschool for me," tweeted Azalea.
Iggy Explains, Bhabie Throws Shade
She went on to post a video on Instagram during her drive home about the entire situation, explaining again that it was foolish and not worth her time.
Bhabie followed up with an Instagram story post that basically called Azalea washed up.

Azalea Strikes Back – Hard
Azalea spent an awful lot of time explaining how the fight just wasn't worth her time, and people seemed to believe her.
Then, on March 15, she released "Sally Walker." Now, fans aren't so sure if Azalea really meant what she said.
The "Sally Walker" music video features a young woman stepping out into the middle of a road, and getting run down by a car.
Shea Couleé of RuPaul's Drag Race fame steps out of the car, and says, "Didn't her mama ever tell her not to play in the street? Is she okay? Well, at least red is her color."

This might seem like nothing at first, but Bhad Bhabie is known for her red hair dye and affinity for the color.

Picking a fight
It doesn't stop there. One of Azalea's verses goes, "Lil' Sally Walker, walkin' down the street, She didn't know what to do, so she jumped in front of me. You ain't gon' do shit, you just act ratchet. Play with me, you gon' get backhanded."
It doesn't take too much of a leap of faith to see that these lyrics could be a callout to Bhabie's age and behavior at the club.

Is Azalea 'low-rent'?
When one of Bhabie's fans alerted her on Twitter, she responded by sharing a review of Azalea's song that called Azalea a "low-rent Bhad Bhabie."
All of this seems especially amusing after Azalea repeatedly claimed that she wouldn't pick a fight with a teenage girl. They say actions speak louder than words, and if this video really is a continuation of the feud, then Azalea wasn't being honest.