Iggy Azalea Seemingly Shades Cardi B and Megan Thee Stallion In Viral Tweet
Iggy Azalea keeps a really low profile these days. She hasn't been seen out in public in months and hasn't released music in… we don't know how long. But she has been on Twitter, engaging with fans on occasion and offering up small life updates.
The "Fancy" rapper recently took to the social media platform to weigh in on a tweet about female rappers, but it didn't go over too well with viewers. In fact, she caught tons of flak from fans who felt she was shading Cardi B and Megan Thee Stallion.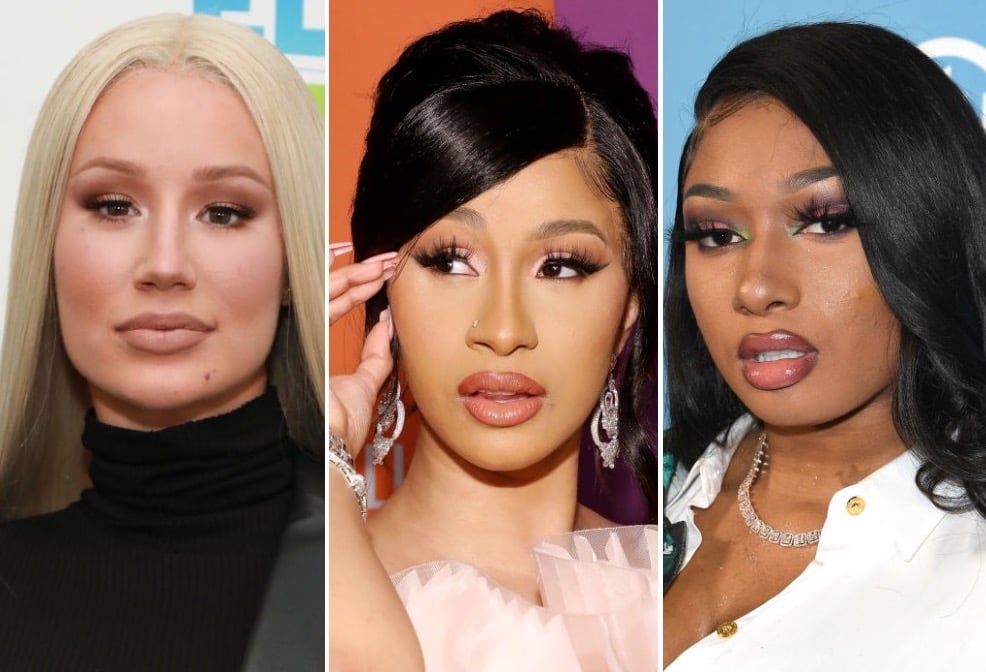 Iggy Azalea's Twitter post
This all started when a Twitter user posted a tweet about the freestyling capabilities of several female rappers. "a gun is pointed to your head the female rapper that has your zodiac sign has to do a freestyle to save you are you dead or alive?" read the tweet, which featured pictures of Iggy Azalea, Nicki Minaj, Cardi B, and Megan Thee Stallion along with a group of zodiac signs assigned to each image.
Many fans who were grouped with Iggy Azalea (Geminis, Aries, and Leos) teased in the comment section that they had slim chances of survival.
Fans know the "Sally Walker" rapper has faced intense criticism for her freestyling skills in the past, including in 2013 when she went on the radio show Sway In The Morning. Once she finished rhyming, a listener dialed in to the show and called the freestyle "trash" before urging Iggy Azalea to "get the f*ck off the air."
RELATED: 10 Things You Might Not Know About Iggy Azalea
Iggy Azalea claps back
Iggy Azalea responded to the post in a now-deleted tweet screengrabbed by the entertainment blog The Neighborhood Talk. She wrote: "I can't freestyle and that's fine, but I can write the f*ck outta a song & half the girls can't do either."
Although she didn't call out anyone in particular, fans ruled out Nicki Minaj due to her history in the rap game and suggested the tweet was aimed at Cardi B and Megan Thee Stallion.
"So is she saying Meg and Cardi can't write? , because I know damn well she ain't talking about Nicki Minaj," one person wrote.
"Not HER dragging Cardi & Meg," said another.
"She must have included cardi twice" a third person mused.
RELATED: Megan Thee Stallion Addresses Rumored Feud with Cardi B
Others, however, defended Iggy Azalea and said they believed she was simply speaking from a general perspective.
"She meant one can't do either," one person wrote.
"she wasn't comin for them chile 😭. they finna drag this girl for no reason," said a second person.
"please don't think she talking about any of the women in this post," another fan begged.
As of writing, Iggy Azalea has yet to weigh in on the criticism.
Other Iggy Azalea controversies
Iggy Azalea has long been criticized for her rap skills. Ever since she broke out with 2014's "Fancy", she has faced accusations of cultural appropriation for rapping with a "blaccent."
Iggy Azalea addressed those criticisms in a 2019 interview with Cosmopolitan, saying she thinks the idea of cultural appropriation is subjective.
"You could ask one person of the same race, 'Does this affect you?' and they will say yes," she said. "But another person will say no. They could be from the same place, same everything, but have different perspectives about it."
Regardless of what people think about her rap style, Iggy Azalea added, "I'm still going to make the same type of music and still be ridiculous and larger than life. So I can't be that f*cking sorry about it."