iHeartRadio Music Festival 2021: How Many Original Members Are Still in Cheap Trick?
Every year, the iHeartRadio Music Festival features performances from a wide range of artists across multiple genres. This year is no different. Fans will hear music from newer artists like Dua Lipa and Billie Eilish and veteran rockers Cheap Trick. Forming in 1973, Cheap Trick became famous for its exceptional live performances. Almost into its 50th anniversary, the band continues to tour. But how many original band members are still in the band?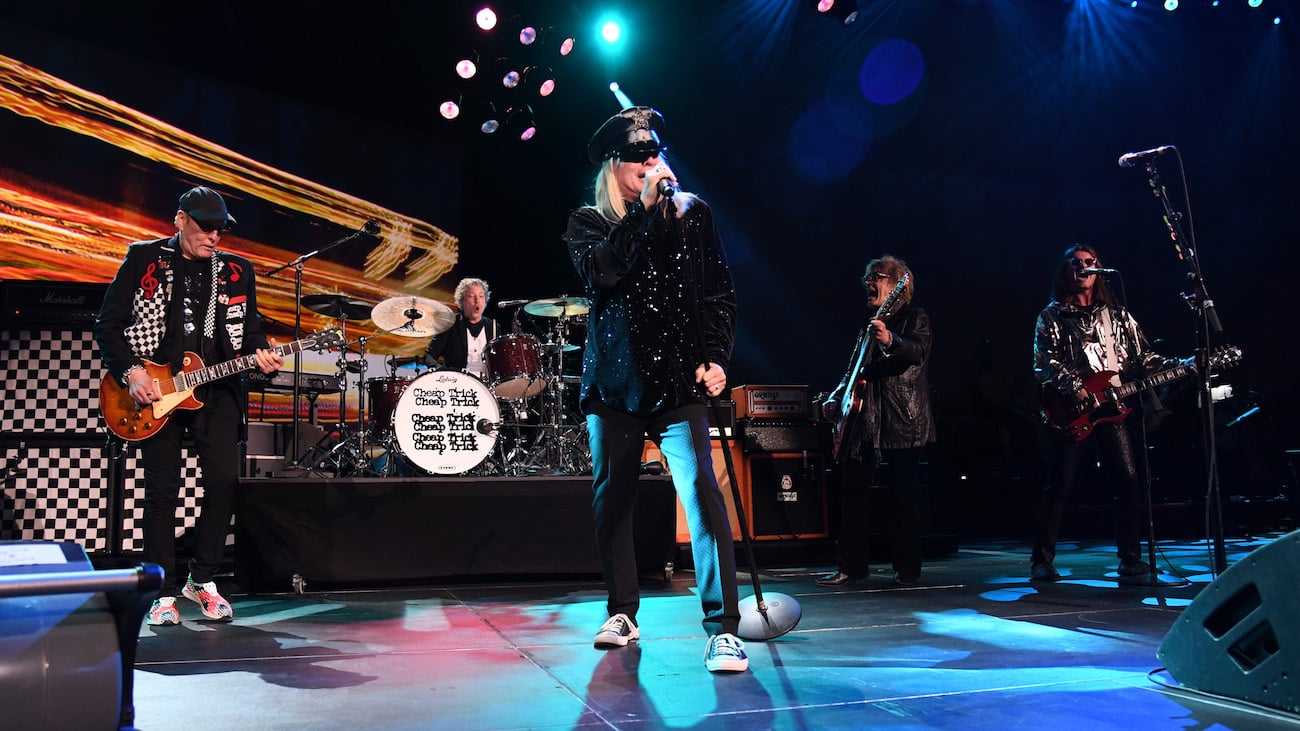 How did Cheap Trick become famous?
Cheap Trick was formed in 1973. According to Ultimate Classic Rock, Cheap Trick started performing at bowling allies and small concert venues around the band's hometown of Rockford, Illinois. The band's original lineup consisted of frontman Robin Zander, guitarist Rick Nielsen, bassist Tom Petersson, and drummer Bun E. Carlos.
"I was visiting a relative in Waukesha, Wisconsin," said producer Jack Douglas. "And this guy said to me, 'You gotta come down the bowling alley and hear this band play.' And I went down to the Sunset Bowl, I'll never forget this place. A bowling alley, they had a lounge and the place was packed to the rafters. And the band was Cheap Trick and they did, like, a show that was part carnival, part circus and part rock 'n' roll show. I was knocked out."
Douglas called Epic Records' head of A&R Tom Werman and told him to see the band. Douglas said he'd take the band to RCA if he didn't, so Werman went out to Illinois and signed the band. By the time Cheap Trick started recording their debut album, they already had tons of experience performing live and had much original material written.
Three of their biggest hits, "I Want You to Want Me," "Dream Police," and "Surrender," were already written when they first entered the studio. But none of those songs got on their first album, Cheap Trick, released in 1977. Their second album, In Color, was released later that year and featured "I Want You To Want Me," but the album failed to chart.
RELATED: Did Taylor Swift Tease Her Next Re-Recorded Album During Her iHeartRadio Music Awards Appearance?
When they toured Japan in 1978, they recorded two concerts at the Nippon Budokan and compiled some tracks into a live album called Cheap Trick at Budokan. The album made the band internationally famous. Since then, Cheap Trick has released 20 studio albums and 8 live albums. They've performed live 3,700 times, have sold more than 20 million records, and were inducted into the Rock & Roll Hall of Fame in 2016.
How many original members of Cheap Trick are still in the band?
As of this writing, only three original members of Cheap Trick still record and perform with the band. In 1980, Petersson left the band, and John Brant replaced him. However, he returned in 1987.
According to the Daily Journal, Bun E. Carlos stopped touring with the band in 2010. Nielsen's son Daxx, who'd filled in for Carlos before, became the touring drummer. Carlos filed a lawsuit against Cheap Trick in 2013, saying that they weren't allowing him to still function as a member. However, they settled the suit, and Carlos still owns one-quarter of Cheap Trick and is a band member, even though he does not record or tour with them.
Zander, Nielsen, and Petersson have remained in the band since its birth. Daxx now records with the band as well.
RELATED: Miley Cyrus Gives 'Passionate' Performance at iHeartRadio Music Festival After Kaitlynn Carter Breakup
What will Cheap Trick perform at the iHeartRadio Music Festival?
Cheap Trick will more than likely perform their hit songs "I Want You To Want Me" and "Surrender" during their set at the iHeartRadio Music Festival. While they're likely to play other classic Cheap Trick songs, they'll probably play some songs from their newest album, In Another World.
The album dropped in January and is their 20th studio album. They also released a new single to go with it, called "Light Up the Fire." The band is currently touring.
"This band is held together by music," singer Robin Zander said (per Ultimate Classic Rock). "It's the super glue that keeps us writing and putting records out. The reason we started the band in the first place was to tour and write songs and put records out. If all that went away, there would be no point then, would there?"
We can't wait to see what Cheap Trick, one of the best live bands, does at the iHeartRadio Music Festival. They'll have an interesting performance compared to the rest of the performers.