Does Lily Collins Really Sing in 'Emily in Paris' Season 3? How Her 'Alfie' Cover Came to Be
Ashley Park's singing voice has become a staple in her role as musician Mindy Chen in Netflix's Emily in Paris. However, in Emily in Paris Season 3, it's Lily Collins's turn to serenade her friends. Many fans have been surprised to see her character, Emily Cooper, sing as a romantic gesture to win back her boyfriend. Is that really Lily Collins singing? Here's how the scene came to be.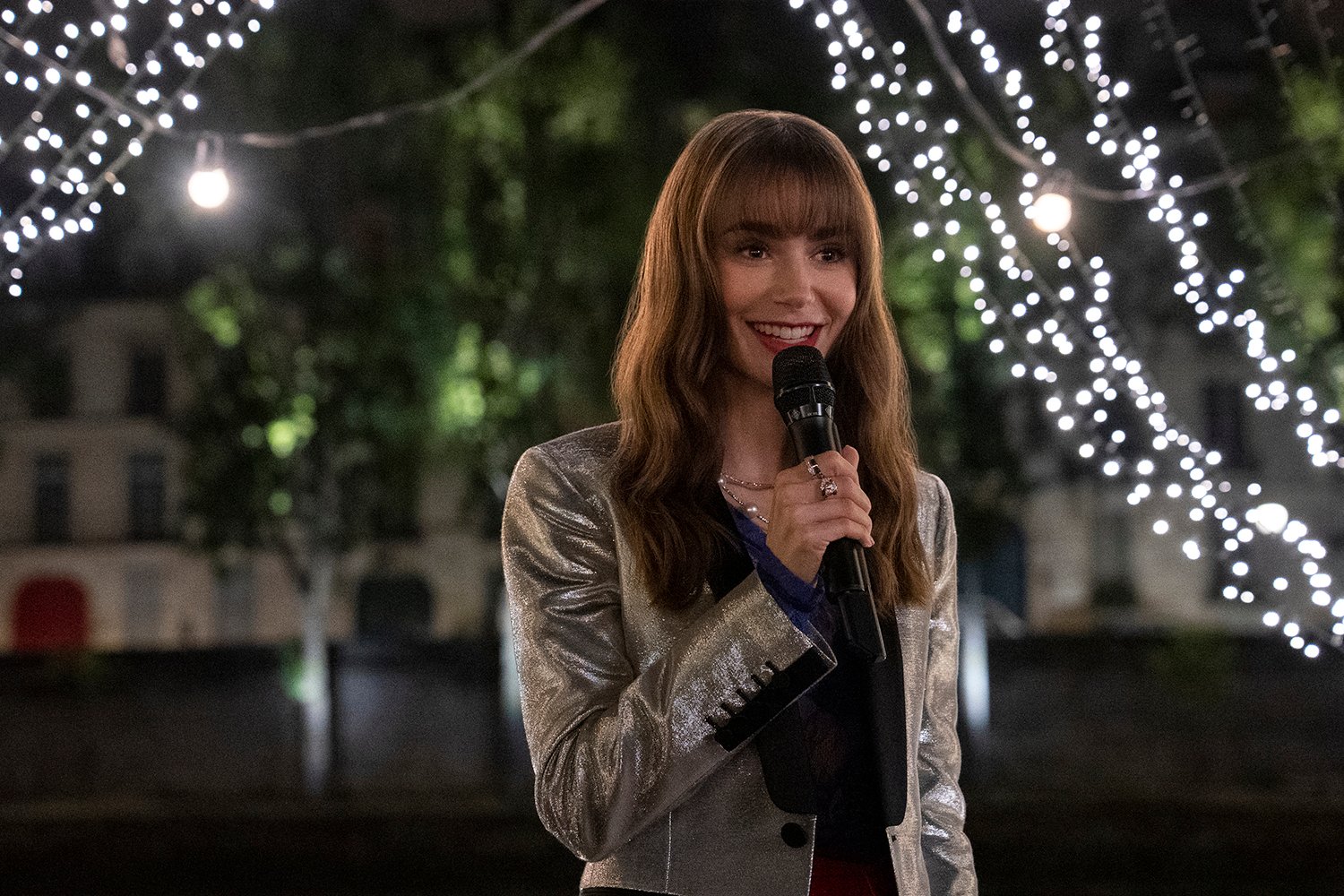 Is Lily Collins a singer?
Musical talent runs in the family. Lily Collins is the daughter of Phil Collins, an English singer, drummer, and songwriter. He performed with the rock band Genesis from the '70s to the '90s and had an extremely successful solo career. Some of Phil's hits include "In the Air Tonight," "One More Night," and "Another Day in Paradise."
Meanwhile, Lily is an established actor. Some of her most notable projects before Emily in Paris included Love, Rosie, The Blind Side, Abduction, and The Mortal Instruments: City of Bones. However, she did follow in her father's footsteps once with a Bollywood-inspired musical number at the end of her 2012 film, Mirror Mirror.
"I never thought I'd be doing that," Lily told The Hollywood Reporter of her experience at the time. "It was so much fun and I've always loved singing, writing songs, and kind of experimenting with that. I wouldn't say that it's my goal right now to come out with an album or anything, but it's so much a part of who I am and if there's a movie like this one that involves singing, I think that's kind of the perfect way to segue into it and experiment."
Lily Collins shows off her singing skills in 'Emily in Paris' Season 3
Lily lets her singing voice shine again in Emily in Paris Season 3 Episode 2. After getting dumped, Emily decides she needs a romantic way to get her boyfriend, Alfie (Lucien Laviscount), back. With some help from her roommate, Mindy (Ashley Park), Emily hops onto the stage at a small festival in Paris and serenades Alfie with Dionne Warwick's "Alfie."
"What's it all about, Alfie?/ Is it just for the moment we live?/What's it all about when you sort it out, Alfie?/ Are we meant to take more than we give?/ Or are we meant to be kind?" she sings, slightly off-key.
Lily revealed to E! News that she saw the scene as another opportunity to experiment with "character-driven" singing moments. However, she needed some help. That's where Ashley came in. Knowing that Ashley had experience with singing on Emily in Paris, Lily recorded a few versions of the cover in the bathroom and sent them Ashley's way. Ashley then gave Lily some advice: "Just to let go and be me."
When it came time to actually perform on stage, Lily was pretty nervous.
"It was slightly terrifying because also it was in a public space in the middle of the city like the day after the actual Fête de la Musique," she told Decider. "So people were out in the streets, it was summer, and it was quite an open-aired set type situation to do it in."
Lucien Laviscount and Ashley Park gushed over Lily singing
Despite her nerves, Lily said she was excited to sing. Her co-stars had nothing but great things to say about the scene. Lucien told Decider that it was "the most adorable, sweetest, [most] truthful [gesture]." 
"Honestly I was a spectator in that scene, just watching her do her thing. No acting required. I was blushing. It felt real. It felt good," he added.
Meanwhile, Ashley told E! News that she loved Lily's vulnerability in the scene.
"That scene is so moving and beautiful because you really see what Emily is saying and trying to do," she shared. "That vulnerability in a voice is something a lot of people shy away from and I think that is the most tender."
Emily in Paris Season 3 is now streaming on Netflix. Perhaps Lily Collins will expand her singing scenes in Emily in Paris Season 4, which has already been renewed.