'Ms. Marvel' Star Iman Vellani Says Tom Holland Spoiled 'Spider-Man: No Way Home' for Her
No one is safe from Tom Holland's accidental Marvel spoilers. In a recent interview, Ms. Marvel star Iman Vellani revealed that she ran into Tom Holland while he filmed Spider-Man: No Way Home, and he immediately showed her a photo that spoiled the movie's big twist. Here's what happened.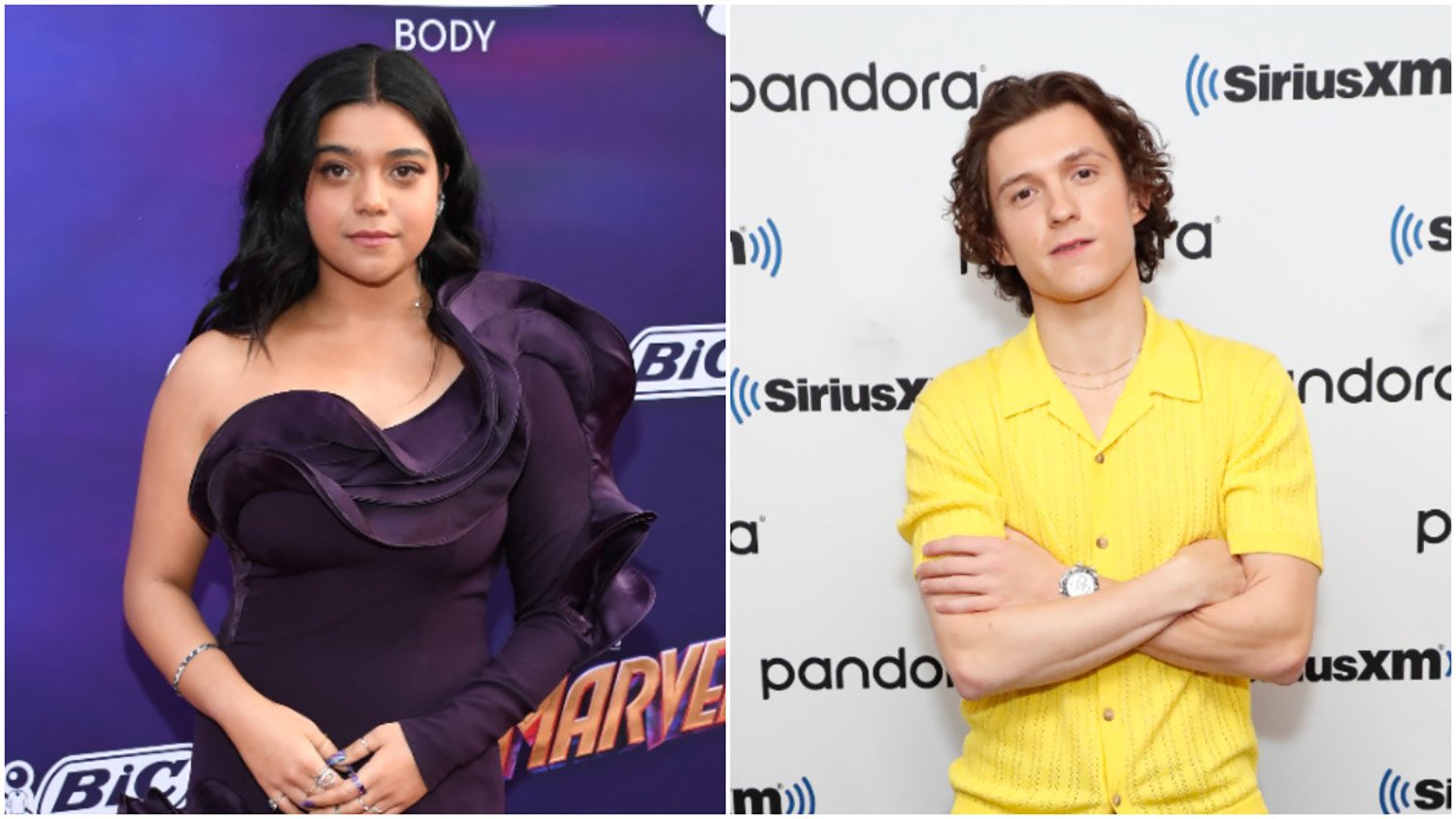 Tom Holland has a reputation for accidentally spoiling all things Marvel
Holland's reign as the spoiler king began in 2016 with his debut as Peter Parker/Spider-Man in Captain America: Civil War. He has earned himself a reputation for talking about his Marvel films a bit too much, spilling everything from scene details to major plot points. In 2018, for example, he accidentally leaked the title of the second Spider-Man movie, Far From Home, by posting it on social media. Another time, he implied in a crowded theater that Spider-Man would die in Avengers: Infinity War.
For the most part, Holland has spilled Marvel secrets to the public and press. However, his loved ones have also experienced his spoiler tendencies. Last year, Holland's girlfriend and co-star, Zendaya, admitted that he spoiled Iron Man's death in Avengers: Endgame for her.
To be fair, Holland's reputation may have been blown out of proportion a few times. Some even believe Marvel has turned Holland's spoilers into a marketing tactic. But thankfully, the actor has kept a friendly attitude about it and even poked fun at himself.
"It's honestly a miracle they let me on a live TV show," he once joked on Good Morning America.
Tom Holland spoiled the big twist in 'Spider-Man: No Way Home' for Iman Vellani
Marvel newcomer Iman Vellani found herself on the receiving end of Tom Holland's spoilers last year. Speaking to Elite Daily about her debut in Ms. Marvel, Vellani explained that she worked on a set right next door to Holland's Spider-Man: No Way Home set. So, Holland decided to pay Vellani a visit in his web-slinging gear.
"He was so nice," the 19-year-old actor said, revealing that they talked about work for a bit. "He was like, 'What's your show even about?' I was like, 'What's Spider-Man about?'"
And then, Holland pulled out a revealing photo from the No Way Home set.
"He fully shows me a photo of him with Tobey Maguire!" Vellani added. "I get we're both in Marvel, but I didn't need to know that before it happened."
As Marvel fans know, Spider-Man: No Way Home was long rumored to include former Spider-Man actors Tobey Maguire and Andrew Garfield. However, Marvel and the cast vehemently denied it until the film's release in December 2021. (And yes, Holland almost spoiled their return to the public, too.)
Iman Vellani fears she'll start her own accidental spoiler spree
As a huge Marvel fan herself, Vellani has her own fears of becoming the next human spoiler. According to Elite Daily, she often had to stop herself from spilling too much. Thankfully, if there's ever anything Vellani is just bursting at the seams to discuss, she can talk to Marvel head Kevin Feige.
"Every time I talk to Kevin, we have this argument where I say, 'The MCU is not [Earth continuity] 616,'" she said. "He's like, 'It is because I said so.' I'm like, 'No, it's 199999' [a different Earth continuity previously outlined by Marvel]. He hates it. So, we keep having this argument, and then they put 616 in the movie. I'm like, 'Kevin, you know it's not 616.' He just sends me a sad face. I was like, 'Great.'"
Fans can see Iman Vellani star as Kamala Khan in Ms. Marvel, which premiered on Disney+ on June 8. The series sees Kamala, a huge fan of Captain Marvel, develop superpowers and become a hero herself.
RELATED: 'Ms. Marvel' Actor Iman Vellani Reveals Which Marvel Co-Stars She Wants to Team Up With