'Impractical Jokers': The Jokers Share Their Most Embarrassing Moments
The stars of the hit truTV prank show 'Impractical Jokers' say these are their most embarrassing moments on the show.
The comedians at the center of truTV's Impractical Jokers have done some really wild things. True daredevils, they're always challenging each other to outrageous stunts that most people would probably be too ashamed to try. But that doesn't mean they don't get embarrassed.
From getting a tattoo of Jaden Smith's actual face to delivering a raunchy best man speech in front of tens of guests, the jokers have been through plenty of awkward situations. But to let them tell it, these are the absolute worst. Here are the jokers' most embarrassing moments.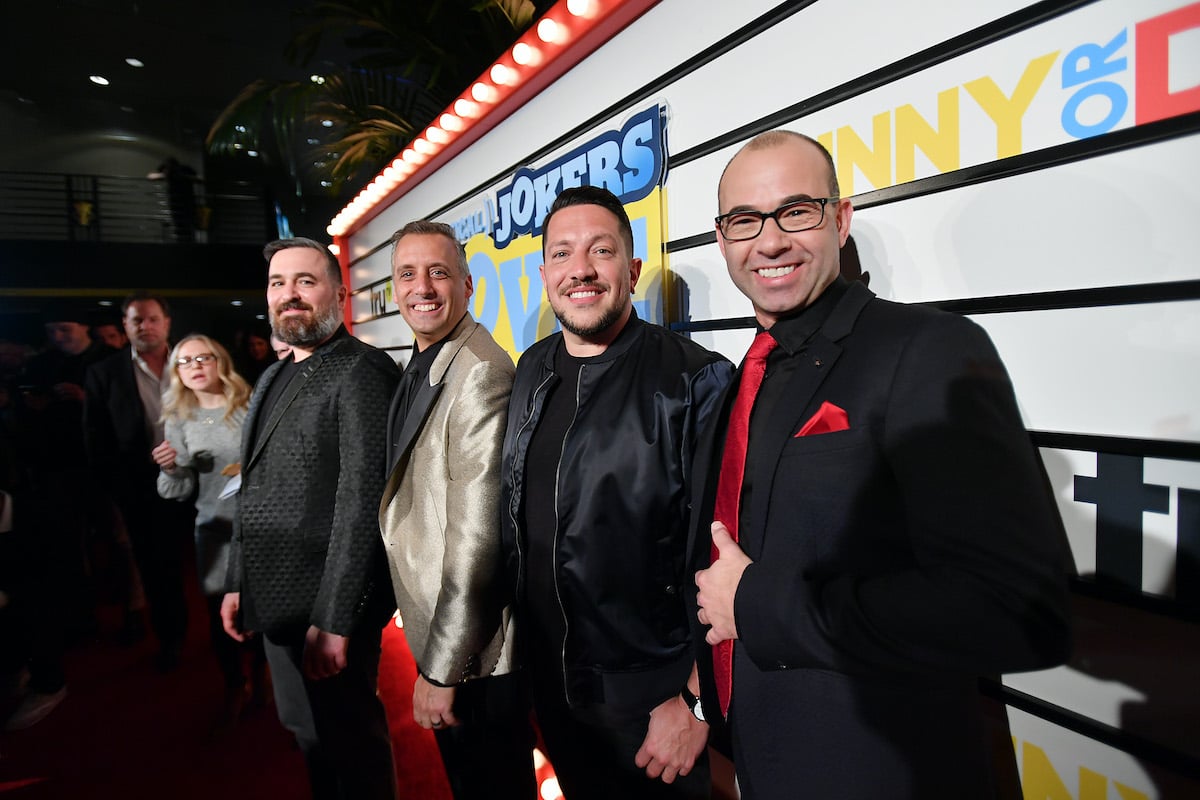 Joe Gatto says that baseball punishment is 'definitely' his most embarrassing moment
If you've ever watched the show, you're aware that it takes a lot for Joe to get embarrassed. He's usually happy to take on challenges and will go to some pretty extreme lengths for the sake of a thumbs up. But he admits the punishment where he had to steal baseballs from kids was really brutal.
As you might recall, Joe was at New York's Citi Field while MLB star Noah Syndergaard passed out autographed balls to a group of kids. Acting like a diehard fan, Joe began intercepting them and stealing the balls for himself. "You gotta be quicker," he said at a point.
It got so intense that one of the moms eventually intervened, angrily screaming at Joe and demanding an apology. "I'm 1000% sorry… Sorry you didn't get that ball," he quipped.
Recalling the experience to Forbes, Joe said it's "definitely" the worst punishment he's ever had to do. "I don't know if you know that punishment, but Google it, it's not fun," he said.
James 'Murr' Murray calls his bodybuilding stunt the 'most embarrassing moment' of his life
Asked to share his worst punishment, Murr said: "For me, it still, to this day, has to be the Winnie Cooper punishment with Danica McKellar from the Wonder Years, the TV show. They made me go into a room thinking I was competing in a bodybuilding competition, so I'm stripped down with just a Speedo on and I'm all greased up."
"I walked into the room and there's none other than Danica McKellar, Winnie Cooper from The Wonder Years, sitting there in a gown looking gorgeous and I had to interview her 20/20 style while dressed like that with my nipples out. It was the most embarrassing moment of my life."
Brian 'Q' Quinn says he had plenty of 'bad' experiences
The first challenge that really left Quinn flustered was when he had to teach his parents about the birds and the bees. "That was really bad," he told Forbes.
"That got replaced, eventually, by when they put the tarantulas on me because that was one of the worst things and then that recently got replaced…" he continued.
Detailing the experience, Q explained he was forced to ride a tram at Universal Studios in Hollywood and interrupt the tour. "I tried to re-watch the edit of it and I couldn't really get through it," he said.
"It was really tense to watch. So the new one is that. I had to ride the tram, punishment ride, and keep pulling the stop chord to stop the tour. And they made me do it like seven, eight times. And by the end, people wanted to full-out… they weren't even hiding it, wanted to just murder me. So it was really bad for me," he added.
Sal Vulcano can't name just one prank, either
For Sal, he also said several pranks were awkward for him. Among the worst is a punishment where he had to participate in a bingo game and repeatedly declare he won.
"The ones that are crazy like yelling 'bingo' over and over at a bingo hall with 1,100 old people because old people are over it, they do not care," he said. "Someone said, 'Break his legs.' 
"Because I'm just ruining their game and then there's disgusting ones where they threw me in the swamps and the bayou and I was just afraid of parasites going in my orifices and everything," he added.
The good thing is, people tend to loosen up and come around once they realize they're just jokes. Well, most people.