Ina Garten Reveals Her Secret to Making Perfect Cocktails and It's So Simple
Ina Garten knows how to make the perfect cocktail — and she's got a simple kitchen tool that allows her to pull it off. Garten demonstrated how she mastered mixology during a 2020 late night talk show appearance.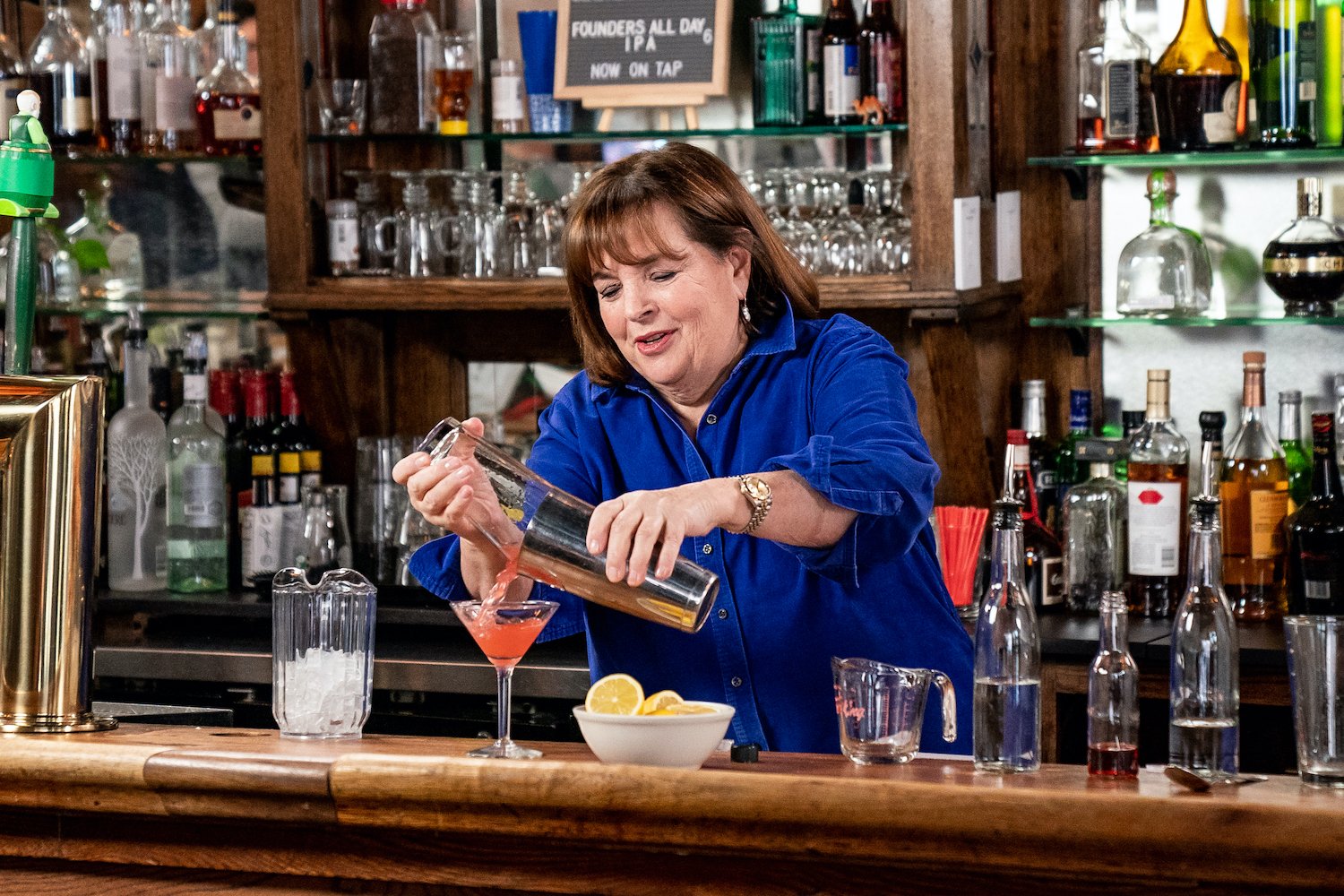 Ina Garten goes day drinking and brings along her secret weapon
Late Night host Seth Meyers invited Ina Garten to do a little day drinking, taking over The Corner Bistro in New York City as the two got tipsy and made a game out of mixing up cocktails.
"We are going to have a refined afternoon of good conversation and some libations," Meyers said before guzzling a drink.
Garten joked, "I'm in big trouble!"
Garten came prepared, letting fans in on one of her secret weapons for making perfect cocktails every time: a measuring cup.
While Meyers was eyeballing the ingredients and slopping together drinks, Garten carefully measured the ingredients to get the ratios and flavors as the recipes intended.
"That's the problem with you cookbook people," Meyers quipped after Garten admitted to bringing her own measuring cup.
Meyers got pretty messed up during their day of drinking, while Garten continued to keep her wits and take tiny sips of her cosmopolitan. She even indulged the late night host by playing games like identifying celebrity feet and trying an Arby's dipping sauce. (She wasn't a fan.)
Ina Garten always follows recipes to the letter
During the "Day Drinking" segment, Meyers and Garten followed cocktail recipes from her cookbooks and, even though she created them, she's meticulous about measuring the ingredients.
It turns out, Garten always follows a recipe precisely. She explained the reason to Parade in 2018, sharing, "I'm very scientific. I measure everything. I spent so much time perfecting the recipe, why would I want to take a chance?"
Garten has, after all, taken a lot of care in coming up with her recipes, so many over the years, that even she uses her cookbooks to get things right. In a 2016 interview with BuzzFeed News, she explained, "But remember, I've written a thousand recipes. Maybe 850 recipes. I can't possibly know how much thyme goes into each one. I follow the recipe every single time I make a recipe. I don't just throw things in."
Ina Garten's favorite cocktail recipe
During her appearance on Late Night, Garten and Meyers made her favorite cocktail — a whiskey sour.
The recipe for Fresh Whiskey Sours can be found on the Barefoot Contessa website and features just a handful of ingredients for the perfectly tart cocktail.
3/4 cup Jack Daniel's Tennessee Whiskey
1/2 cup freshly squeezed lemon juice
1/2 cup freshly squeezed lime juice
2/3 cup simple sugar syrup
Maraschino cherries
Combine the whiskey, lemon and lime juice, and syrup in a pitcher. Fill a cocktail shaker half full with ice and add part of the cocktail mixture. Shake the cocktail for 30 seconds and pour into a glass filled with ice, then top with a cherry. Repeat with remaining ingredients.
Garten prefers using lemons and limes rather than the traditional sour mix for a fresher tasting cocktail.