Ina Garten's 10 Barefoot Contessa Recipe Picks for a Holiday Cocktail Party
Ina Garten's holiday cocktail party menu is filled with a variety of festive Barefoot Contessa appetizers as well as easy-to-make sweet and salty treats and, of course, cocktails.
Want to have an Ina Garten holiday cocktail party? Prepare a selection of festive Barefoot Contessa recipes the celebrity chef loves to serve in December. Whether the guest list is big or small Garten's got the menu covered. Without further ado, here are her go-to Barefoot Contessa holiday apps. 
1. Ina Garten's holiday appetizers begin with Fig and Goat Cheese Bruschettas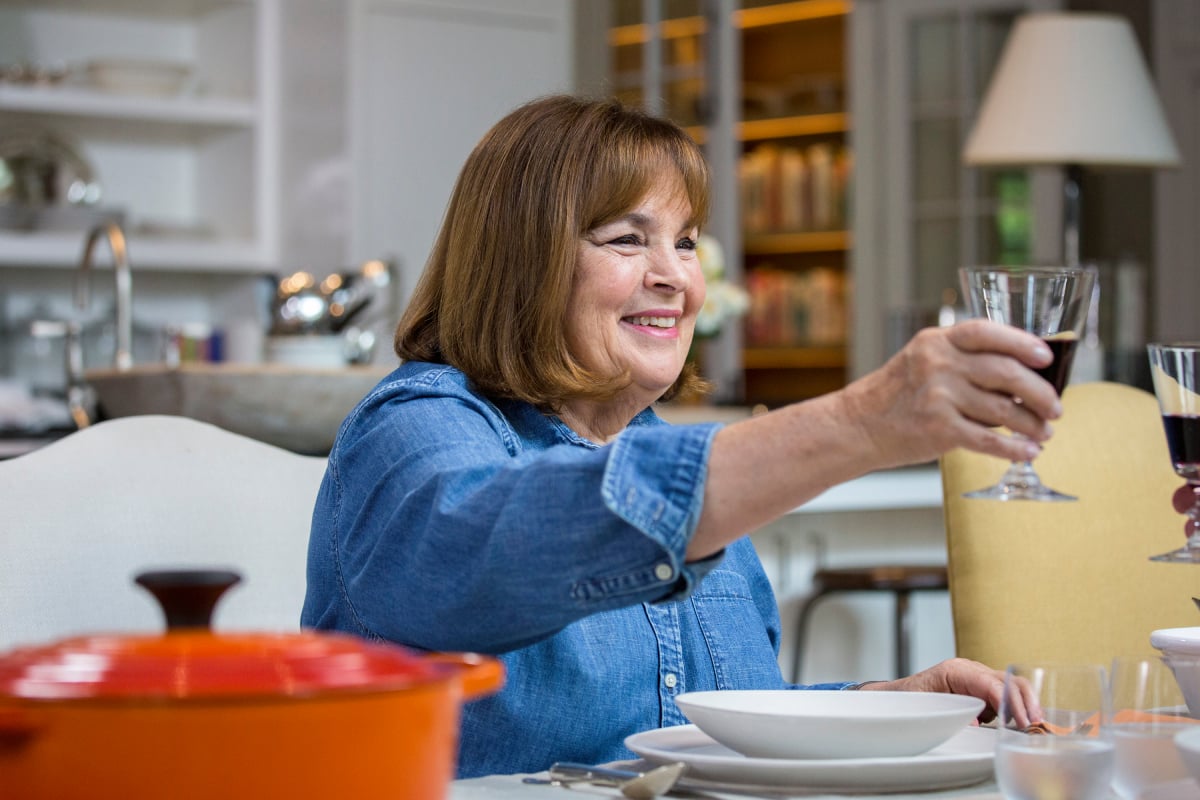 Listed on her Barefoot Contessa website, Garten's Christmas appetizers begin with a classic: bruschetta. Specifically, her recipe for Fig and Goat Cheese Bruschettas. More time-consuming than some of her other fig appetizers, these take 90 minutes to prepare. 
For those trying the recipe at home this holiday season, remember Garten's cooking tip about good fig spread: "Choose a fig spread that is quite thick or it will be hard to spread the cheese on top." 
2. The Food Network star turns up the volume on deviled eggs with salmon
Forget the standard take on this retro appetizer. Garten upgrades deviled eggs with smoked salmon. Once again, they're a Barefoot Contessa starter that takes a little over an hour to make. Prep them before the cocktail party. Or, do what Garten often does, and prepare the deviled eggs in advance for a "How easy is that?" moment. 
3. The Barefoot Contessa's Roasted Shrimp Cocktail is an easy appetizer with a wow-factor
"If you want a really easy appetizer with a wow-factor, this is it," Garten once said of her Roasted Shrimp Cocktail recipe on Barefoot Contessa. Ready in 35 minutes, the simple dish is a hit. At the time of writing the recipe averages five stars and has been reviewed more than 400 reviews on Food Network. 
4. Ina Garten's Chipotle and Rosemary Roasted Nuts couldn't be an easier holiday appetizer
Have some extra time before guests arrive? Do what Garten does and whip up a batch of Chipotle and Rosemary Roasted Nuts. Salty and sweet, they're the perfect addition to any cocktail party.
A tip from Garten: If the nuts get soft and sticky simply put them back in the oven for a few minutes before serving. 
5. Have a 'store-bought is fine' moment with the Barefoot Contessa's Butternut Squash and Ricotta Bruschettas
Fall may be over but that doesn't mean Garten's seasonal butternut squash recipes have to go away. She recommends serving her Butternut Squash and Ricotta Bruschettas at a holiday cocktail party. An easy-to-follow recipe, Garten toasts the bread, cooks the squash, and puts it all together with store-bought ricotta. 
6. Roasted Figs and Prosciutto are 1 of Garten's quickest holiday appetizers
Garten's cocktail party appetizers don't get much simpler than this. The Modern Comfort Food author's two-ingredient appetizer lets the figs and prosciutto really shine. Not only are they a crowdpleaser, but Garten's Roasted Figs and Prosciutto is also a 15-minute dish. 
7. The Barefoot Contessa's French Chocolate Bark can be a gift or an appetizer
A sweet treat Garten loves bringing to holiday parties, she selected her French Chocolate Bark as one of her go-to holiday appetizers. It's easy to make, salty, sweet, and crunchy. Plus, it makes a great gift.
8. Garten's Charcuterie Platter is a no-cook appetizer 
When the Barefoot Contessa doesn't want to cook she makes a charcuterie platter. And, according to her, it makes for a great addition to any holiday cocktail party menu. Best of all, there's no need to follow the recipe exactly. As Garten said on her website, her picks are "only suggestions for what I put on my charcuterie platter but please be creative and choose the products you like best!"
9. The Barefoot Contessa considers Pomegranate Gimlets the perfect holiday cocktail
Called the perfect holiday cocktail by Garten, no Barefoot Contessa holiday cocktail party menu would be complete without her Pomegranate Gimlets. The vibrant colors are festive and, best of all, they can be prepared in advance. 
10. Shake up a holiday cocktail party with Garten's recipe for Duke's Cosmopolitan
These are the cosmos from Garten's viral video but they have a place on her holiday cocktail party menu. Remember to follow Garten's tips for making perfect Cosmopolitans and be sure to give them a good shake. The Food Network star recommends shaking them in a cocktail shaker for a good 30 seconds.