'Indian Matchmaking': Was Akshay's Engagement Ceremony Fake?
Indian Matchmaking is one of the most popular shows on Netflix right now. Reality TV dating shows are hotter than ever. Some of the stars of shows like 90 Day Fiance have been skyrocketed to semi-celebrity status. Now, Netflix has its own answer to TLC's hit. Some of the stars of Indian Matchmaking are destined to be reality TV celebrities as well, even though apparently none of the couples are still together.
There's still hope for some of the couples
RELATED: 'Indian Matchmaking': Will the Netflix Series Return for Season 2?
The matchmaker on the show, Sima Taparia, is supposedly one of Mumbai's most successful matchmakers. But unfortunately the couples she arranged for the show mostly flopped.
None of the participants found love with the people she set them up with. One of the stars of the show, Rupam, ended up finding love on her own. She is now engaged to someone she met on a dating app.
But just because there are no engagements yet doesn't mean Taparia's efforts have failed. Firstly, the show's creator has said that Taparia will keep working on getting these participants matched up. Secondly, even though couples haven't gotten engaged, some of them may still have a future.
For example, Aparna is still in touch with three of the men she met thanks to the show. She's still friends with them, and there may be a relationship with at least one of them.
Jay, for his part, still sees a future with Aparna. Even though they got along great, their relationship faded because he lives in Atlanta, and she lives in Houston. Distance may have kept them apart, but in the post-COVID world, distance dating is one of the only kinds.
Aparna is open to meeting people through video dates. It's possible she'll rekindle her relationship with Jay now that distance isn't as much of an issue.
Akshay was the only one to get engaged
It seems like Akshay was finally going to make his mother's dream come true. She seemed more excited for him to get married than he was. His mother claimed that Akshay's single status at the ripe old age of 25 caused her to have numerous health problems. She even set a date for his wedding before he found the bride.
Akshay did end up getting engaged on the show, to Radhika. It may have been rushed, however, because he called it off shortly after. Apparently after the pre-engagement ceremony, "there were some things which we found out that did not go down well with us, and eventually I called it off." That means that Akshay and his mom are both still looking. He knows what he wants, so hopefully, he'll be able to find someone soon.
He said: "I want someone just like my mother. I am very close to her, extremely close."
Fans think that Akshay's engagement was fake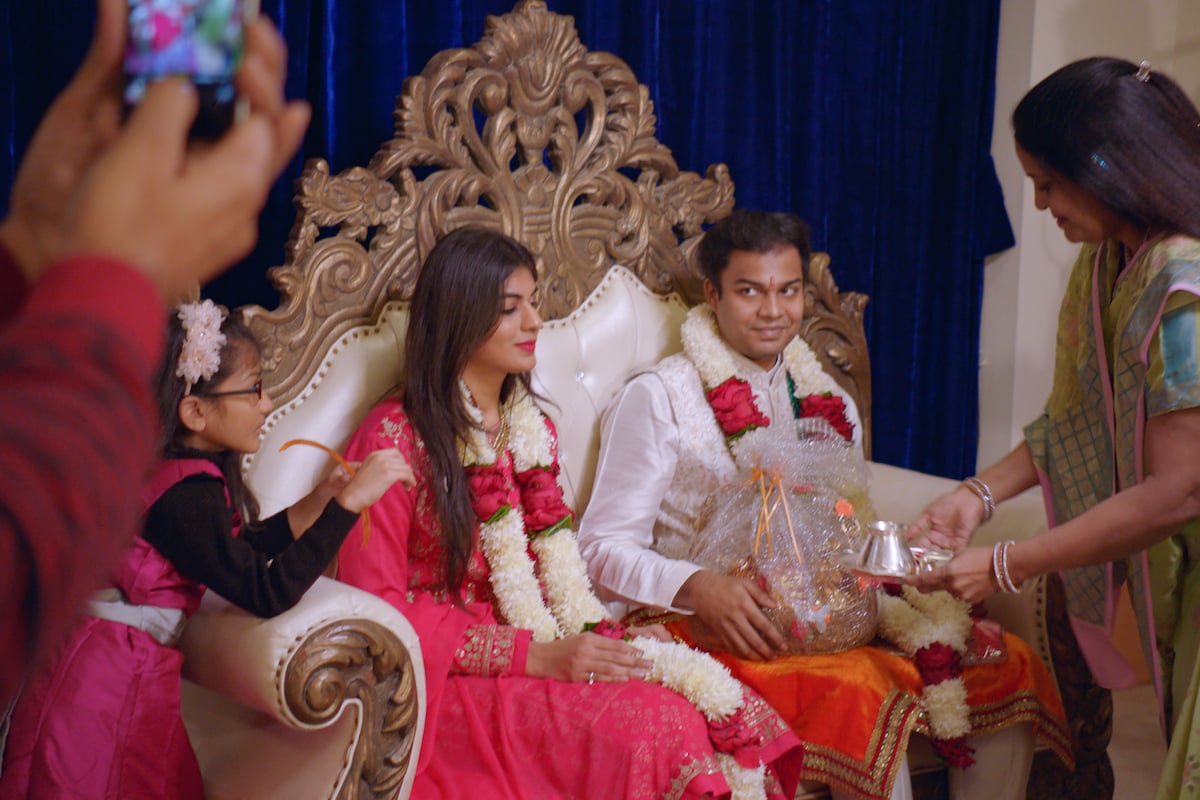 Many fans theorize that Netflix took a lot of creative liberty on the series. For one, two of Nadia's suitors came out to say they were either misrepresented or context was edited out. Then, there was Akshay.
Saylee Padwal writes for ScreenRant: "None of the matches seeing success is also a major giveaway of the genuineness of Indian Matchmaking. Sima Taparia is a well-known matchmaker in India and abroad, and her matches not coming to fruition sounds particularly sketchy. This could hint at the families on the show not being her clients at all, but simply people sourced by the team in auditions. Some cast members, especially ones like Akshay and his mother, fulfill stereotypical roles that seem to have been penned down just for the sake of drama. Instances of her blood pressure going higher or her being obsessively worried about her son's marriage at 25 are smart probes to earn social media traction."
For some fans, Akshay and his mother's relationship was unbelievable. It's one of the reasons that some people think the show is fake. But the main issue with Akshay's relationship is with his pre-engagement ceremony: His family members (brother, sister-in-law, and cousin) that were seen in the show weren't in attendance. What's more, Akshay called off the wedding a day after the rokha ceremony.