'Ink Master': Jerrel Larkins Opens up About His Challenging Upbringing and Criminal History
'Ink Master: Turf Wars' star Jerrel Larkins opened up about his difficult upbringing and criminal history on Reddit after someone posted his mugshot.
Ink Master star Jerrel Larkins is one of the top tattooers left in Ink Master: Turf Wars. He recently opened up in a Reddit thread about his difficult upbringing and past before he started tattooing.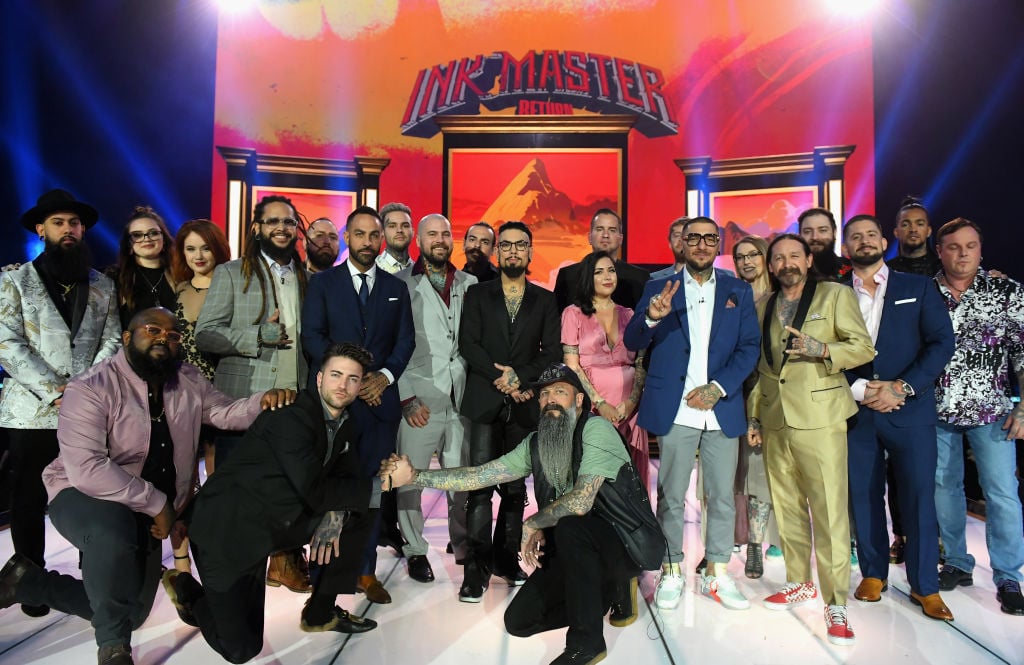 Jerrel Larkins on 'Ink Master'
The reality tattooing competition show selected the owner of Colorado-based Needle Juice Tattoo Studio, Jerrel Larkins, as one of five talented artists to represent the Midwest.
He competed alongside Jake Parsons (Colorado), Frank Ready (Oklahoma), Kelly Severtson (Illinois), and now-girlfriend Jordan Allred (Idaho) against the East, South, and West Teams.
After successfully taking out the South, only returning player Jimmy Snaz from the East and Ashley Rose along with Bob Jones (West) remain. From the beginning, Jerrel's tattoos stood out among the best, and he has never landed in the bottom, except for a team tattoo in Episode 5.
Additionally, he's won Best Tattoo of the Day three times to date, the only competitor this season to do so. Much of Jerrel's storyline has focused on his growing frustrations with working alongside a team, as he often feels that his ideas are not included.
Therefore, when he won the precision-based Flash Challenge, he "threw shots" at his own team and allies, namely Frank Ready and Jimmy Snaz, by giving them difficult tattoos to complete.
While Jimmy knocked his out of the park, Frank struggled, and he was eliminated. Many fans became upset with Jerrel as they felt like the returning player always looked out for the team over himself, only to have his own teammate send him home.
Jerrel Larkins opens up about his painful past
A Reddit user uploaded a picture of Jerrel's mugshot, presumably looking for questions. While the original description has been deleted, the Ink Master star jumped in the conversation and explained the events that led up to that mugshot.
According to the Colorado-based tattooer, he grew up in a neighborhood filled with gun violence and drug-addicted parents. Jerrel explained his father abused his mother, who he describes as a "street smart woman built on survival," and "constantly" put her in the hospital.
Then, Jerrel and his younger brother were placed in foster care. In one of the homes, an addict who ran the place starved the children, so they had to dumpster dive for food on the way to elementary school.
Once the Ink Master star and his brother returned to their mother, he says he earned "good grades" and graduated high school as a junior despite working a full-time job and taking care of his sibling.
He also wanted to become a pilot in the Air Force but got arrested "a few times" as a juvenile. At the age of 20, Jerrel became a father and "stopped my bulls**t" to get his life together so he could provide for his child. He followed his passion for tattooing and began driving back and forth from Colorado to Texas so he could build a clientele there.
Jerrel explained he was arrested several times for driving without a license during this time, which is what led to the posted mugshot. After getting into trouble with the law, the tattooer explained he "cleared up his record with hard work" and then opened Needle Juice Tattoo before he turned 30.
Finally, he addressed his edit on Ink Master and promised he's not a "d**k." Instead, he's someone who "loves deep" and "would give his last for anyone." Ink Master airs Tuesdays at 10 p.m. EST on Paramount Network.