Which 'Ink Master' Judge Has the Highest Net Worth?
Which 'Ink Master' judge has the highest net worth? Is it musician Dave Navarro, tattoo artist Oliver Peck, or businessman Chris Nunez? Keep reading.
Since the inception of Ink Master in 2012, Dave Navarro, Oliver Peck, and Chris Nunez have appeared on the reality competition series as judges. Before the show started, Navarro made it big as a rockstar, Peck had a reputation as one of the best "old school" tattoo artists in the world, and Nunez starred in his own show that focused on his tattoo shop. Which judge has the highest net worth?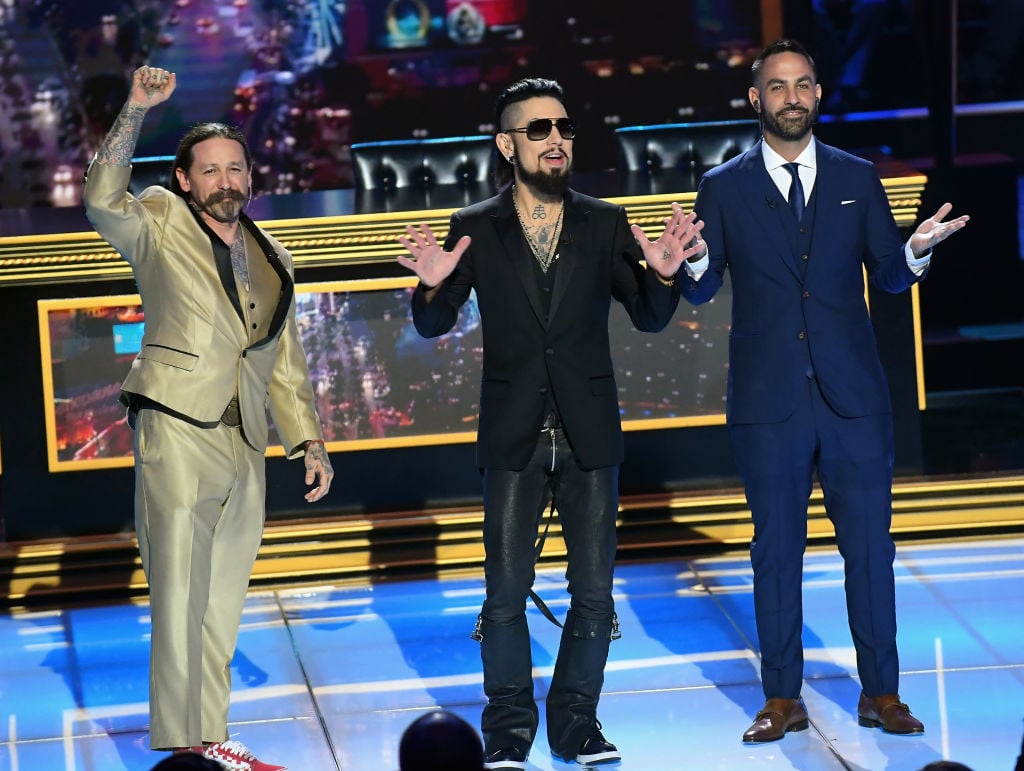 What is former judge Oliver Peck's net worth?
After photos resurfaced depicting the Dallas-based tattoo artist in blackface, he mutually departed from the show after 13 seasons. Born July 29, 1971, the 48-year-old began tattooing at the age of 19.
He trained at Pair-O-Dice Tattoo before opening Dallas-based shop Elm Street Tattoo and True Tattoo, located in Hollywood, California. Additionally, Peck landed in the Guinness Book of World Records in 2008 for tattooing the number 13 a total of 415 times in 24 hours.
Also famous for his four-year marriage to the popular tattoo artist and makeup guru, Kat Von Dee, Peck's earnings mainly come from his shops. He has an estimated net worth of $500,000.
What is Chris Nunez's net worth?
Born April 11, 1973, the 46-year-old tattoo artist grew up in Miami, Florida, and he got into painting graffiti as a teenager. Soon after, he found tattooing and interned at a local tattoo shop where he started cleaning and running errands before learning how to tattoo.
He then opened his own shop, Handcrafted Tattoo and Art Gallery, located in Fort Lauderdale, Florida, and the Miami Beach-based Love Hate Tattoos initially called 305 Ink.
In 2004, Nunez and his co-owner Ami James landed a show on TLC titled Miami Ink, which revolved around Love Hate Tattoos and their clients.
The show ended in 2008 after six seasons and spawned multiple spin-offs, including LA Ink, London Ink, NY Ink, and Madrid Ink. Four years later, Nunez became a judge on Ink Master.
He currently has an estimated net worth of $7 million from earnings with Miami Ink, Ink Master, and his partnership with media corporation Ridgeline Empire.
What is Dave Navarro's net worth?
Born June 7, 1967, in Santa Monica, California, the 52-year-old participated in the band as a high schooler, where he met Stephen Perkins, who invited him to join rock band Jane's Addiction as lead guitarist in 1986.
They released three albums and became reasonably successful before personal turmoil ended the group five years later. He then joined Red Hot Chilli Peppers in 1993 and only played with them for one album, One Hot Minute (1995), before the band fired him two years later for "creative differences."
In 2004, the guitarist formed the alternative rock band The Panic Channel with two other former Jane's Addiction members, and they released one album two years later.
Then, the group announced they were going on an indefinite hiatus in 2007. During Navarro's career as a lead guitarist, he featured with other artists outside his band, including Janet Jackson, Alanis Morissette, P. Diddy, and Tommy Lee.
In 2012, he started acting and appeared in FX's Sons of Anarchy as well as Talking Dead and Law and Order: SVU before starring on Ink Master. At an estimated $25 million, the musician and television host has the highest net worth of any judge.
His earnings come from his successful music career and appearances on the long-running competition series.