'Insecure': How 'Looking for LaToya' Became This Season's Show Within a Show
There are so many gems in HBO's Insecure. The inside jokes, the easter egg callouts to other cult classics (did anyone else catch that Lawrence's full name is Martin Lawrence?), and the constant jokes are just a few of the things that keep viewers coming back for more. But true fans of the show look forward to something special each season and that's the shows within a show.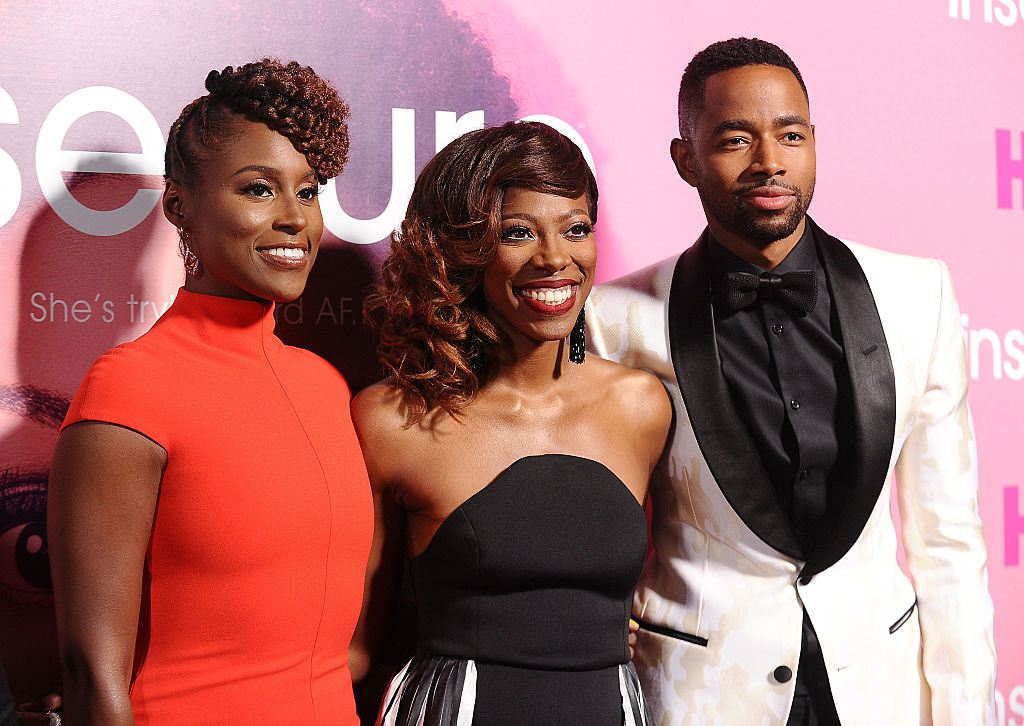 If it's your first time watching Insecure, you may not notice them, but each season, the writers make up a show that all of the characters watch throughout the season. This year, the show is called Looking for LaToya and it's just as hilarious as Insecure itself.
Past shows-within-a-show
On season 2 of Insecure, the show-within-a-show was called Due North and starred big names like Regina Hall and Scott Foley. Due North was a hilarious mashup of Scandal and Underground.
In season 3, the writers gave us Kev'yn which was a remix of a 90's sitcom reboot.
And now, with season 4, it's Lookin for LaToya, which is actually a metaphor for how Issa and Molly's friendship hits a roadblock this season.
How did 'Looking for LaToya' come to be?
Each season, the writers want the show-within-a-show to be a commentary on something in the world or the show. Looking for LaToya was no different.
"In the writers room, we were obsessing about our own different true crime shows," show creator Issa Rae told Entertainment Tonight. "Like, I was obsessed with To Live and Die in LA… and we also started talking about the metaphor of Molly and Issa's friendship of asking the 'whodunnit' question like, 'Who killed the friendship? Once we settled on that, it was like, 'Oh, Looking for LaToya should be parallel to this, in a way — just trying to look at this as a whodunnit for these first five episodes and go from there." 
Though it was inspired by real true crime stories, Looking for LaToya has a very Insecure spin.
"One of the things a lot of these true crime podcasts and true crime shows in general have in common is that they're always looking for missing white girls," Rae said. "[Looking for LaToya exposes] the idea that none of these are centered around black girls, and what it would look like if it were — and finding the dark humor in that."
Though we never get a full episode of Looking for LaToya, the characters in Insecure watch the show enough for us to get more than a few laughs.
"It's a real fun one," writer and actress Natasha Rothwell told the outlet. "I think audiences will get a real kick out of that arc. I definitely think the criminal whodunnit, 'Where are they?' brand of group watching is definitely something that we haven't hit on yet, so it was fun to play on those tropes."
What's to come on this season of 'Insecure'?
The beautiful thing about Insecure is that, while it does cover Issa and Molly's romantic relationships, it showcases the intricacies of female friendship between, not only Issa and Molly, but Kelli and Tiffany as well.
"I think they're doing well [this season]," Rothwell said of Kelli and Tiffany and their friendship. "I think audiences will able to clock how Kelli is showing up for Tiffany. In my real life — and I'm sure in a lot of other women who have friends who got pregnant and they didn't [feel this way] — you have to sort of assess how to be a friend and what that means, because it means something different when you have a friend who has kids."
Insecure airs on Sundays at 10 p.m. ET on HBO.