'Insecure': Issa Rae Didn't Cry Until This Moment at the Finale Table Read
Jay Ellis revealed when Issa Rae started crying at the 'Insecure' table read.
Another iconic TV comedy series has come to an end. Insecure aired its finale episode. There were a few tears in the episode, but one of the stars revealed when Issa Rae finally broke down on the day of the table read.
[Spoiler alert: Spoilers for the Insecure finale!]
The 'Insecure' finale had an emotional Molly and Issa scene
One of the big questions fans needed to be answered in the finale was who Issa would choose, Nathan (Kendrick Sampson) or Lawrence (Jay Ellis)? But that wasn't the only love story in the episode. 
The episode jumped through time between birthdays. Eventually, fans got to see Molly (Yvonne Orji) get married to Taurean (Leonard Robinson). After the ceremony, Molly and Issa had a private conversation.
"Thank you so much for everything, Issa," Molly told her. "For everything, just for being you and for loving me while I was me. I don't know where life is gonna take us. But I just know that as long as you're around I'mma be okay." Both of the characters were crying. "Me too," Issa said.
Orji tweeted, "This scene in the bathroom was the final scene I shot as molly. During one of the takes, @The_A_Prentice told me to go off script and thank @IssaRae for how she changed my life. We were crying for real FOR REAL.  #InsecureHBO."
Showrunner Prentice Penny also tweeted, "The real love story is Issa And Molly. Black women being dope as f*ck and thriving in the face of anything is what we are really watching. #InsecureHBO."
Issa Rae didn't cry until this moment at the finale table read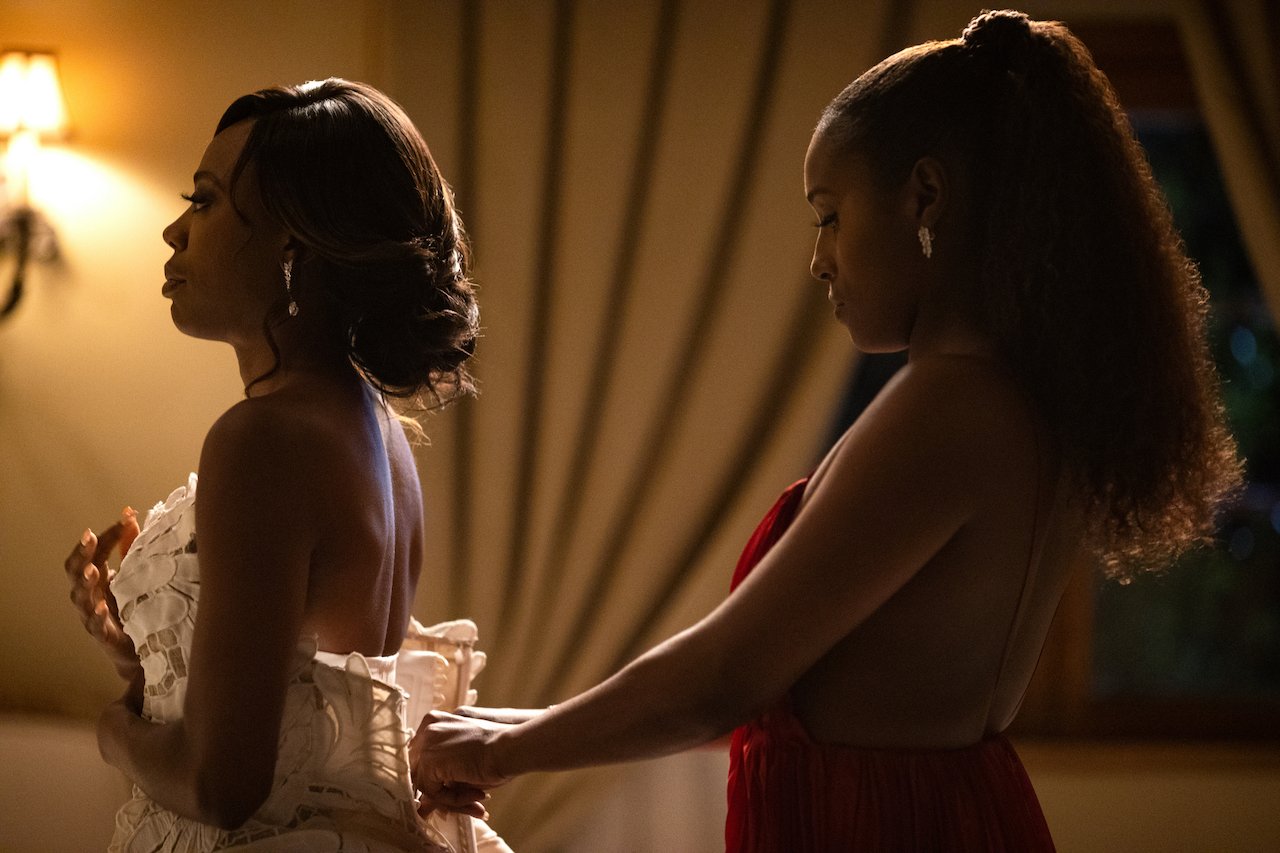 Ellis talked about the table read for the episode with Entertainment Tonight. He revealed his initial reaction to the script.
"I remember having that feeling — and it's bittersweet — but at the same time, it also felt like, 'Yeah, this is how we're supposed to be. This is what it's supposed to feel like. And this is the way this story's supposed to end,'" he said. The actor then talked about when the show's star cried.
"Issa was the last one to hold out," he continued. "And then, once she saw a room of 50 people literally wiping snot from their noses she was like, 'Okay, I can't hold these back anymore.' Then she got up and she made this really beautiful speech about what the show has meant to her."
The Molly and Issa scene was planned early on
The bathroom scene showed some real tears between the cast members. Rae revealed when it was originally created with Deadline.
"I mean, that bathroom moment with Issa and Molly was something that Prentice and I talked about from the jump," she said. "That was just something that I visualized, and he executed it so perfectly and beautifully, but the elements of the finale definitely changed." They considered having the best friends be in Morocco but decided the show had to end in LA  Luckily, the bathroom scene was kept the same.