'Insecure': Issa Rae Just Explained That Season 5 Premiere Ending With Lawrence
Insecure has just premiered its fifth and final season. For years, fans have been watching the TV show and Issa Dee (Issa Rae) navigate her romantic life, career, and friendships. As she's stepped into her 30s, Issa has been trying to cope with her changing relationship with her best friend Molly (Yvonne Oriji) and her on-again, off-again boyfriend Lawrence (Jay Ellis).
In the season 5 premiere, Issa made a major decision about her relationship with Lawrence. Now, Rae is giving fans a deep dive into Issa's decision.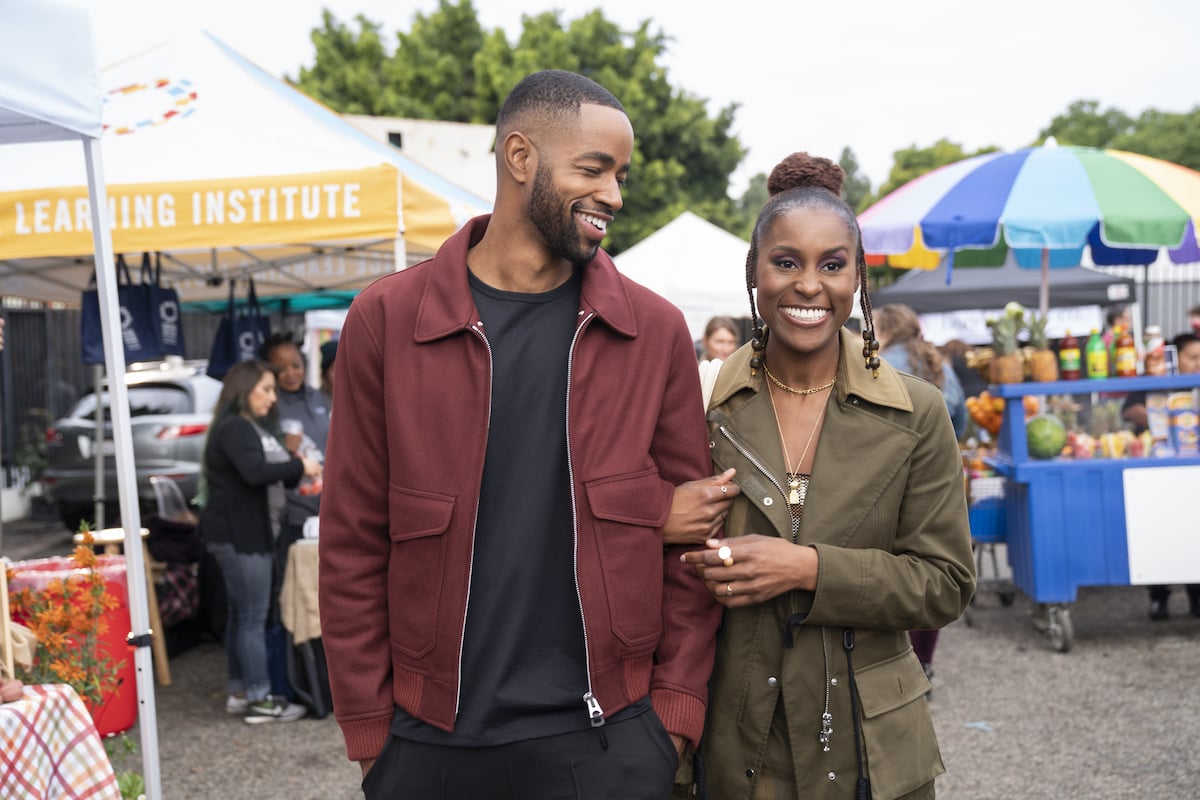 The final season of 'Insecure' has a theme
Since this is the fifth and last season of Insecure, the writers and actors are preparing us to say goodbye to the characters we've known and loved for years. In fact, the final season of the series has a theme. Insecure showrunner Prentice Penny revealed on Twitter, "Are we gonna be okay is the theme of the entire season. You should watch it from that lens."
After the Season 5 premiere, we don't know if our characters will be.
Issa ended things with Lawrence in the 'Insecure' Season 5 premiere
Though their romantic relationship ended in season 1 when Issa cheated on Lawrence, they seemingly rekindled things in season 4. However, things took a turn when Lawrence discovered that his ex-girlfriend Condola (Christina Elmore) was pregnant with his child.
During the season 5 premiere, Lawrence picks Issa up from the airport where she informs him where's she's at with their relationship. As Lawerence attempts to follow Issa into her apartment she stops him. "Lawrence, I had a chance to think," she says. Her voice trails off and the two just stare at each other.
After a very long pause, Lawrence reluctantly nods and responds, "Yea, I know."
Issa Rae explained the season five premiere ending
With all of their history and the rekindling that they experienced in season 4, it seemed that Issa and Lawrence were going to try again. However, after spending the weekend at her alma mater Stanford with their friends and working on her relationship with Molly, Issa decided she wanted to go in a different direction with her life, especially, since Lawerence has a baby on the way.
"That was the most important thing for us to acknowledge and repair," Rae told HuffPost. "That's why the Issa and Lawrence decision happens at the end of the episode because Issa needed to figure out where she was with Molly and get that relationship repaired and using that as a foundation to kind of give her the clear head to make a decision about what was best for her."
Rae said that the main focus for herself and the writers is allowing the characters to grow and change, which meant that Issa needed to close the door when it came to Lawrence. "We had a lot of discussions about that in the room where Issa would be and the idea that she just wants to move forward in her life is indicative of that decision at the end," she continued. "What you'll see, even in the second episode, we just wanted to move forward with these characters and see where they ended up