'Insecure': Jay Ellis Said Christina Elmore Didn't Talk to Him for 'Like 2 Days' After Episode 3
'Insecure' star Jay Ellis said Christina Elmore didn't talk to him for 'like 2 days' after episode 3.
Insecure Season 5 Episode 3 highlighted several miscommunications between Lawrence and Condola when co-parenting their son, Elijah. Lawrence's Jay Ellis posted a picture with Condola's Christina Elmore following the episode, promising they were still friends. However, she reportedly didn't speak to him for a couple of days after they filmed the tense episode.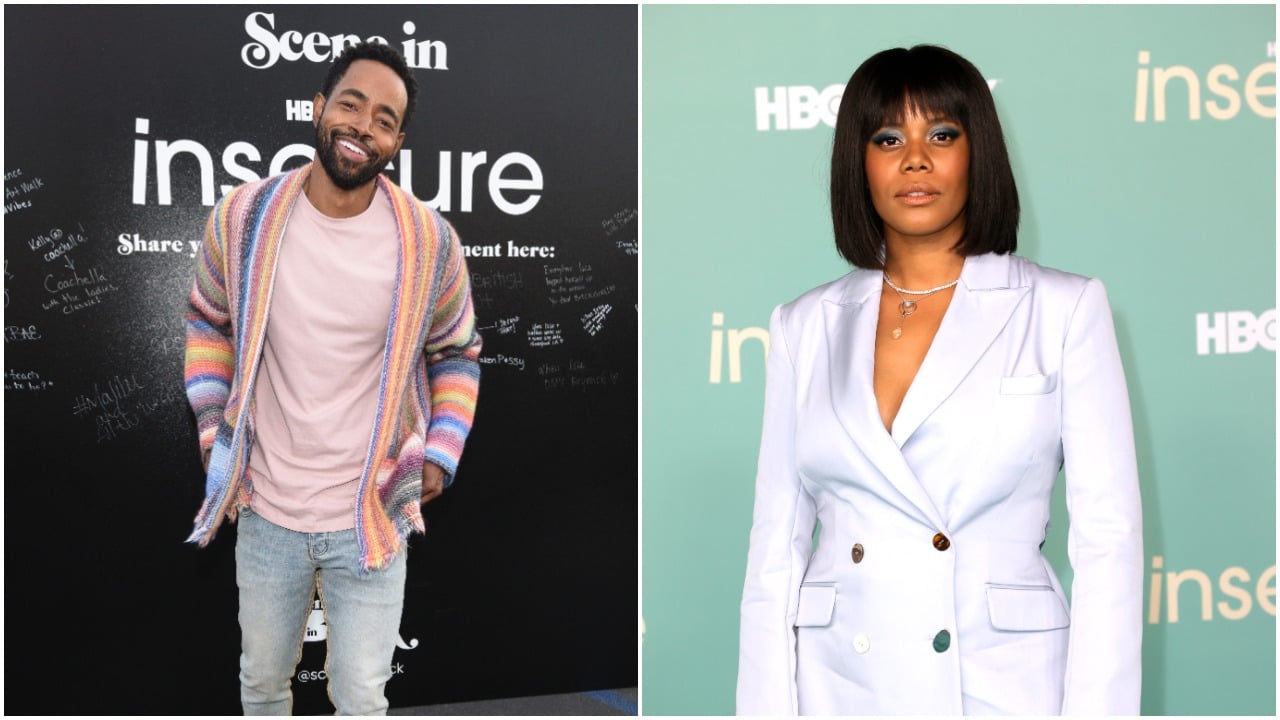 Jay Ellis said Christina Elmore didn't speak to him after 'Insecure' Episode 3
Viewers checked in on Condola for the first time since she announced her pregnancy in the Nov. 7 episode of Insecure titled, Pressure, Okay?!
While Lawrence is in San Francisco enjoying his new job, Condola lets him know she gave birth to their son through a text message. When he arrived at the hospital, he learned she named the child Elijah Mustafa, after her grandfather.
Naming their son without him proved the first of many sole decisions Lawrence felt Condola made, upsetting him. Things came to a head during a birthday party where they publicly argued over the child and later exploded when Condola changed her mind about allowing Lawrence to take Jah overnight.
She claimed she didn't trust him, and he threatened to do anything to see his son, resulting in her kicking him out of her house. Jay Ellis posted a picture with Christina Elmore following the episode, noting, "we're still friends in real life." He included, "Even though she didn't talk to me for like two days after we shot tonight's episode." 
Condola's pregnancy ended the reconciliation between Lawrence and Issa
Last season, Tiffany's co-worker Condola met Lawrence at a baby shower and helped Issa plan her block party. Even though she worked with his ex, things didn't become awkward between them, and they began dating.
During a Thanksgiving party with Condola's associates, one drunk friend let it slip that Condola might have only used him as a rebound after her recent divorce. After everyone left, he talked to her about the comment while also reminding her of a note she made about not wanting a family.
While she clarified she never said she didn't want a family, Condola admitted she had no current interest in remarrying. The conversation turned to his ex, Issa, and if he fully got over the long-term relationship or only moved on because she cheated.
That episode marked the last time viewers saw them as a couple, and Lawrence rekindled his romance with Issa. Although it looked promising, Condola revealed her pregnancy, ultimately ending the reunion between the longtime lovers.
Elmore previously claimed she thinks the hate for Condola is rooted in misogyny
After Condola revealed Lawrence as the father, many viewers didn't want her to keep the baby as they knew it would come between him and Issa. They also accused her of getting pregnant on purpose to "trap" Lawrence.
During a Nov. 2021 interview with Insider, Elmore admitted the reaction from many fans "shocked" her as she didn't expect the largely one-sided hate for her character keeping the child.
The actor noted that some viewers aren't blaming Lawrence for his part in the pregnancy, pointing out, "it took two people to make a baby." She went on to call the reaction rooted in "inherent misogyny," as she noted her character didn't lie or come in between Lawrence and Issa.
Replying to fans who have questioned why the two weren't more careful when using contraceptives, she claimed, "anytime someone has sex, they need to realize that it could lead to a baby." Insecure airs Sundays on HBO.