'Insecure': Natasha Rothwell (Kelli) Wrote the Show's Most Recent Episode and Fans Are Obsessed
[SPOILER ALERT: This article contains spoilers from Insecure Season 4 Episode 8.]
After two seasons, exes Issa Dee and Lawrence Walker finally sat down and spoke about why their relationship went wrong, "with no eggshells." While Issa revealed she mistakenly turned to another man because of how alone and unwanted she felt in the relationship, Lawrence admitted he went through a depression due to his job circumstance at the time.
The honest conversation and the growth that both characters experienced while apart resulted in the two hooking up. Instead of allowing Lawrence to take her home the morning after, she chose to walk. Many fans thoroughly enjoyed the highly anticipated episode and were pleased to see that Natasha Rothwell, actress, writer, and comedian who portrays fan-favorite Kelli, wrote Lowkey Happy.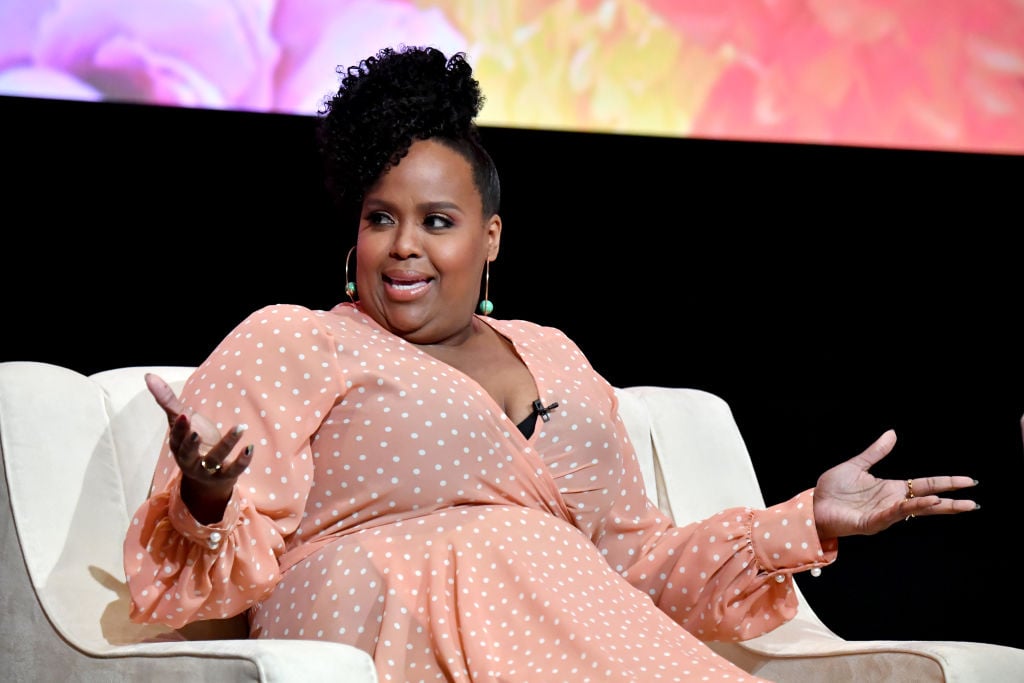 Natasha Rothwell wrote 'Insecure' Season 4 Episode 8
The talented actress and comedian Natasha Rothwell, who portrays a friend of Issa's, the hilarious but always dependable Kelli, stepped behind the camera to write the reunion episode.
In an interview with L.A. Times, Rothwell explained how she fit everything Issa and Lawrence needed to say to each other in 30 minutes. According to the writer and actress, "it was about the economy of language" as they "never want to overwrite a moment."
Even though the former couple had a "tough conversation," there's still "so much that just didn't actually need to be said." Because they had a few talks since the breakup, Rothwell felt it essential for them to speak about "the things that weren't discussed," which was "plenty to fill the moment."
Additionally, the couple "intimately" know each other because of their five years together, and can "have whole conversations with just a look." Rothwell also spoke about the open-ended way she ended the episode with Issa walking home the morning after spending the night at Lawrence's.
She clarified it's "not a walk of shame," instead, it's "intentionally self-possessed." The writer and actress continued and explained Issa walked "in lieu of taking a Lyft for two minutes" as "a metaphor for her standing on her own feet, shoulders back, confident and joyous and proud of the decisions that she's made."
They also wanted to have South L.A. serve as the "backdrop" because it's "indicative of our character Issa's love of where she's from, and Issa Rae's love of where she's from." Additionally, in a tweet, she noted, "Issa walking through a neighborhood that's changing as she's changing is no accident."
Fans are loving the Natasha Rothwell-written episode
After the episode, many fans flocked to social media to share their opinion about the long-awaited reunion episode. Several praised Rothwell's work, with one saying it was "a perfectly surreal, intimate romantic gift" that's "beautifully written."
Another thanked her for "writing such a great and nuanced script that showcased black love" while also "momentarily" helping them forget about the riots happening. Someone else agreed and stated they were delightfully surprised to see Rothwell wrote it.
One fan congratulated the writer and actress and noted she "knocked it out of the park" with others hailing it as their favorite episode of the season. A fan noted it brought them "some much-needed joy" and another liked it so much they immediately rewatched the episode.
A viewer admitted Lowkey Happy gave them "closure" they didn't know they needed as they wished they "had conversations like this in the past." Finally, another fan shared they would love to see Rothwell star "as the romantic lead of her own movie" as the episode showed she could "write the hell out of a romantic comedy."
Insecure airs Sundays at 10 p.m. EST on HBO.