'Insecure' Season 4 Episode 1 Recap — Plus All the Music and Where to Find It
Insecure Season 4 is back and picks up where it left off – with Issa working as a property manager while organizing a block party, Molly still seeing Andrew and Tiffany as she's nearing her due date. Here's what happened in the premiere episode, along with the catchy songs featured.
[SPOILER ALERT: This article contains information revealed in Insecure Season 4 Episode 1.]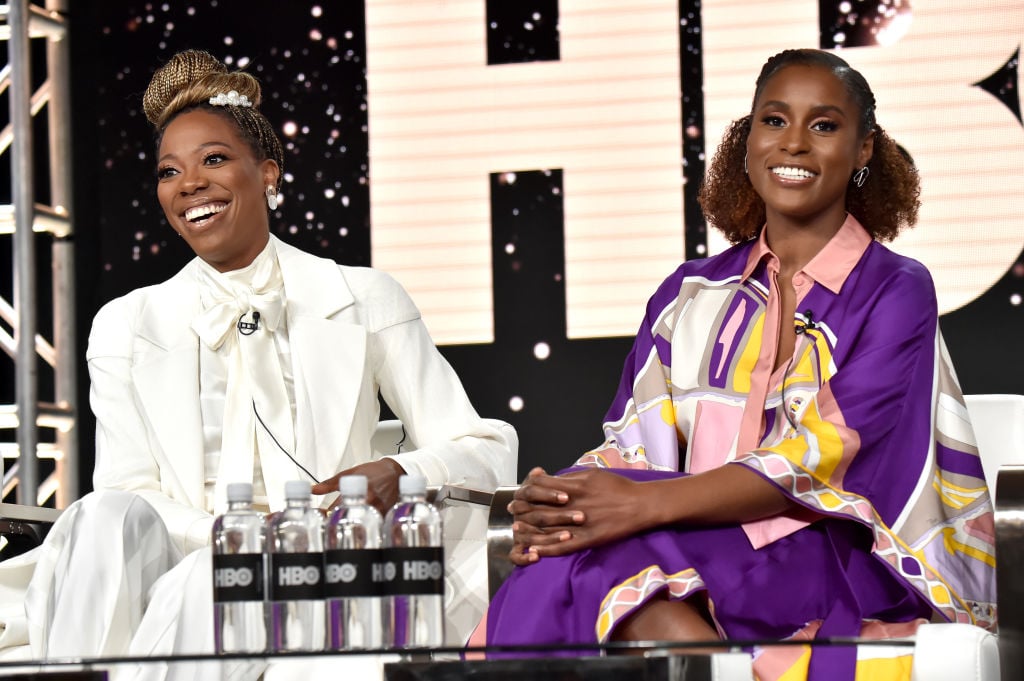 Issa Dee plans block party in 'Insecure' Season 4 Episode 1
The premiere began with a flashforward where Issa Dee (Issa Rae) lay on her couch watching a true-crime show Looking for Latoya while on the phone. She then admitted she "don't f**k with Molly anymore" to the unknown person on the other end, implying a fall-out with her best friend later in the series.
Four months prior, Issa and Molly Carter (Yvonne Orji) hung out for their "Self-Care Sunday," where they got high and caught up while doing yoga. Then, the property manager met with her new friend Condola Hayes (Christina Elmore) to go over their "checklist" for the upcoming mixer they have planned to meet potential sponsors.
Afterward, she and Molly went shopping for outfits to wear for the event, and Issa admitted she felt upstaged by Condola, who landed bigger deals. She linked up with Condola again afterward at her friend's elegant office but were interrupted by a pregnant Tiffany DuBois (Amanda Seales). 
Issa Dee finds out Condola Hayes is dating her ex
The friend brought a gift and noted that her baby brought the two together, prompting Issa to ask Condola who she met at the baby shower. Her new friend revealed the mystery man was ex Lawrence Walker (Jay Ellis), shocking Issa.
The ladies attempted to play it off, but both seemed uncomfortable with the situation. Cordola went to Lawrence's house for a date and informed her of her working relationship with Issa.
After finding out that her friend and Lawrence dated for five years, she admitted she wanted to "take a rain check" on their date to "process" the new information.
Condola ended up going to the mixer, and things were seemingly awkward between the two. Additionally, Issa went around to every sponsor telling them what they wanted to hear, her DJing brother, Ahmed, played an explicit Khia song, and Tiffany informed her that a porta-potty broke.
Therefore, Issa grabbed the microphone and explained to everyone the importance of the block party and why she needed their donations, and it seemingly worked.
At the end of the mixer, Molly asked Andrew (Alexander Hodge) to leave without her as she didn't like the fact that he dated other women. As she stayed behind to help Issa clean up, Condola went back to Lawrence's house, and the episode ended with the new lovers having sex.
All the music featured in 'Insecure' Season 4 Episode 1
Tyler the Creator featuring Solange – "A Boy is a Gun"
-Opens the episode
Mereba featuring JID – "Sandstorm"
-Plays into Molly and Issa's "Self-Care Sunday"
Saweetie featuring Quavo – "Tip Toes"
-Plays into Molly and Andrew's bowling date
Tamara Bubble – "Self Motivated"
-Plays when Issa and Molly are shopping
St. Panther & Raedio – "Infrastructure"
-Plays when Issa and her brother are setting up for the mixer
Pink Sweat$ – "Ride With Me"
-Begins after Issa's "security" lets Molly and Andrew in the mixer
Khia – "My Neck, My Back"
-Song requested by Trina at the mixer
Amber Mark – "Mixer"
-Played right after Issa's speech
Cautious Clay featuring Alex Isley – "Reaching"
-Played when Molly asks Andrew to leave alone
Blood Orange featuring Tinasha – "Tuesday Feeling (Chose to Stay)"
-Played at the end of the episode while Lawrence and Condola hook up
All of these songs are available on YouTube and Spotify. Insecure airs Sundays at 10 p.m. EST on HBO.