'Insecure' Season 4 Episode 2 Recap — Plus All the Music and Where to Find It
In Insecure Season 4 Episode 2, Issa Dee continues planning her block party with the help of Condola Hayes, who is becoming her good friend, although she's dating her ex-boyfriend of five years, Lawrence. She's already found her headliner, venue, made "swaggy" swag bags, and committed to a date. Here's what else happened in "Lowkey Distant," as well as all the compelling music featured throughout the episode.
[SPOILER ALERT: This article contains information revealed in Insecure Season 4 Episode 2.]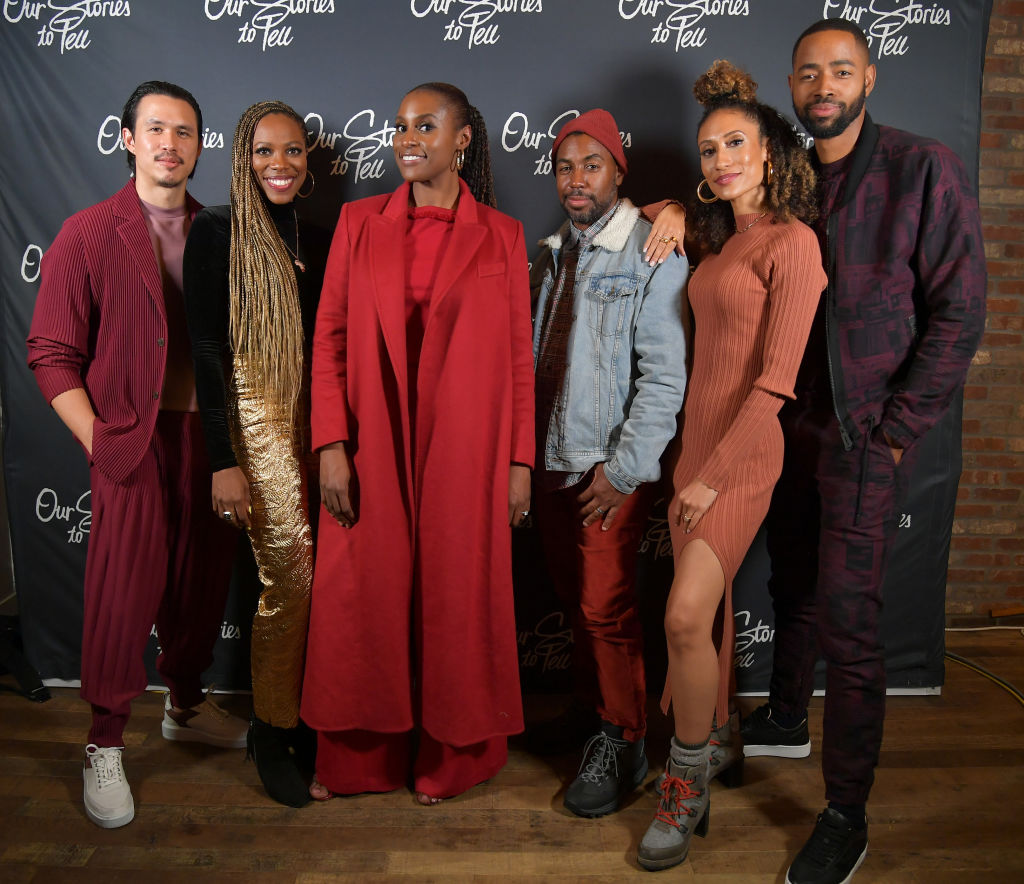 Condola and Issa continue to bond in 'Insecure' Season 4 Episode 2
As Issa Dee (Issa Rae) and Condola Hayes (Christina Elmore) continue planning their epic block party, they finally addressed the awkwardness between them, Lawrence (Jay Ellis). After Condola revealed they were going on a romantic baecation in Ojai Valley, Issa said she only wanted them to "be cool" and talk about her ex openly without it being weird between them.
Condola agreed, and the two then bonded over their shared disgust in Lawrence's obsession with dipping fries in mayonnaise. During a dinner, Condola informed her new boo that she and Issa briefly discussed him in a joking way.
While he tried to play it off cool, it clearly bothered him, and he opened up to his friends about his uncomfortable situation. After getting advice, Lawrence decided to meet up with Issa and politely asked her not to talk about him in their conversations as he wants to tell Condola things about himself as opposed to his ex telling her.
Additionally, Issa ended her friends with benefits relationship with TSA bae, Calvin (Reggie Conquest), after a little mishap with the condom.
Molly and Andrew hit a bump in their relationship
Even though Andrew (Alexander Hodge) dating other women bothered Molly (Yvonne Orji) in the premiere episode, she gave him another chance as the show opened with the two on a date.
During a Halloween party with her friends Kelli (Natasha Rothwell), Issa, and a very pregnant Tiffany (Amanda Seales), the lawyer admitted she and Andrew began having sex. Although she enjoys it and their "witty banter," Molly felt like she needed more as her boo doesn't open up to her.
While Kelli and Issa believe her friend is looking for something to be wrong with him, Tiffany advised her to share her true feelings with Andrew. Therefore, Molly decided she would no longer have sex with him until they had a deep conversation.
She invited him to a stay-at-home dinner at her home and attempted to get him to open up about his sister, but he shut the conversation down. Molly admitted she's frustrated with their current arrangement and wants to "date someone with depth," causing Andrew to walk out.
When Molly told Issa about the situation during their hike on Self Care Sunday, she snapped at her friend similarly to the way Molly popped off at her after the mixer.
She claimed the lawyer is looking for a problem and doesn't know if her friend genuinely wants to be happy. Minutes later, Andrew called Molly and apologized for his actions during dinner.
He also admitted opening up is difficult for him and would take time. She then lied to Issa about who called her, presumably to avoid any unwanted opinions. Additionally, Molly felt left out when Issa invited Condola to a dinner.
The way the friends speak to each other, particularly about their love lives, as well as Issa and Condola's growing friendship, could culminate into why the ladies fell out as implied in the premiere.
All the music featured in 'Insecure' Season 4 Episode 2
Michael Sneed – "Hop Scotch"
-Opens the episode
Jucee Froot – "Eat Itself"
-Plays while Molly and Andrew have sex
Blimes and Gab – "Feeling It"
-Plays after Issa shows Condola the block party venue
Yung Baby featuring B.K. Habermehl – "He Wanna"
-Plays while Issa and Calvin have sex
Sonny747 – "Thot 4 No Reason"
-Plays while Issa is looking for the condom
Binki – "Wiggle"
-Plays while Andrew and Molly are on the phone making dinner date plans
Tamara Bubble – "Big Boss"
-Plays while Issa and Condola discuss Schoolboy Q headlining
Zaia – "Waste My Time"
-Plays while Lawrence and Issa meet up
Radient Children – "Sky Mind"
-plays into Andrew and Molly's date
Lo Village – "Lil Mama"
-Plays once Andrew walks out of the date
Schoolboy Q – "Numb Numb Juice"
-Plays in jogger's headphones at the beginning of Issa and Molly's hike
Kamauu – "Far Rockaway"
-Plays the episode out
All of these songs are located on YouTube and Spotify. Insecure airs Sundays at 10 p.m. EST on HBO.