'Insecure' Season 4 Episode 3 Soundtrack — All the Music Featured in 'Lowkey Thankful'
In 'Insecure' Season 3 Episode 4, Issa and Molly continue falling apart during Thanksgiving festivities. Here is the soundtrack of all the music featured.
In Insecure Season 4 Episode 3, Issa Dee (Issa Rae) and Condola Hayes (Christina Elmore) took a break from their block party planning to celebrate Thanksgiving with their friends and loved ones. Additionally, the teased fallout between Issa and Molly Carter (Yvonne Orji) becomes more evident as the two continue to snap at each other. Here is what happened in Lowkey Thankful, as well as the music featured in the episode.
[SPOILER ALERT: This article contains information revealed in Insecure Season 4 Episode 3.]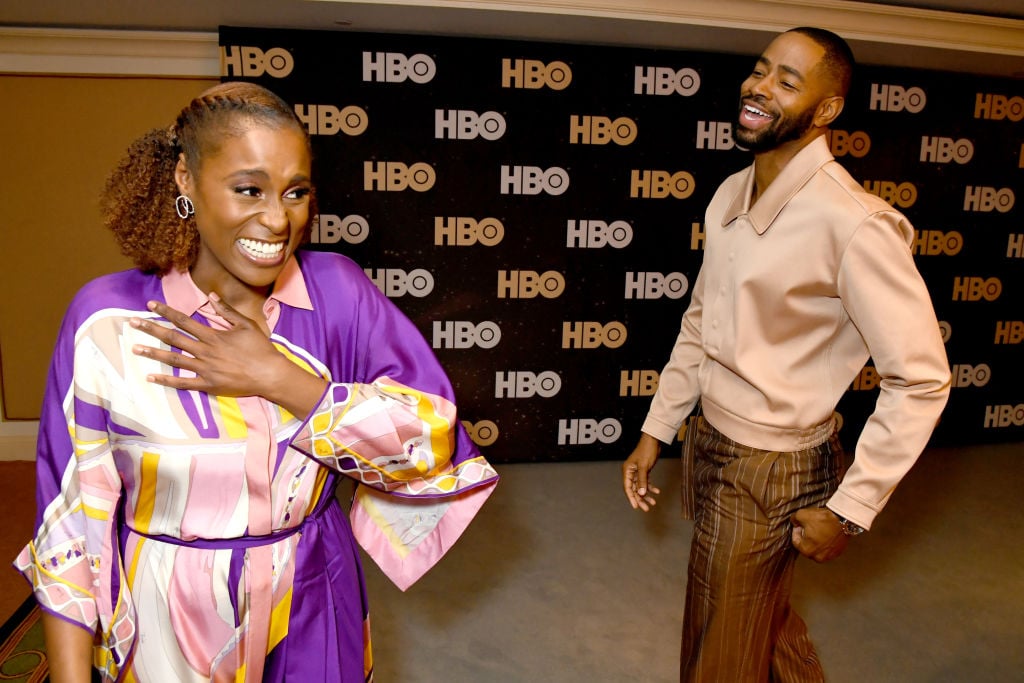 'Insecure' Season 4 Episode 3 celebrated Thanksgiving
Issa Dee and her friends all celebrated Thanksgiving individually two months before her anticipated block party. Her ex Lawrence Walker (Jay Ellis) and co-planner Condola Hayes have been spending more time together, so he invited himself to her Friendsgiving.
He seemingly made a good impression on her friends, especially Drunk Nikki, who insinuated Condola didn't want a steady relationship as she recently divorced. Therefore, Lawrence asked her if she was only using him to get over her ex, to which the businesswoman denied.
Condola then brought up the awkwardness of his ex-girlfriend Issa and their inside movie jokes and questioned if the two would still be together if she hadn't cheated.
Issa and Ahmal (Ahmed T. Brooks) planned on spending Thanksgiving with their mom, her boyfriend Stanley, and his adult twin children. However, a slip on "some loose gravy" sent Stanley and their mother to the hospital, so the siblings ate at a Mexican restaurant together instead.
Lawrence, Issa, and Molly also kept up with Kelli (Natasha Rothwell) and Tiffany's (Amanda Seales) Thanksgiving festivities through their Instagram stories.
Issa and Molly's relationship continues to implode
In the first episode, Molly seemingly took a dig at Issa for planning the block party with her ex's new love interest as she claimed she thought her friend enjoyed the "messy" drama.
In the second episode, Molly shared her concerns over Andrew not opening up to her, and Issa admitted she felt as though the lawyer always looks for problems and doesn't think she wants to find happiness.
Finally, the two took shots at each other while shopping for Thanksgiving supplies as Issa advised Molly not to "scare" Andrew off by inviting him to meet her family, and the lawyer brought up her friend "f*****g for free weed and toiletries."
They both realized things were different between them and agreed to talk it out over pie after Thanksgiving. However, Issa blew her off for a second time as she wanted to reschedule for a later date.
While their relationship is seemingly falling apart, Lawrence and Issa are talking more, and the episode ended with the exes direct messaging each other.
'Insecure' Season 4 Episode 3 soundtrack
Jidenna – "Feng Shui"
-Plays during the title screen
Vince Staples – "So What"
-Plays right after Lawrence's canceled meeting
Brockhampton – "Boy Bye"
-Plays after Lawrence talks to Chad
Ravyn Lenae – "Rewind"
-Plays after Issa and Molly's grocery store date
RJMrLA featuring G-Eazy and Bree Carter – "Pretty Bitches"
-Plays after Lawrence attempts to fix Condola's sink
Ambjaay – "Uno"
-Plays after Stanley goes to the hospital
Poe Leos featuring Kay Dinero – "Look at Me"
-Plays after Drunk Nikki talks to Lawrence
Kirby – "Kool Aid"
-Plays after Lawrence and Condola's fight
Mya – "Case of the Ex"
-Plays while Lawrence and Issa are DM'ing
All of these songs are available on YouTube and Netflix. Insecure airs Sundays at 10 p.m. EST on HBO.