'Insecure' Season 4 Episode 4 Soundtrack — All the Music Featured in 'Lowkey Losin' It'
In 'Insecure' Season 4 Episode 4 Issa's headliner pulled out and her relationship with Molly continued to fall apart. Here's all the music featured.
In Insecure Season 4 Episode 4, Issa begins to have trouble with her block party, and Condola hasn't been helping, possibly due to her argument with Lawrence at Friendsgiving. Additionally, Issa and Molly are still unable to get on the same page. Here's what happened in Lowkey Losin' It as well as the music featured in the episode.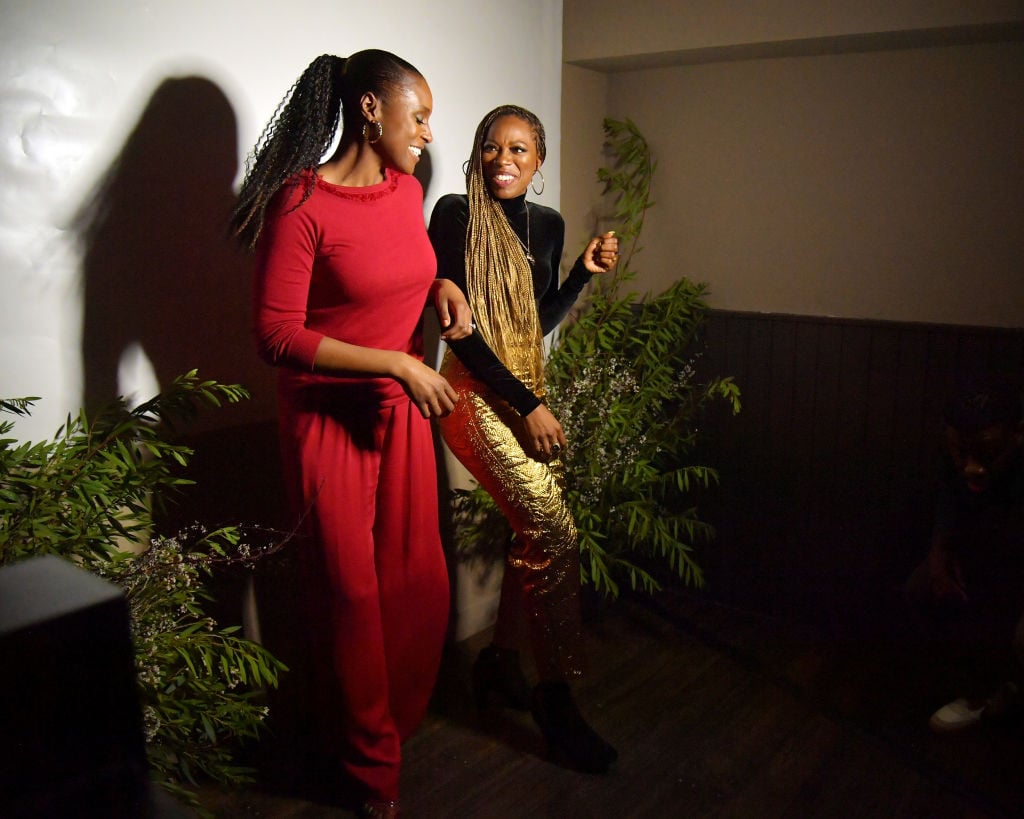 Issa Dee tries to find a new headliner in 'Insecure' Season 4 Episode 4
The episode began with an excited Issa Dee (Issa Rae) posting a flyer for her upcoming block party on Facebook. She then realized the print shop needed proofs for the physical handouts by the end of the day. However, co-planner Condola Hayes (Christina Elmore) didn't respond to her messages, and her imaginary assistant, Sapphire, dropped the ball.
Later, Issa, alongside Kelli (Natasha Rothwell) and Molly Carter (Yvonne Orji), went over to friends Tiffany (Amanda Seales) and Derek DuBois' (Wade Allain-Marcus) house to meet their newborn daughter, Simone.
However, the block party planner didn't stay long as she received a call informing her that her headliner, Schoolboy Q, would no longer perform. Once she arrived back at her apartment, Issa's mirror reflection tried to hype her up, and she began direct messaging several people on Instagram, desperately attempting to find another headliner.
Issa Dee and Molly Carter's friendship continues to fall apart
Best friends Issa and Molly arrived at Tiffany's house at the same time and got into a weird parking battle before the block party planner gave in and parked down the street.
While walking to the house, they both acknowledged the awkwardness between them and chose to stop doing their "Self-Care Sundays" as the particular weekday is "no longer serving them."
Instead, they promised to talk another time, and both pretended they still wanted to continue their weekly check-ins. Once in the house, Molly opened up to her friends about her relationship with Andrew, and Issa jokingly compared her to Jada Pinkett Smith in Facebook Watch sensation Red Table Talk.
However, Molly became defensive before leaving the room to help Tiffany. The block party planner opened up to Kelli and admitted she felt that Molly had "been on her neck" recently, and her friend advised her to open up to the lawyer as she might feel the same way.
Molly also asked Tiffany for her advice, and the new mother correctly pinpointed the issue as a "communication breakdown." The following day, Issa called Molly, and the lawyer mistakenly thought she finally wanted to talk. Instead, the block party planner begged her friend to ask Andrew to hook her up with his Live Nation artist.
While Molly initially considered it, she chose not to because she valued the relationship with her boyfriend and didn't want to risk anything by getting business involved.
'Insecure' Season 4 Episode 4 Soundtrack
TeaMarrr – "Temperature"
-Opening song
Choker – "Petrol Bliss"
-Plays while Molly and Andrew make out
Kash Doll featuring Big Sean – "Ready Set"
-Plays after Issa texts and calls Condola
Jay Worthy, Kamaiyah, and Cardo – "Bulls**t"
-Plays after Issa and Molly's parking battle
Iman Europe – "Sometimes"
-Plays while Molly sees Issa talking to Lawrence
Channel Tres featuring JPEGMAFIA – "Black Moses"
-Plays after Schoolboy Q drops out
Ty Dolla $ign – "Hottest in the City"
-Plays while she messages DJ Mustard
IDK – "Alone"
-Plays after Molly and Andrew's dinner date
Sonyaé – "Shade"
-Closing song
All of these songs are available on YouTube and Spotify. Insecure airs Sundays at 10 p.m. EST on HBO.