'Insecure' Season 4: Why Fans Love to Hate Molly
Insecure Season 4 is finally here and fans could not be more excited. After a hiatus that lasted over a year and a half (thanks to Issa Rae's continued success) fans couldn't wait to check back in with Issa Dee. The show speaks to what it is to be a Black twenty-something in Los Angeles. Exploring themes like racial relationships, friendship, career moves, and love, the show depicts Black women in a fresh and nuanced way.
[Spoiler alert: This article contains spoilers for the Insecure Season 4 premiere.]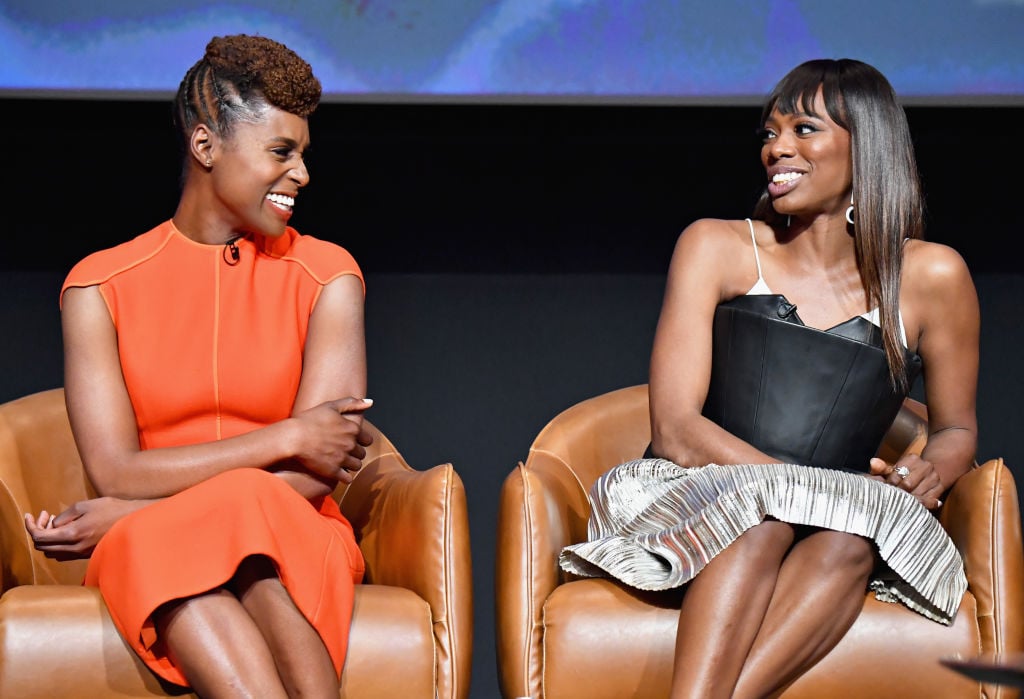 Will 'Insecure' Season 4 be the end of Issa and Molly's friendship?
At the center of Insecure is Issa and her best friend Molly Carter. Played brilliantly by Yvonne Orji, Molly is a super successful attorney who appears to be "career goals" from the outside, but struggles with self-worth, self-love, and relationships. Though she's been friends with Issa for years, the Season 4 premiere revealed that their relationship may inevitably crumble. In fact, at the beginning of the first episode, Issa reveals that she doesn't really talk to Molly anymore.
The friends had issues in season 1
Of course, season 4 isn't the first time that we've seen cracks in Molly and Issa's relationship. At the end of Insecure's first season, the pair had an explosive fight. Molly accused Issa of being messy with men (which she was) and Issa responded that Molly was simply jealous that she could actually keep a man. However, the two made up during the season finale after Molly offered to drive Issa back to LA from Malibu.
But, fans of Insecure collectively agree that Molly was in the wrong during Issa and Molly's first tiff of Season 4. When planning her Block Party, Issa enlists the help of her new friend, Condola. However, it turns out that (unbeknownst to both women) Condola's new boyfriend is Issa's ex-boyfriend, Lawrence. When both women find out, things are understandably awkward. However, Issa opts to take the high road and thanks Condola for all her help at the fundraising mixer for her Block Party.
A quick recap
When the mixer is over, Molly stays back to help Issa clean up. She then tells Issa that her life doesn't have to be a mess upon learning that she's still going to work with and be friends with Condola. She also shares that she sometimes thinks Issa likes having her life be messy. Fans of Insecure did not take kindly to Molly's statements are sending lots of hate toward the character.
Some people feel that Molly was jealous of Issa's newfound relationship with Condola. Others felt that she's jealous of Issa because Issa is finally trying to get her life together. "Molly is the friend who is only happy and comfortable when their friend is below them. When other friends start to win they become salty because that friend boosted their ego by always being in their shadow. Unless Molly can grow up on all levels in life I see her an Issa growing apart this season," one Insecure fan wrote.
Fans on Instagram are not happy with Molly
Others felt that Molly was just projecting her own feelings about her messy life onto Issa. "Molly is also jealous that Issa's life is NOT messy and hers is. Issa is being honest and Molly stay [sic] lying to herself and others," another person wrote. Others also noted Molly's penchant for being messy herself. For example, the entirety of her relationship with Dro.
But, no matter how much fans of Insecure are already hating season 4 Molly, fans commend the writers and Orji for bringing such a realistic character to life. Most fans know a "Molly" or know of a time when they themselves have been Molly and that makes her relatable even if she's not always enjoyable.
The character of Molly is very realistic
"Molly is reminding me of a friend I had who was all up in my business and avoiding her own messes … we aren't friends anymore, 😂" one Insecure fan wrote. "Molly was insanely human… we make these errors without knowing what we're doing… love that this show does that! Makes us reflect on our similar situations," another person chimed in. Personally, we can't wait to see what Molly and the rest of the Insecure characters have in store for us this season.