'Insecure' Fans Are Annoyed by the Season 4 Finale Twist; 'It's So Cliché'
Season 4 of Insecure has come and gone and there's certainly a lot to unpack. Between the fallout of best friends Molly and Issa, Nathan's re-entry into Issa's life, and Tiffany's struggle with postpartum depression, the season has been filled with lots of ups and downs. While this season of Insecure has been heralded as the best by many fans, some have admitted to being let down by the biggest twist of the season.
[Spoiler Alert: This article contains spoilers from the Insecure Season 4 season finale.]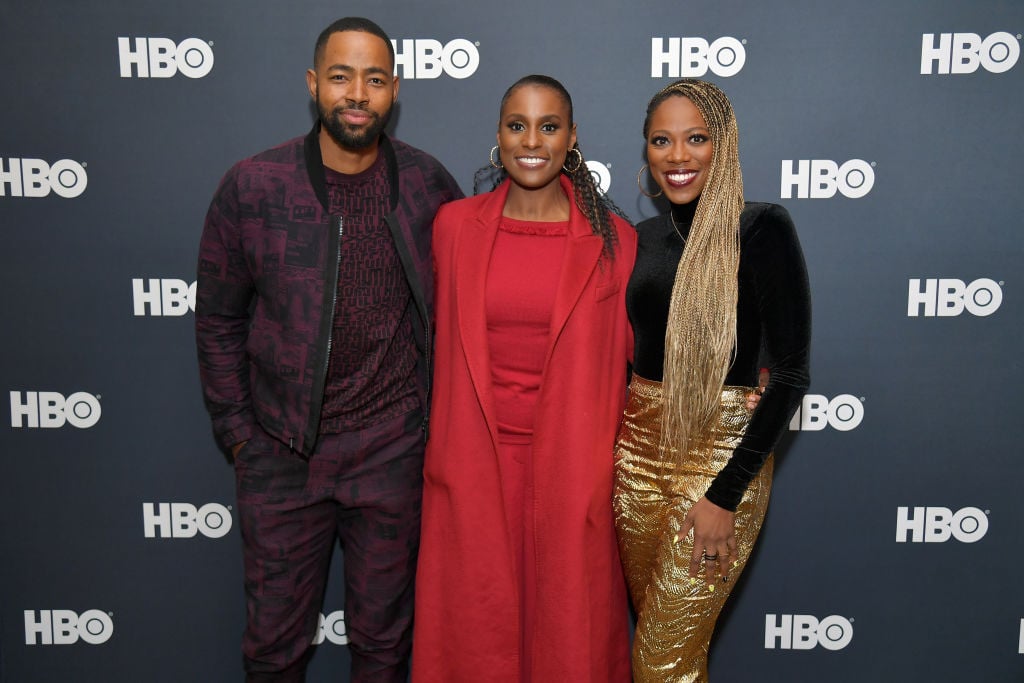 Whether you're a member of the Lawrence hive or not, many Insecure fans were thrilled to watch Issa and Lawrence rekindle their romance in season 4. The pair finally got the opportunity to air out old grievances and apologize for the pain they'd caused one another during their five-year relationship. "Lowkey Happy" was a particularly healing episode for fans as Lawrence finally took ownership of his faults in the relationship.
'Insecure' fans got to see a different side of Issa and Lawrence in Season 4
In the last few episodes, fans got to witness a side to Issa and Lawrence that we hadn't been privy to before. After admitting that they made each other happy, we got to see them goofing around with each other, supporting each other, and generally loving each other. This intimacy was noticeably absent from season 1 of Insecure because their relationship was on the rocks. Fans immediately began to hope for a long-term future for the couple, especially after Issa admitted she'd be willing to relocate to San Franciso to be with Lawrence if things kept going well.
But, thanks to the Insecure Season 4 finale, we now know that Issa's future with Lawrence has been compromised significantly. For weeks, fans speculated that Condola (Issa's former friend and Lawrence's short-term ex-girlfriend) was pregnant. But, that speculation became a reality when Condola informed Lawrence that she was pregnant with his baby and had every intention of keeping it.
Fans are upset by the season finale twist
Insecure fans were disappointed with Condola's pregnancy storyline for more reason than one. Naturally, fans were devastated that Issa's happiness was once again jeopardized and the happy ending she deserves seemed, once again, out of reach. But, others were mad at the pregnancy storyline altogether. Many people citied that the pregnancy storyline is cliché and we've seen it play out on other TV shows like The Game.
"I'm do disappointed y'all choose to do a cliché by having Canola Oil being pregnant, 😣" one person wrote on the Insecure Instagram page shortly after the season finale aired. "Exactly! That storyline is played out. Insecure is wayyyyy too good and original to be a copy cat!!" another fan chimed in.
Fans believe Condola's pregnancy is cliché
"It would've been way better having Issa and Lawrence deal with the struggles of being back together, trust issues, etc. But not a baby with someone else storyline… So not original 😣" one person wrote about the Insecure season 4 finale.
Will 'Insecure' Season 5 change the narrative of the cliché storyline?
"As good as the writing is on this show, I was disappointed they were so cliche with this storyline. Like we've seen this play out far too many times on other black shows. Like da*n, give us something else," another person added. Since so many Insecure fans were able to correctly guess the season 4 twist, perhaps the pregnancy storyline is a bit cliché and played out. However, we will reserve full judgment until we see what Season 5 has in store for us. After all, there's nothing we love more than a twist on a classic twist.