'Insecure': Storylines Always Come From the Writers' Personal Lives
HBO's beloved TV comedy series Insecure is coming to an end. The series just launched its fifth and final season and fans are eagerly anticipating how everything will come to a close. Over the past several years, fans have watched Issa (Issa Rae) and her best friend Molly (Yvonne Oriji) navigate their relationships, their own long friendship, and their careers.
Though the situations and narratives that the pair find themselves in are often shocking, they all stem from the personal lives of the Insecure writers.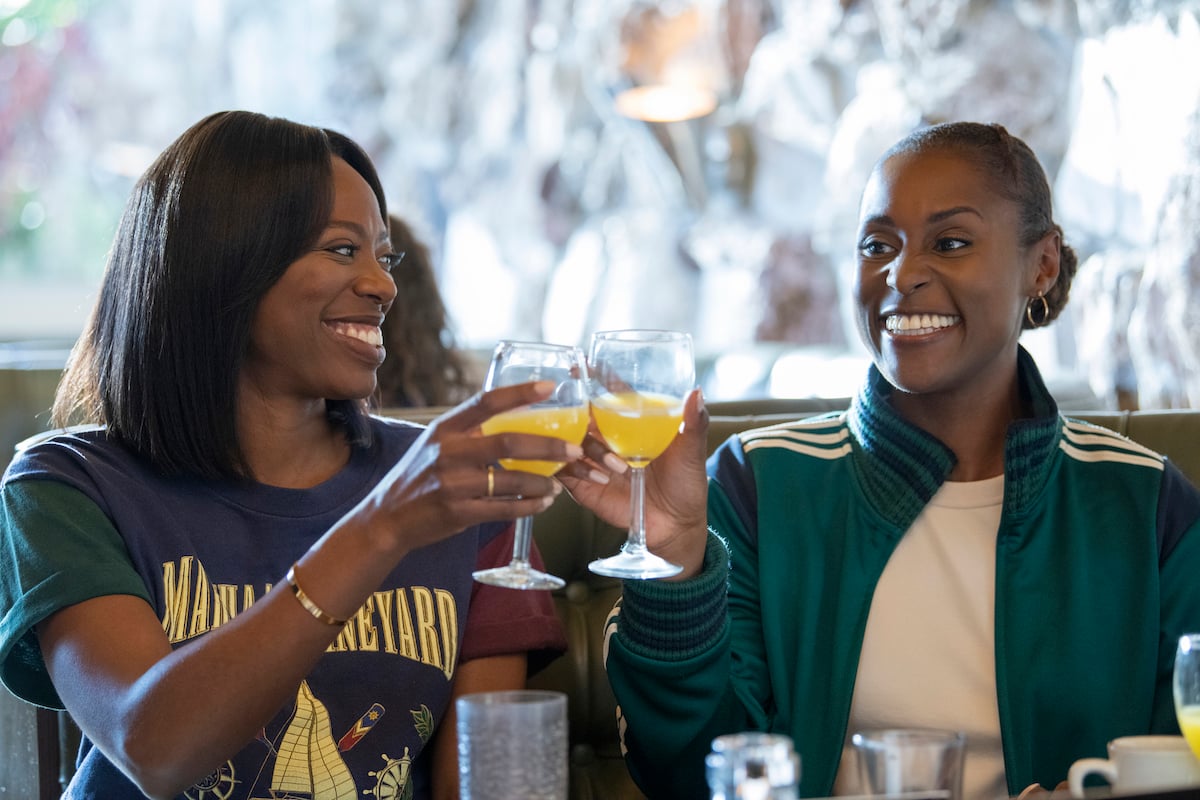 The final season of 'Insecure' has one theme
When it comes to the finale season of Insecure, fans are looking to see how Issa, Molly, and Lawrence's (Jay Ellis) stories wrap up. In fact, season 5 all centers around one key theme. Insecure showrunner Prentice Penny revealed on Twitter, "Are we gonna be okay is the theme of the entire season. You should watch it from that lens."
'Insecure's storylines always come from the writer's personal lives
When it comes to Issa and Molly's personal lives and careers, some of the things they've gone through may appear to be rather outlandish. However, the truth is that the storylines on Insecure always stem from the personal experience of the writers on the show, including Rae and Penny.
"Before we meet with the writers, a lot of times Issa and I just drink a lot of champagne and talk about what our friends have been going through and what we've been going through," Penny explained to Buzzfeed. Then we will take those ideas and try to find the theme of a season — sometimes it comes early, sometimes it comes while we're talking with the other writers, and then we sort of share those ideas with the other writers. After, we go on a retreat, which is like three days, and we kind of just take those ideas and they share their own stories (i.e. what they're going through, their dating life, family, careers, etc.), and that's how we start to form our episodes. It's almost like taking a lump of clay and then you continue to mold it into something."
All of these lived experiences and subsequent collaborations have become the show we know and love today.
A shocking event will occur halfway through season 5
Since this is the final season of Insecure, fans are expecting a ton of twists and turns. So far, the season has already jumped ahead a year, Lawrence's son has been born and Issa and Nathan (Kendrick Sampson) have decided to try their luck at a relationship. However, this is just the tip of the iceberg, for the season.
"We always know halfway through that there will be some sort of thrust to the second half of the season," Penny told Buzzfeed. "In Season 1, Issa sleeps with Daniel — that made audiences say, 'Oh snap, now the game is different.' In Season 3, Issa meets Nathan and Lawrence returns. And last year in Season 4, Molly and Issa fight at the block party. There's a midway push to the second half of the season — it's almost like we're building two arcs for our show."