'Insecure': Why Issa Rae Thinks Her Character Is 'Satisfied' With Lawrence Reconciliation
[SPOILER ALERT: Spoilers ahead for 'Insecure' Season 4 Episode 8.]
In Insecure Season 4 Lowkey Happy, exes Issa Dee and Lawrence Walker finally had an honest conversation about their relationship, much to the fans' delight. Issa Rae and Jay Ellis, sat down for the "Wine Down," a behind-the-scenes weekly series hosted by showrunner Prentice Penny, to weigh in on their character's reconciliation.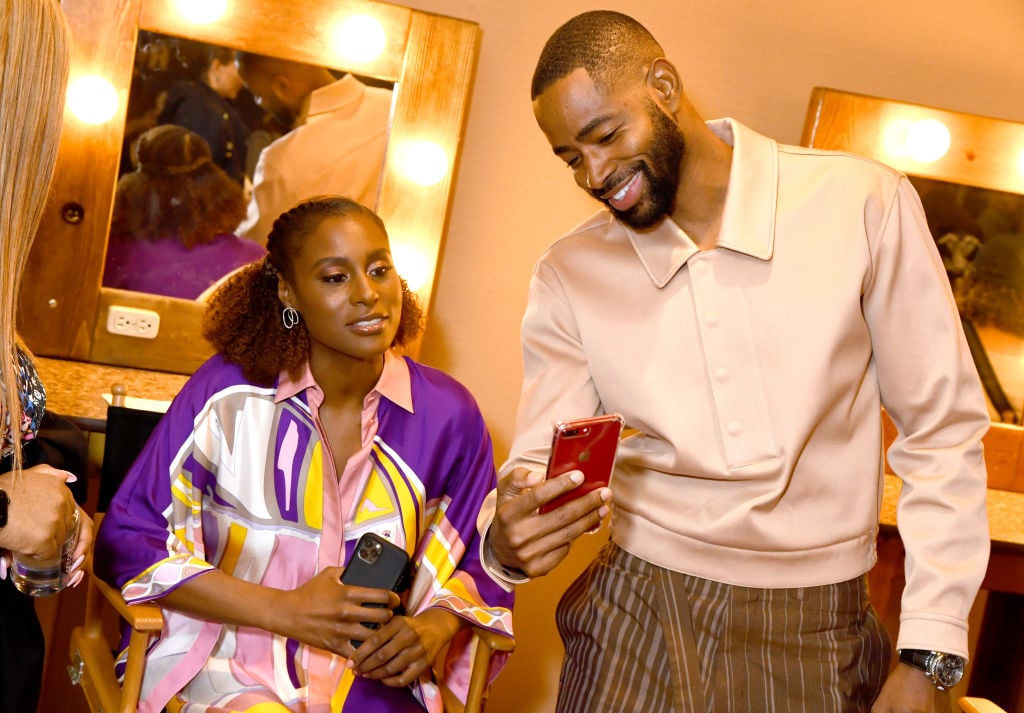 Lawrence and Issa reunited in 'Insecure: Lowkey Happy'
A little over a year after Issa and Lawrence broke up due to infidelity; the two reunited to rehash what went wrong in their relationship in the Natasha Rothwell-written episode.
After first attempting to have a conversation in a loud bar, they relocated to a restaurant the two wanted to try together as a couple. Over dinner, Lawrence asked why she cheated with Daniel, and Issa admitted she felt alone and unwanted by her man.
Lawrence opened up and explained that he pushed her away because of his depression related to his lack of a job situation at the time. He also admitted he wanted to return home, but chose not, because he didn't want to disappoint Issa.
The two then went to an Art Walk before Lawrence invited Issa into his apartment to show off his place. Not wanting the night to end and unsure if they would get the moment again, Issa asked to stay the night.
Lawrence blew off his other ex-girlfriend, Condola Hayes, who he already told he would meet later, and the two ended up making love. Instead of letting Lawrence drive her home the morning after, Issa put on an outfit she bought at Art Walk and decided to walk home.
Issa Rae and Jay Ellis weighed in on their characters' reunion
In the "Wine Down," commentary released after the episode, Issa Rae and Jay Ellis explained their character's reconciliation. Ellis believes Lawrence finally picked up the phone to call Issa because they had both "gotten through the moment" and were able to "have an honest conversation in a way they haven't before."
Issa Rae agrees, but also thinks Condola's question from Friendsgiving helped because it "forced him to think about things in a new light." After the two had their conversations "with no eggshells" over dinner, Issa thinks her character realized "new truths" about their relationship because she never knew he wanted to go home but only stayed for her or bought a ring.
Ellis believes Issa's bombshell about driving around to avoid coming to their place was a "dagger moment" and "heartbreaking" for Lawrence because "nobody wants to hear that."
Additionally, his character saw he put up a massive wall, which eventually resulted in his girlfriend seeking comfort outside of the relationship. Issa Rae thinks their lack of communication was the "biggest realization" they both had.
Why Issa Rae thinks her character is 'satisfied' with the reconciliation
The co-stars also weighed in on Condola's presence and if their characters would get back together. Issa Rae joked that Lawrence's ex-girlfriend was "like a little gnat," and Ellis agreed.
However, he believes his character was "trying to do the right thing" as there is something he needs to finish with Condola. Ellis also thinks Lawrence recognized he might never get this opportunity with Issa again and didn't allow the texts to distract him.
Issa Rae pointed out that Lawrence almost let his ex go, but she stood up because she knew she "could not be a part of his tomorrow, Condola might." When asked if their characters could rekindle their romance, Issa explained she walked home "satisfied with what happened."
She continued and stated that her character could be content with finally getting the answer she needed or "ready to explore something later down the line."
However, viewers will have to continue watching the show to find out. Insecure airs Sundays at 10 p.m. EST on HBO.