Inside Beyoncé and Serena Williams' Friendship
Beyoncé and Serena Williams are two icons each dominating their own respective arenas. Beyoncé is a bestselling artist with countless hit songs to her name, while Williams has collected Grand Slam titles over the years and become tennis' most decorated player.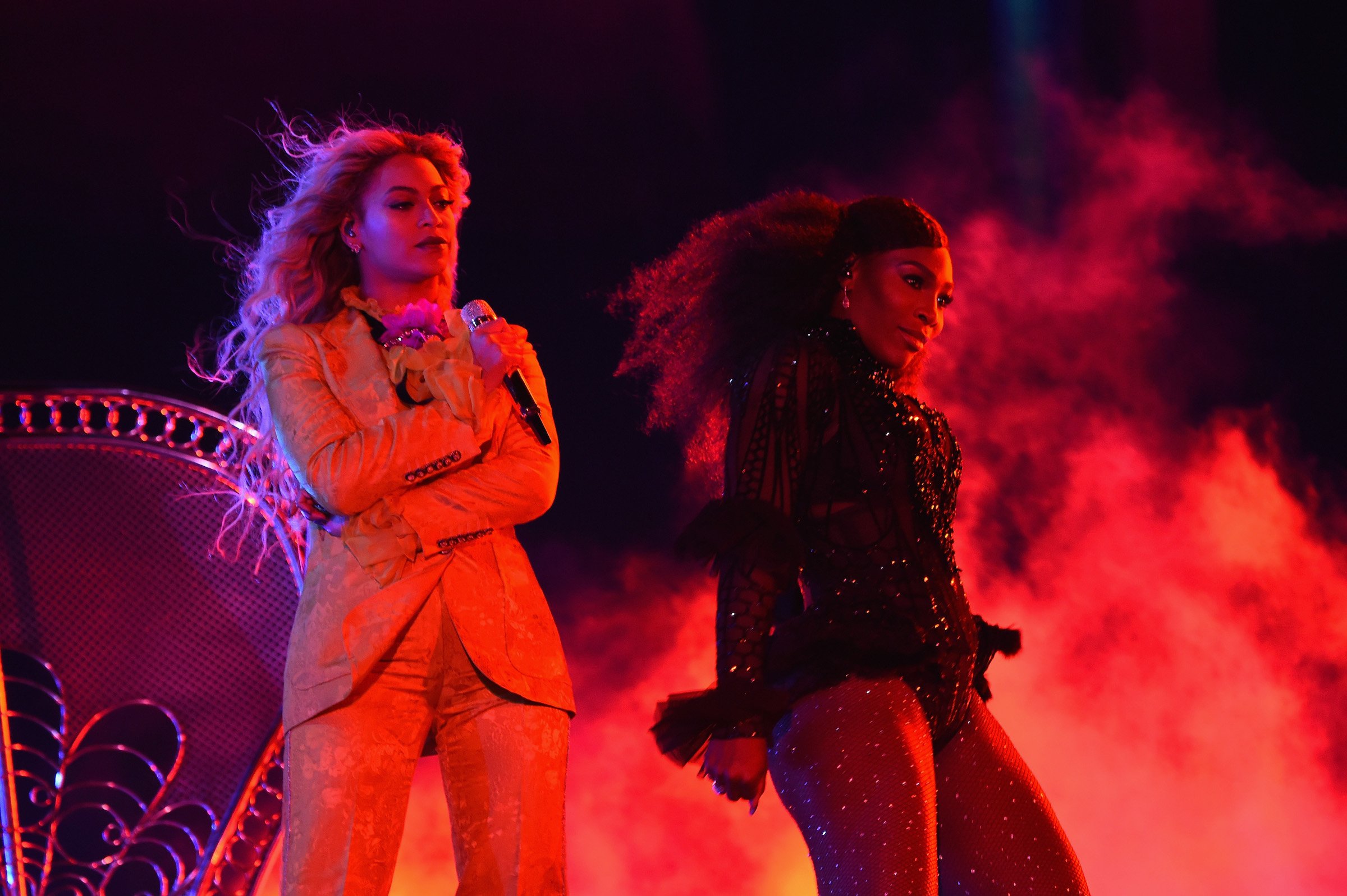 Beyoncé is a supporter of Serena Williams at tennis matches
Though some might not think of Beyoncé as a sports fan, one sport she'll always make time for is tennis — especially if Serena Williams is playing. She and her husband Jay-Z have been seen at Wimbledon and the U.S. Open watching Williams during her matches, and Williams couldn't be more grateful for the support.
"It's great to have Beyoncé and Jay-Z supporting," she said in a 2016 interview with E! News. "It's always wonderful to see them at tennis and it's always good when you can just rely on someone and know that they're always in your corner whether they are there or not and that's kind of how it is with us."
Serena Williams appeared in Beyoncé's 'Sorry' video
WIlliams showed her support for Beyoncé during the release of Bey's seminal 2016 album Lemonade. She appeared in the music video for the hit song "Sorry" and was dancing alongside Beyoncé as a symbol of strong, powerful women. Beyoncé herself and the video's director Khalil Joseph wanted Williams to be in the video.
"Dancing in the Beyoncé video was obviously a lot of fun. I remember being super sore after because I was down the whole time, you know, kind of twerking a lot," Serena told the Associated Press of the visual. "I was able to work a lot with her choreographers … and I really learned so much just about my body movement and also different styles of movement to do."
"I have known the director since I was like nine years old," she said of her involvement in the project. "I know Beyoncé pretty well, so they were like, 'We would love for you to be in this particular song. It's about strength and it's about courage and that's what we see you as.'"
Beyoncé wrote 'Be Alive' for 'King Richard'
In 2021, Beyoncé showed her support for Williams once again.
The movie King Richard tells the story of Serena and Venus Williams' rise to tennis stardom through the eyes of their father and coach, Richard Williams. For his starring role in the movie, Will Smith earned an Academy Award nomination for Best Actor; Aunjanue Ellis, who played the Williams' mother in the film, also got a nod for Best Supporting Actress. Both Serena and Venus served as executive producers on the project, while Will Smith took on the role of producer as well as actor.
In addition to the acting categories, King Richard also earned a nomination for Best Original Song for "Be Alive," a ballad written by Beyoncé for the movie.
RELATED: Beyoncé Might Perform 'King Richard' Song 'Be Alive' At the Oscars From a Special Location For Serena and Venus Williams