Inside Big Boi's Obsession With Kate Bush: He Once Spent a Month in England 'Just to Find Her'
Outkast's Big Boi has been deeply in love with Kate Bush since he was a little boy. Her music made him want to become an artist.
Outkast's Antwan "Big Boi" Patton has been obsessed with Kate Bush and her music for years. Well before fans fell in love with "Running Up That Hill," thanks to Stranger Things. It might seem unlikely that one of the most famous rappers, whose hits include "Ms. Jackson," wanted to be an artist after listening to the English singer's fairy-like songs like "Wuthering Heights."
However, Big Boi has been one of Bush's biggest fans since he was a little boy. Big Boi loves Bush so much that he once camped out in England for a month "just to find her."
He needed to collaborate with her if it was the last thing he did.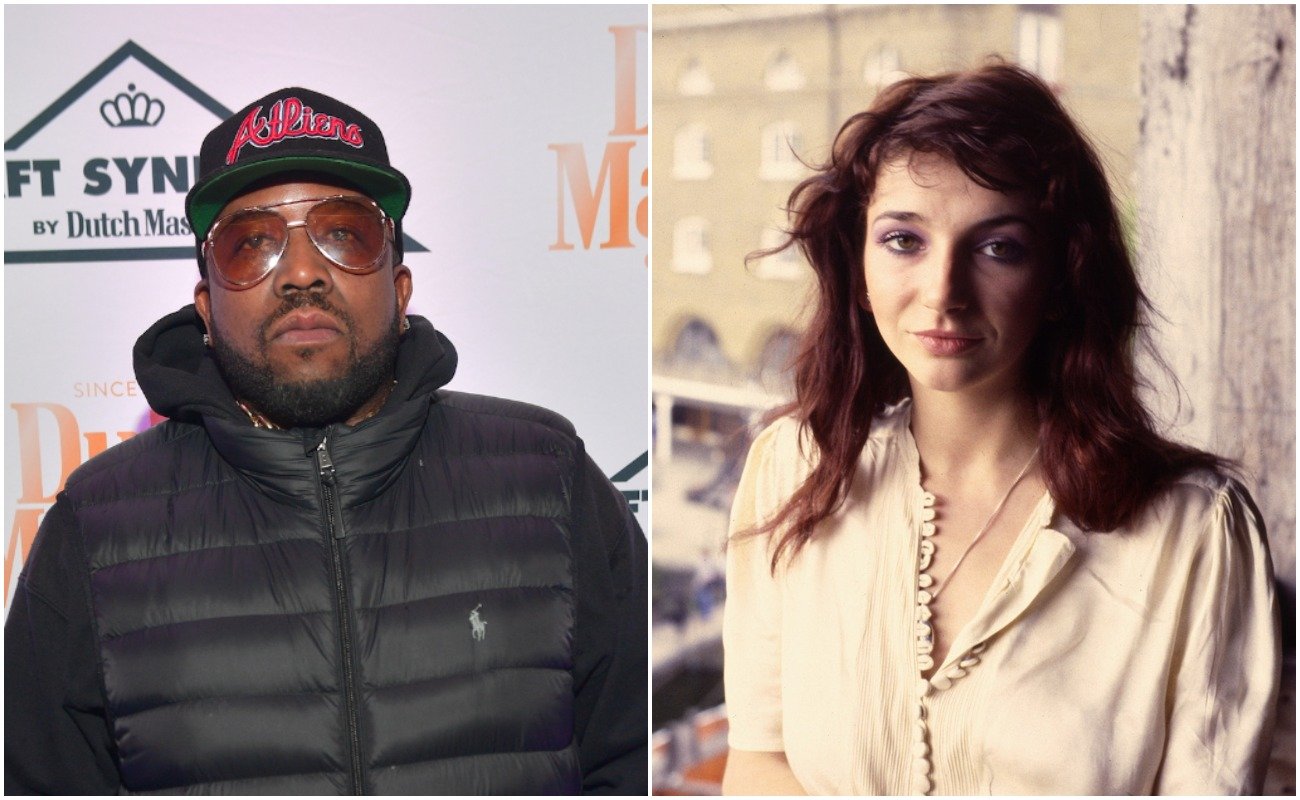 Big Boi started listening to Kate Bush in middle school
During an interview with Rolling Stone, Big Boi said his uncle Russell introduced him to Kate Bush when he was in middle school.
"What caught me the most was, first, the production and the voice of course, but also the different meanings behind the stories she was telling," Big Boi said.
According to the 2004 book Hey Ya! The Unauthorized Biography of OutKast (per Spin), Big Boi said that listening to Bush for the first time greatly impacted him. "I'd sit and think and play her records for hours," he said.
Big Boi explained to Pitchfork that Bush is tied with Bob Marley as his favorite artist of all time, "1A and 1B."
He calls Bush's voice angelic. "It was just so weird, I mean the sounds and what she was talking about, it was just kinda crazy," he said. "Then he's like, 'You know she produced all this stuff too.' So I was like, 'Ah, man.'
"I always thought of her as like Phantom of the Opera kinda, living in this big castle with a piano 10 times the size of a regular piano, just kinda playing a piano all day with sheer curtains blowing in the window. She's almost like Rapunzel but on the top of a hill somewhere on a castle, just desolate, playing a piano and wailing.
"I think her songs tell stories, and we also tell stories. Sometimes there's a double meaning in what she says and the layers of production, how the songs morphed; it might start one way, and then it'll morph and break down into something very theatrical in a sense to you can kinda envision it in your head…
"It made the music exciting because it wasn't repetitive. You didn't know what was coming around the corner."
Big Boi told the LA Times (per Spin) that Bush's music is "mind-blowing. I was like OK, I wanted to be like her." In 2004, London's Observer Music Monthly (per Spin) reported that the rapper's ringtone was "Babooshka," from Bush's 1980 album Never for Ever.
Big Boi went on a quest to find Bush
When Big Boi became famous, he set out to collaborate with Bush. However, it was more complicated than he thought. Bush is often a recluse. She'll make an album and retreat to that castle on the hill for years until she wants to make another album.
In July 2010, Big Boi told the British GQ (per Spin) how hard it was to get in touch with Bush: "I've been trying for some years now. She's like a kinda recluse. She lives somewhere in a castle around here and plays some sort of oversized piano like the Phantom of the Opera! You can hear music come out the windows! I'm looking for her, know what I'm saying? That's my dream collaboration for sure."
Big Boi told British magazine Flavour that same month, "Kate Bush. I've been trying to get Kate Bush for the last seven years and now I'm come over here to camp out for a month just to find her. Kate Bush is definitely my dream U.K. collaboration."
Big Boi told Rolling Stone that he wants Bush "to co-produce something with me. We'd produce a song and write it from scratch. I'd rather get in a room and not have a plan and just let it come organically – it's not like I've got a song and I'll just be like, 'I want you to sing this part right here.'"
Big Boi's wish eventually came true.
They've worked on an unreleased song
Big Boi has talked about his love for Bush and how hard it was tracking her down for years. However, he finally met and eventually collaborated with his idol.
In a November 2021 interview with Mark Ronson on The FADER Uncovered podcast, Big Boi confirmed he'd recorded a "monster" collaboration with Bush.
"I have a monster hit with Kate Bush that I'm just holding," he said. "It's a dream come true and the people are going to f***ing love it. It's f***ing incredible."
He explained he'd met her in London while OutKast was on their 2014 reunion tour and Bush was doing her Before The Dawn residency. He took his wife to see his idol perform and got to go backstage to meet her. Bush signed an album for him and gave him her number.
"So after that, about a year or so pass, and I told her I was coming back, I just said, 'Hey, when can we do a song?' Just send her a text every now and then. I talked to her on the phone, 'Hello. Hello. So lovely.' And so I came back and she's like, 'Let's go to dinner.'
"So we went and she took me to dinner to this cool little pub place where I had almond cognac. And we was both throwing them back. It was the coolest experience."
Bush told Big Boi she was returning to the studio soon. So, Big Boi set something up.
Big Boi had a "f***ing phenomenal" song and sent it to her. "And it had the words on there and she just had to sing the words," he said. "Then I wrote my verse and my boy Go Dreamer wrote her parts and wrote the hook. And it is incredible. It's incredible."
Big Boi said he has no specific plan to release the song. It will arrive "whenever I think they deserve it, I'm going to give it to them." He also hopes to incorporate an NFT into the release involving the artwork.
In an interview with Slate, Big Boi revealed that his album Big Sleepover acts like a key to a map to his collaboration with Bush. The rapper still hasn't released the song. However, with the current Kate Bush renaissance, maybe Big Boi will be more inclined to release it. It'll undoubtedly send shock waves out into the ether.