Inside Blake Shelton's Ranch Where He Is Quarantining With Gwen Stefani and Her Boys
Blake Shelton and Gwen Stefani are spending the quarantine at his ranch in Oklahoma. The couple has been hunkering down at his 1300-acre estate near Tishomingo with her three boys, Kingston, Zuma, and Apollo. With season 18 of The Voice now complete, here's a look inside Shelton's ranch where Stefani and her sons are calling home.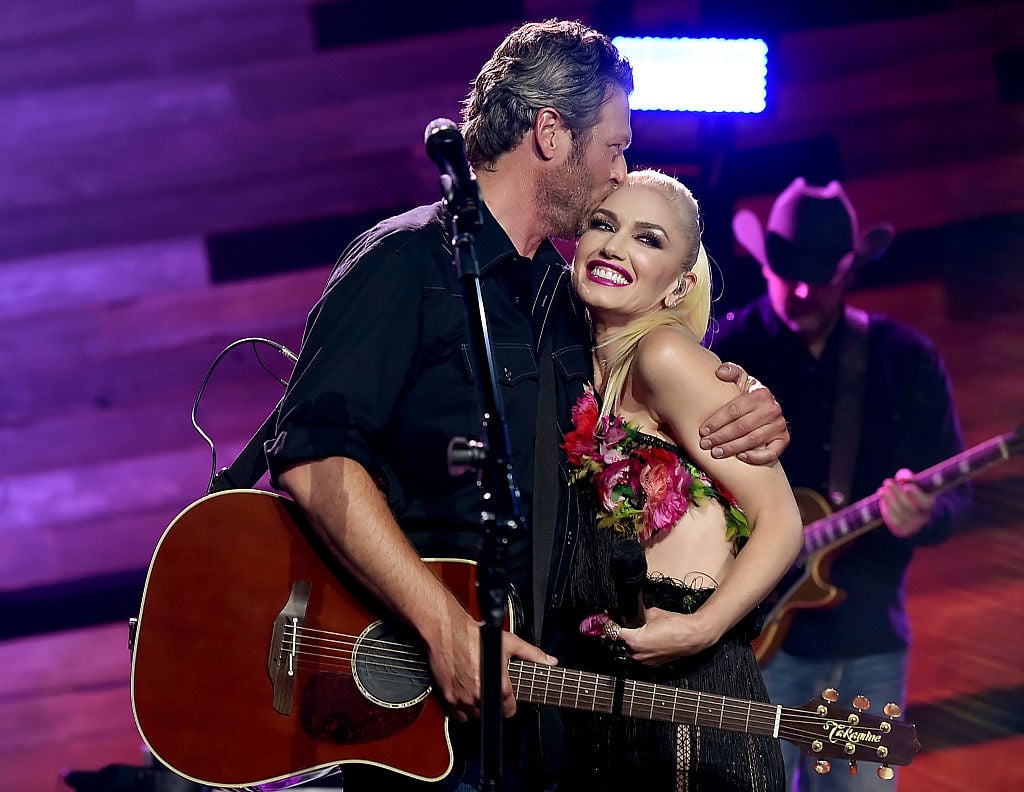 Blake Shelton and Gwen Stefani share updates on social media
Shelton and Stefani spend most of their time in Los Angeles, but they usually fly out to Oklahoma for the holidays and whenever they want to get out of the city. With the coronavirus pandemic shutting the entire country down, the couple has been staying at the ranch for a few months now.
In April, they shared a video performance of their hit song, "Nobody But You," as part of the special, Academy of Country Music Our Country. Shelton and Stefani performed outside in a barn with a bonfire at their back.
RELATED: Blake Shelton and Gwen Stefani Just Added to Their Family in the Most Adorable Way
Stefani has also shared quite a few photos during the lockdown, including shots of her boys hanging out with Shelton. In one of her latest posts, the pop star posted an image of her and Shelton petting some new piglets they had acquired for the ranch.
The No Doubt alum shares her sons with her former husband, Gavin Rossdale. It is unclear if they have spent a lot of time with Rossdale during the quarantine, but they definitely seem to be having fun at Shelton's ranch.
Inside Shelton's sprawling ranch
According to Country Fan Cast, Shelton owns two large estates in Oklahoma. The first is his 1300-acre ranch named Ten Point Ranch. The property, situated near the small town of Tishomingo, boasts several ponds and large wooded areas.
It also has a ranch home that features four bedrooms, a horse barn, and an implement building. Shelton and Stefani have reportedly been splitting their time between the ranch and Blake Shelton's other home in Oklahoma, which is located on the banks of Lake Texoma.
RELATED: Blake Shelton and Gwen Stefani Cozy Up and Urge Fans to Stay Safe in New Performance of 'Nobody But You'
The Lake Texoma house is over an hour away from the ranch and features two main homes. The couple clearly enjoys their time at the lake house, which also features a recording studio. In fact, many of Stefani's posts on social media are from the Lake Texoma home.
Shelton put his ranch on the market in 2017 for $4.7 million. Although he likes spending time on the property, the move was a clear sign that Shelton favors the house on Lake Texoma.
The country crooner also has a condo in Nashville while Stefani is still looking to sell her mansion in LA that she bought with Rossdale in 2006.
Blake Shelton wins season 18 of 'The Voice'
With most of the country under lockdown, The Voice was forced to crown a champion for season 18 with its first remote showdown. With the finalists attending the finale via video call, host Carson Daly revealed that Todd Tilghman won this year's competition.
There were some technical issues with Shelton's mic, but he celebrated the big win with a kiss from Stefani. The victory is the seventh time a member of Shelton's team has won The Voice, making him the most winningest coach in the history of the series.
RELATED: 10 Times Blake Shelton and Gwen Stefani Proved They Were Perfect For Each Other
Before Tilghman was crowned the champ, several of music's biggest names performed for the show from the comfort of their respective homes. This includes an adorable duet by Shelton and Stefani, who sand their song, "Nobody But You," in tribute to front line workers at the Regional Food Bank of Oklahoma.
As fans will recall, Tilghman was the first person in this year's auditions. He sang Bob Seger's hit track, "We've Got Tonight," and his performance got all four of the coaches to turn their chairs.
Blake Shelton will return for season 19 of The Voice, which should premiere sometime this fall.