Inside Dave Chappelle's Secret Life in Ohio
This is everything you need to know about Dave Chappelle's secret life in Ohio.
Dave Chappelle is one of the most famous comedians in the world, having made a name for himself through his old eponymous comedy sketch show and a series of stand-up specials. Yet, despite his superstar status, he's a notoriously private person.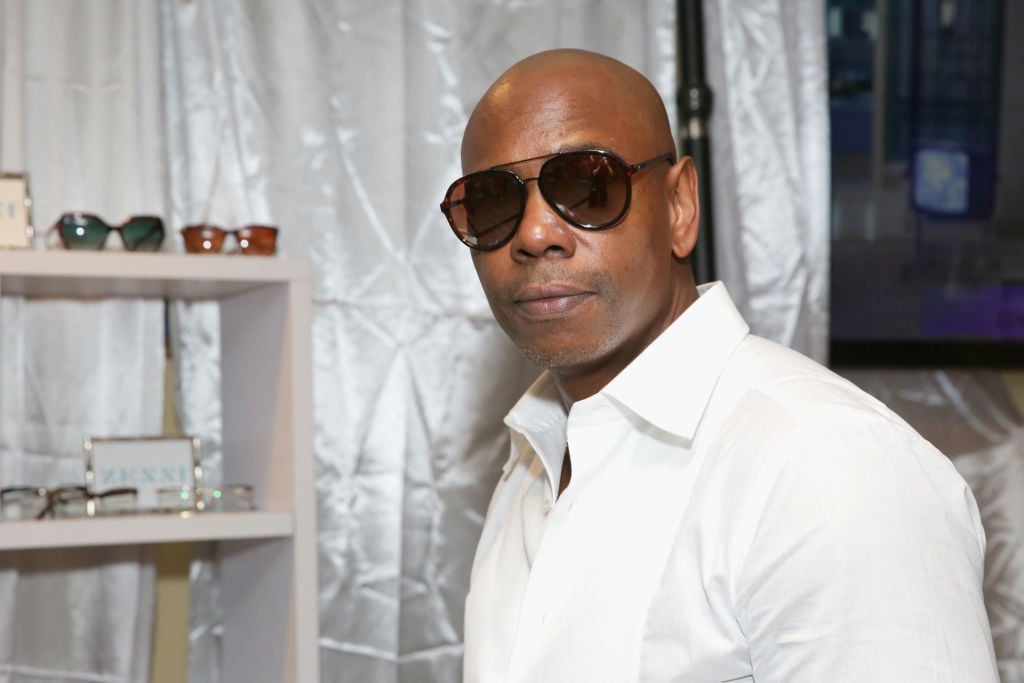 In fact, at the height of his success in the early 2000s, Chappelle left showbiz and moved to Yellow Springs, Ohio, where he currently lives with his wife and their three children.
While he generally refrains from discussing their life, he has offered up a few details over the years that we've combined here. Let's take a closer look at Chappelle's extra private life in Ohio.
First, how did he even end up in Ohio?
It might seem like an odd resting place for a mega-celebrity like Chappelle. But Chappelle, a Washington D.C. native, actually spent a lot of his childhood in that state. 
As he explained in a 2017 interview with HOT 97, his father had relocated there after splitting from his mother, so he would frequent the state as a child to visit his dad.
As an adult, Chappelle found himself flying to Ohio more often, and eventually decided to purchase a home there.
"[My dad] got real sick in '98 so I would drive back and forth … and there were no good hotels [in Ohio], so I bought a house there. And at a certain point, I moved into the house. And when I quit [Chappelle's Show], I moved back into the house," he explained on HOT 97.
Chappelle made Ohio his permanent home in 2006
After walking away from his Comedy Central show in 2006, the comedian officially moved into a modest home in Yellow Springs, Ohio.
"Turns out you don't need $50 million to live around these parts, just a nice smile and a kind way about you," Chappelle said at a music festival in Ohio in 2006 (via USA Today). "You guys are the best neighbors ever. … That's why I came back, and that's why I'm staying."
When asked what Yellow Springs is like, Chappelle described it to HOT 97 as a "Bernie Sanders island in a Trump sea."
"Where I live is a very liberal town. [Yellow Springs is] very far-left. It's like a Bernie Sanders island in a Trump sea. It's a lot of red out there but, in town, people travel, people do cool stuff… It's cultured," he told the hosts.
The elusive star also told CBS News in 2017 that it's a pretty low-key city.
"I'll be reminded that I'm a celebrity here, but I don't think about it at all until somebody asks me for a selfie or something. It won't even occur to me that that's what it is. … It's almost like a nature reserve where they'll let me run free," he explained. "I'm a protected commodity."
Chappelle's life in Ohio
When Chappelle isn't spending time with his wife, Elaine, and their children, Suleyman, Ibrahim, and Sanaa, he's likely busy with one of his hobbies.
He told HOT 97 that he likes to throw parties in a barn in Ohio. "It's a juke joint," he explained. "We put full production in my neighbor's barn and we rock out."
His band consists of people he "poached" from Stevie Wonder.
"Different artists come through and just rock out in the barn," Chappelle continued.
The event, which prohibits cell phones, has included performances by John Legend, Chance the Rapper, A Tribe Called Quest, De la Soul, Ed Sheeran, and others.
"You get to see people do stuff that you wouldn't normally see them do," he added. 
Chappelle also told the hosts that he likes to put on fancy gear and go to fights.
That said, it seems like Chappelle lives a fulfilling life in Ohio. So, you probably shouldn't hold your breath when it comes to whether he'll ever return to a more popular city.
"I'm the same [as I was when filming my show in New York]. I'm just having a vastly better time," he added to HOT 97.