Inside DJ Khaled's $8 Million Sneaker Collection
When you're a celebrity who is wealthy beyond your wildest dreams, you can pretty much collect whatever crazy thing you want. Jay Leno, for example, collects cars. John Lennon collected stamps. There are even reports that Amanda Seyfried collects taxidermy animals.
Celebrities collect the whole gambit of goofy treasures from Gibson guitars to action figures, baby dolls to knives. Superstar DJ Khaled has dropped millions on his own personal collection. He's spent his lifetime gathering a slew of sneakers.
Even his early collection was impressive
Khaled was interviewed by Nice Kicks back in 2014 for a sneak peek of his massive collection. The piles and piles of boxes were impressive all on their own, but when he started flashing around some of his favorite shoes fans were reasonably impressed.
As the superstar holds up his ruby red slippers, which are actually Air Jordan 3 Retro 'Legends of the Summer', he caresses them gently. Khaled explains why he loves this particular shoe so much, and no, it is not because the sparkly slipper can transport him back to Kansas, but rather: "Ya gotta understand why I love these so much. You know why? When you put this on, it do something."  
Well, whatever it's doing must be magical because the record exec, media tycoon continues to add to his collection of cool kicks. 
DJ Khaled's mansion has a closet dedicated to just his shoes
Complex Closets had the unique opportunity to gain exclusive footage of DJ Khaled's massive floor-to-ceiling closet, which was custom-built for him to display his sneaker collection.
As Khaled took them through his collection he showed off various sneakers that he held near to his heart. He's got whole shelves of Jordan's, one of a kind shoes personalized to him, a collection of Yeezys, and single-edition spectaculars. 
"You know in time, when I got older," he explains to Complex Closets, "I realized I have so many sneakers in my closet, and I took pride in them. So I ended up being, I guess, a collector."
Khaled's young son Asahd has quite the collection of his own
Khaled and his son Asahd share their shoe obsession, with Khaled making room in the closet for some of Asahd's earliest kicks. Tiny infant sneakers line a hinged box in the center of the closet, though Khaled has mentioned that all of the sneakers will become part of Asahd's inheritance. The pair have even been known to show up at events rocking matching sneakers. They sported slime-green ones for the Nickelodeon sponsored Kids' Choice awards last year. 
His closet isn't even big enough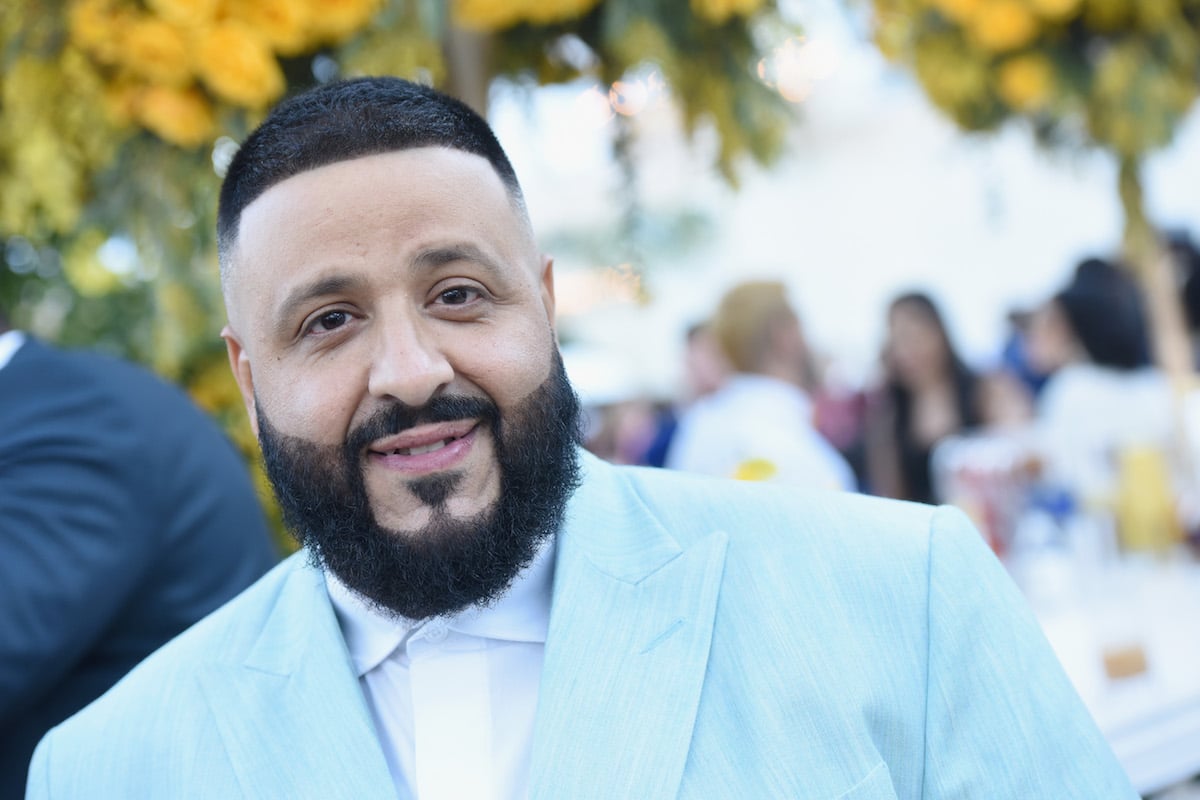 Khaled's impressive closet, in his recently sold Miami home, housed somewhere between 500-600 pairs of his favorite sneakers. He remembers them all by name, or occasion in which he has worn them. He can fondly recall who he collaborated with to have them made, or how they were gifted to him.
Footwear News reports that his home boasted an elevator, a home theater, five bedrooms, and of course, his massive floor-to-ceiling closet. But, even with all that space to store his shows, his collection far exceeded its limits.
In fact, that's just where he keeps his chosen favorites. All in all, it's rumored that he owns more than 10,000 pairs of sneakers. However, where he keeps the rest of them is a mystery that DJ Khaled is keeping to himself. Or, rather keeping it for his sons.
People reports that Khaled welcomed his second son, Aalam, in early January of this year and the two boys are lucky to have some rather big shoes to fill.