Inside Dwayne 'The Rock' Johnson's Rags to Riches Story
Dwayne Johnson's rise to success is an inspirational story for everyone.
You probably know all about Dwayne "The Rock" Johnson and what a successful actor he is, but do you know where he came from? It's safe to say he has an origin story worthy of its own movie or TV show, and it's unlike any other Hollywood star's story. Let's take a closer look into the "rags to riches" tale of how Johnson became a major superstar. 
Dwayne Johnson had humble beginnings
According to Insider, Johnson was born in California in 1972. While he grew up in a wrestling family, it wasn't his first sport. While attending college at the University of Miami, he played for the Miami Hurricanes' famed college football team. He even helped the team win a national title.
Success may have seemed like a foregone conclusion for him, but it was not. After suffering injuries in college, he tried his hand at the Canadian Football League before being cut. He found himself broke and out of football.
That wouldn't be the last the world heard of him, though. Johnson went into the world of professional wrestling. 
WWE was the first place Dwayne Johnson proved he was a breakout star
The first place many of Johnson's fans came to know him was as part of World Wrestling Entertainment, or WWE. He debuted for the WWE in November of 1996 at their annual Survivor Series pay-per-view event, according to Complex. 
Early in his career, he wouldn't be nearly as popular as he was later. His first pro wrestling moniker was Rocky Maivia. He took his first name from his father, Rocky Johnson, and his last name from his grandfather, "High Chief" Peter Maivia. Both were pro wrestlers before him. As a babyface, Johnson wasn't very well-liked by wrestling fans despite his solid in-ring ability. 
It wasn't until Johnson adopted a much different character that he'd start getting noticed. After performing what is known in wrestling as a "heel turn" in which he switched from being a hero to a villain (or in wrestling terms, babyface to heel), he became known simply as "The Rock." His character transitioned into an arrogant, cocky jerk who spoke in the third person and used multiple catchphrases. 
The crowd was supposed to hate him, but a funny thing happened to Johnson: wrestling crowds ate up his shtick. He became one of the most popular wrestlers of all time due to his "Rock" persona, having legendary feuds with other top stars like "Stone Cold" Steve Austin and Triple H. 
The successful Hollywood career of Dwayne 'The Rock' Johnson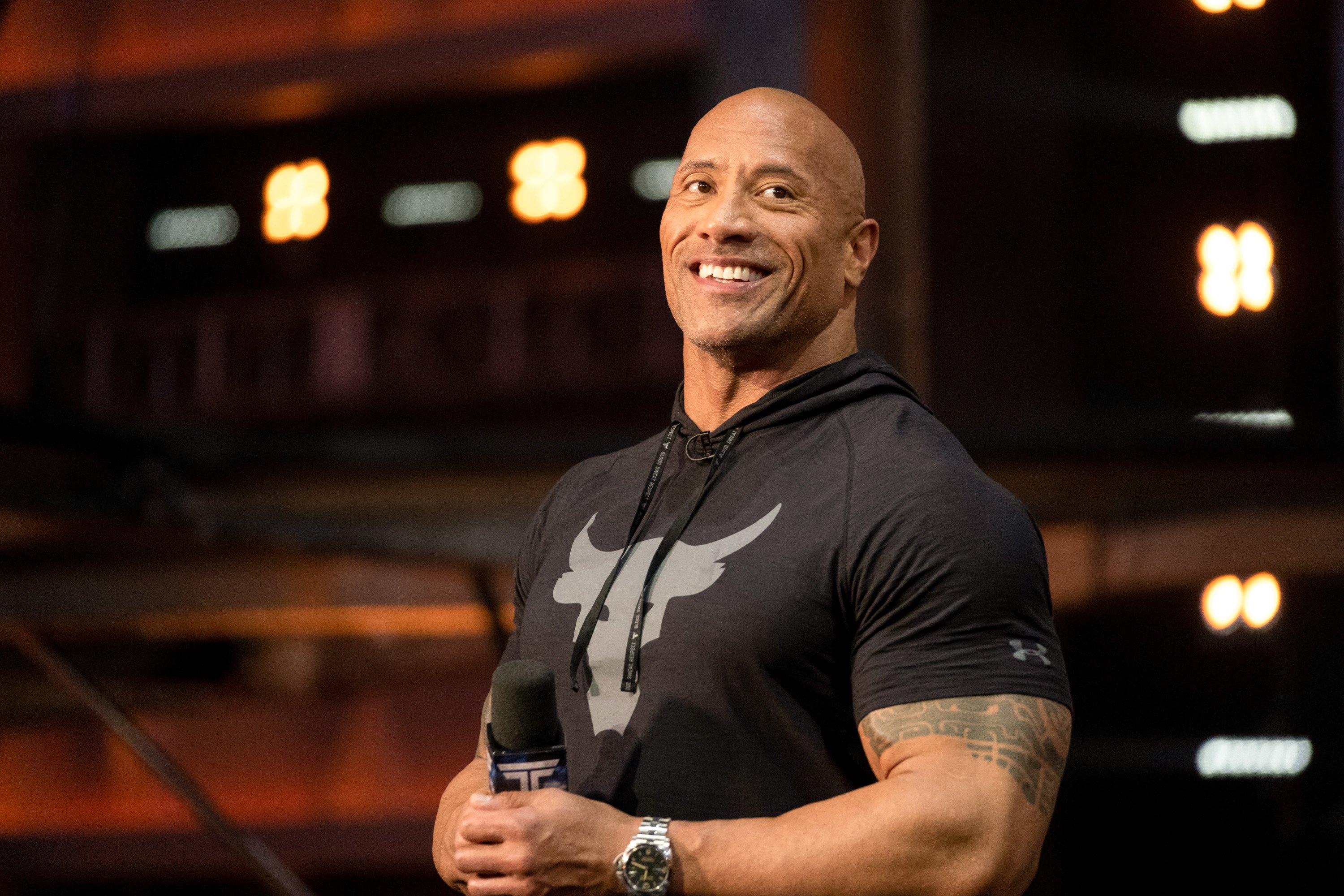 Johnson still occasionally makes appearances for WWE, but by the early 2000s, his time as a full-time wrestler was essentially finished. From there, he began starring in a variety of Hollywood movies. He started with modest but successful action films at first like The Rundown and a remake of Walking Tall. From there, he transitioned into bigger budget projects. 
According to his IMDb, Johnson has starred in some major hits over the years, including: 
Multiple films in the Fast and the Furious franchise, including his own spinoff called Hobbs and Shaw
Skyscraper
GI Joe: Retaliation
Rampage
Jumanji: Welcome to the Jungle
Baywatch
Moana
Central Intelligence
San Andreas
It's quite amazing for a pro wrestler to eventually turn into one of the biggest box office draws in Hollywood, but that's exactly what Johnson did. He's been paid handsomely for it as well: according to Celebrity Net Worth, his net worth is reportedly around $400 million (and growing).
There's no question that Johnson is one of the biggest stars today, and his light shows no sign of burning out any time soon. He's set to star in a big-screen adaptation of DC Comics character Black Adam. After his humble beginnings, it seems like it's as good a time as ever to be Johnson.