Inside Eminem and Christina Aguilera's Feud
Get the details behind rapper Eminem's feud with pop star Christina Aguilera and if the two were ever able to bury the hatchet.
Eminem is no stranger to feuding with other celebrities. Throughout his career, Marshall Mathers has called out everyone from fellow rappers to actors and plenty of pop stars.
Christina Aguilera was one of the celebs Em name-checked in his song "The Real Slim Shady" and that ignited their feud. Many fans thought things ended after the two stood on the same stage together and reportedly hugged it out behind the scenes. But their truce was short-lived. Here's how Aguilera became one of Eminem's favorite targets and where things between them stand these days.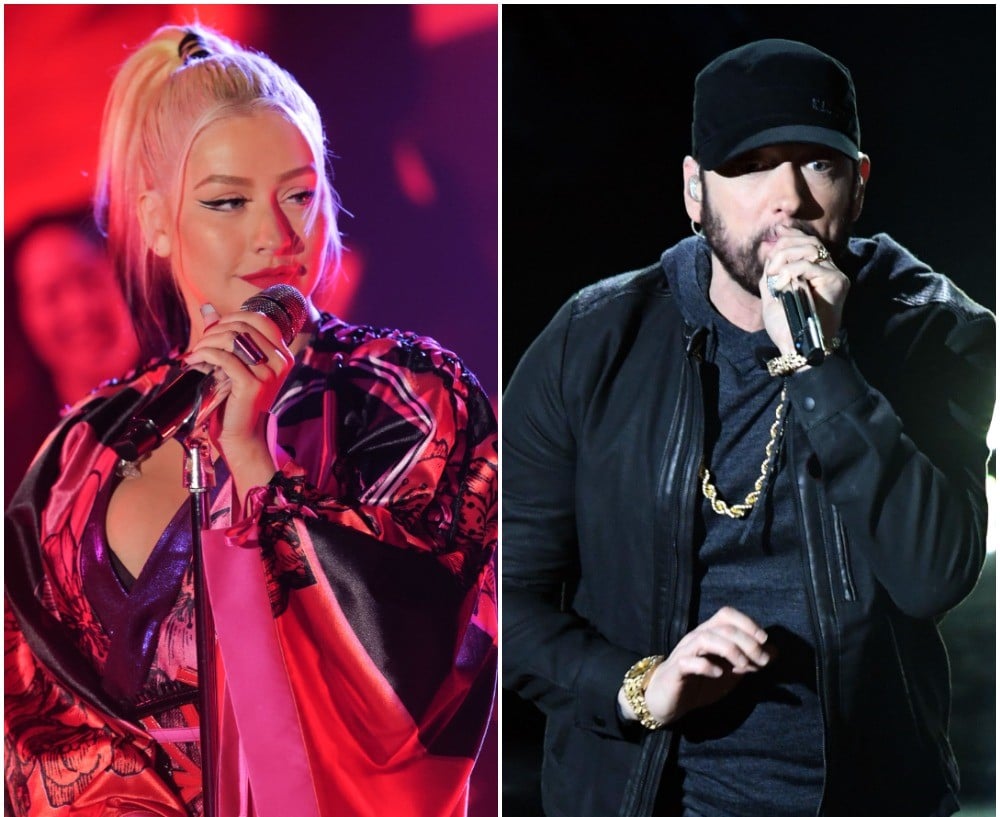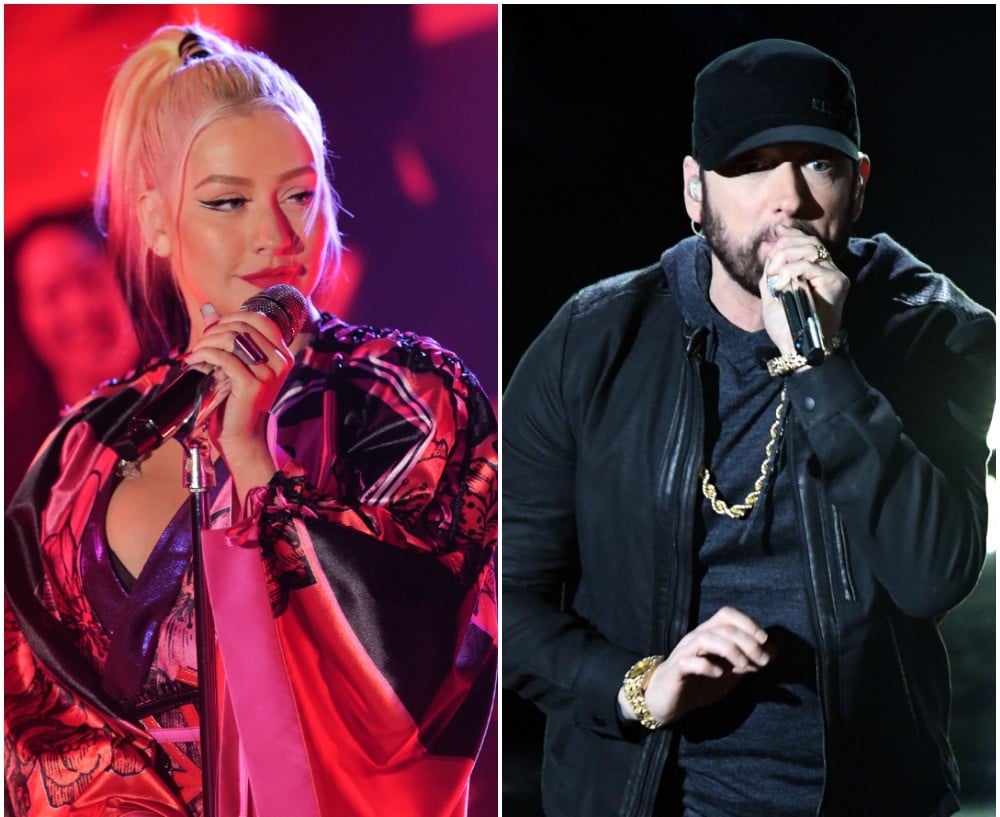 What Eminem said about Christina Aguilera in one of his biggest hits
This feud started in 1999 when the "Genie in a Bottle" hitmaker leaked information during her MTV special What A Girl Wants about Eminem marrying his longtime girlfriend, Kim, in a secret ceremony. Aguilera also talked about the consequences of physical abuse in relationships.
Needless to say, Em wasn't happy with the pop princess airing out his personal business. So he went after Aguilera in the "The Real Slim Shady" with the lyrics: "Little b*tch put me on blast on MTV 'Yeah, he's cute, but I think he's married to Kim, hee-hee.' I should download her audio on MP3 and show the whole world how you gave Eminem VD!" 
The singer denied that she was ever romantically involved with the 8 Mile star. But that's not the only time the songbird felt his wrath. The hip-hop artist also brought her up in "Off the Wall" featuring Redman when he rapped: "Causing terror to Christina Aguilera. When I grab her by the hair and drag her across the Sahara."
How Aguilera responded to the disses
Aguilera responded in her song "Can't Hold Us Down" off her 2002 Stripped album singing: "So what am I not supposed to have an opinion. Should I keep quiet just because I'm a woman? Call me a b*tch cause I speak what's on my mind. Guess it's easier for you to swallow if I sat and smiled."
But it was during the 2002 MTV Video Music Awards when Xtina and her nemesis came face to face as she was tasked with presenting Eminem the award for Best Male Video.
No one knew exactly what was going to happen as the rapper walked on stage to get his award. With all eyes on them Em simply took the hardware from Aguilera, said "thank you," and delivered his speech. According to NME, the two tried to bury the hatchet and hugged it out backstage. But their beef didn't end then.
No love lost between them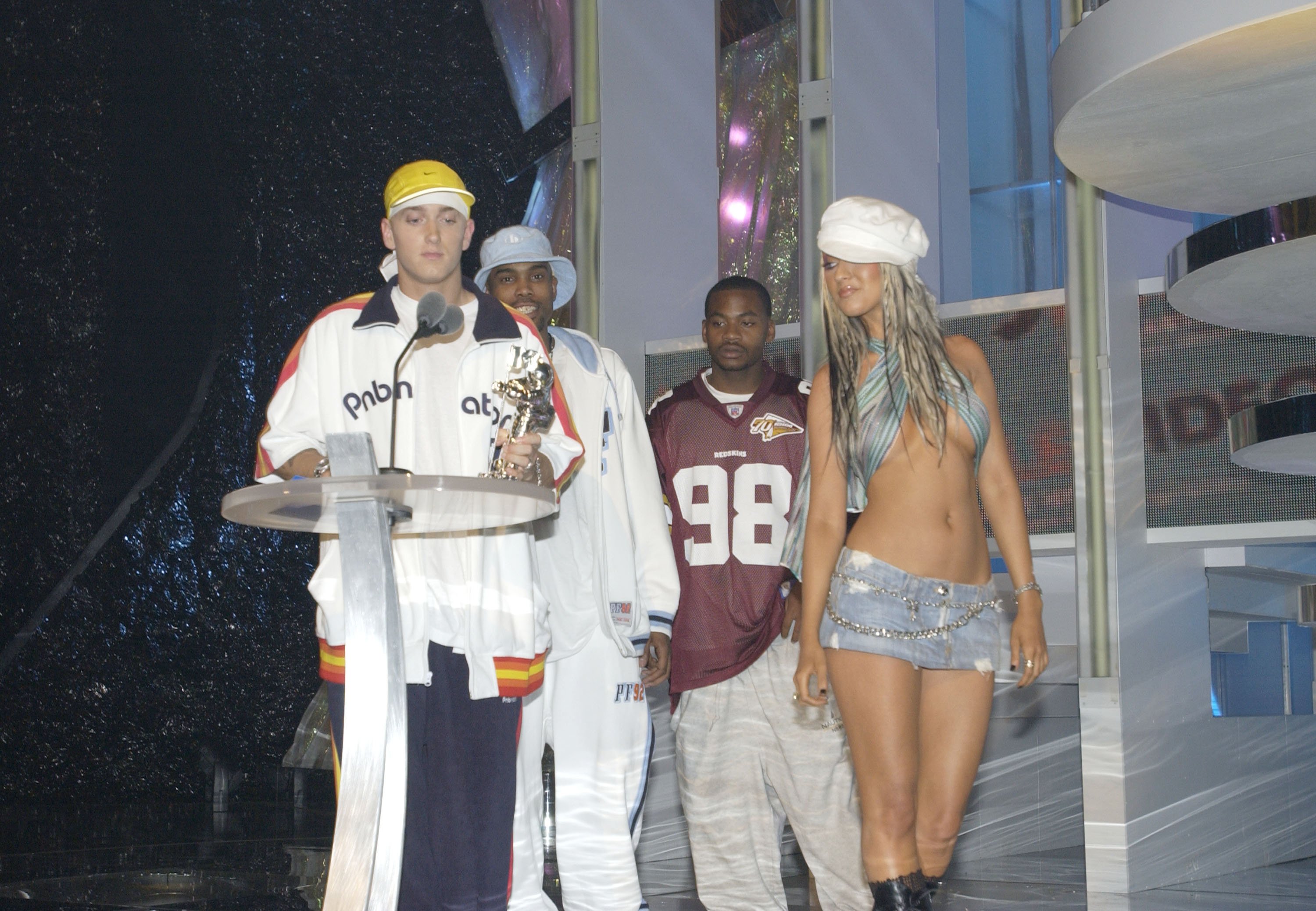 For years many thought their feud was done and over with. But to everyone's surprise in a 2018 freestyle entitled "Kick Off," Eminem mentioned Aguilera again rapping: "F*ck Christina with a plastic spoon. While I bump some G-Funk and blast some Snoop. 'Cause her double G-cups are massive, huge!"
The following year Aguilera was a guest on Watch What Happens Live With Andy Cohen and was asked about Eminem calling her out again after so many years.
"Yeah, I mean, that's real thirsty," the "Dirrty" artist said. "I don't know what's going on there. That's really in the past and, you know, it was thirsty then, it's thirsty now… It's not nice to go after anybody, especially a female in this business and now, what we're looking at and seeing come to the forefront, it's just, get a new gig. Have something else to talk about."
Apparently there's still no love lost between these two.