Inside Former 'General Hospital' Star Vanessa Marcil's Complicated Relationship With Ex, Brian Austin Green
General Hospital alum, Vanessa Marcil, and Beverly Hills: 90210 star, Brian Austin Green, have a rocky past. The two met on Green's 90210 set in the '90s and dated for years. The two welcomed a son, Kassius in 2002. Marcil and Green's story has been anything but easy, filled with lawsuits and accusations.
Vanessa Marcil and Brian Austin Green met on the set of 'Beverly Hills: 90210'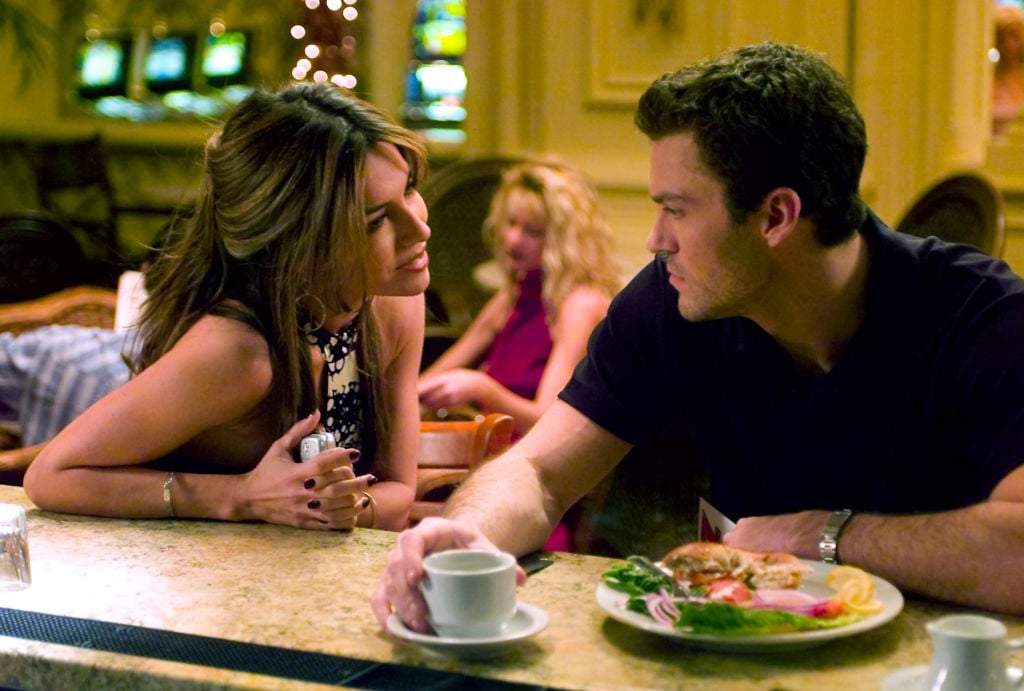 Brian Austin Green starred in all 10 original seasons as David Silver on the '90s drama series, Beverly Hills: 90210. Vanessa Marcil joined the cast in season 9 as Gina Kinkaid.
The two dated for several years and became engaged in the summer of 2001. Their only child together, Kassius Lijah, entered the world on March 30, 2002.
Marcil and Green intended on marrying but instead split for reasons unknown just after Kassius's birth in 2003. Green began dating actress Megan Fox the following year and they married in 2010 in a private Hawaii ceremony. Green and Marcil's son, Kassius, was Green's best man at 8 years old.
All may have seemed well on the surface, but two years later, Green filed a lawsuit citing Marcil's "unpaid loans." Green sought $200,000 he said he gave her through the length of the relationship, and that they had an agreement she would pay it back, but didn't, according to E! News.
A judge tossed the case, stating the statute of limitations ran out. However, Marcil could go after money from Green. So, she did, asking for more than $50,000.
Marcil and Green went through a bitter custody battle over son, Kassius
That lawsuit wasn't the first of the former couple's issues. Marcil claimed in an Instagram post from Nov. 2018 that in 2006, Green and Fox sued for custody of Kassius.
"12 years ago I was served legal papers and then spent 8 years+ defending myself and my son in custody court in response to his father & his stepmother trying to get full custody (that means I would have seen my son four days a month) and then asking me to pay them child support," Marcil wrote. "They lost that case & a civil case asking me for 200,000."
She continued: "I had also never asked for child support of any kind and had never tried to take time away from Kass' dad seeing him. Ever. In the end, they lost all of these court cases. The judge called them all 'Frivolous' They always had 50% custody and still did when court ended as I had and have NEVER asked for full custody."
Marcil alleged Green and Fox cut Kassius out
Following those accusations, Marcil alleged that Green and Fox then "decided to completely cut Kassius out of their lives and his younger brothers' lives," referring to Fox and Green's three young boys.
"Kass has never met his youngest brother and is not allowed to know where his bio father, stepmother and three younger brothers' lives. Custody cases hurt the children only and the truth shall set us all free. Put the kids first you guys," she said.
"There shouldn't be a 'more important parent' kids love both parents equally no matter what either parent's struggles may be. Kass has been truly heartbroken since being cut out of his other families' lives with NO explanation. Let's do better for our kids. Let's share our stories. #Buddhakids."
Marcil said she didn't speak out previously because she didn't want the paparazzi involved. Neither Green nor Fox commented on any of Marcil's statements.
However, Kassius set the record straight on an E! News Instagram post of Fox and Green's boys dressed up for Halloween alongside a teenage boy they assumed was Kassius.
"That's not me in the picture. I haven't lived with Megan and my dad for 4 years now, and I was not there for Halloween," he said.
Where do things stand now?
By now, much of the past drama has calmed down. However, in Aug. 2018, Green posted a photo of Kassius in a school play, looking as if he was there taking the photo himself. Marcil re-posted clarifying she took the photo
Since then, relationships seem to be on the mend. Kassius visited Green on the set of the BH90210 reboot in 2019 and Marcil gushed about their reunion.
Marcil posted a photo of her fiancé, hugging Kassius. The caption said, "MC's so happy for Kass, getting invited to see his dad. He's helping him pack. #RealMen"
In Dec. 2019, Green posted a photo of Kassius on his Instagram page. The two appear to be big Star Wars fans. It's hard to say how Marcil and Green get along now, but Green seems to be a part of Kassius's life again.