Inside Kathy Griffin's Terrifying Death Threats Over 2017 Photo Scandal
Kathy Griffin thrives on comedy. But her 2017 photoshoot scandal was no laughing matter — nor was the fallout. In the wake of her inexplicable lung cancer diagnosis and subsequent disclosures about addiction and depression, we're taking a look back at her most terrifying ordeal as a celebrity. 
Kathy Griffin shocked the nation with a grotesque image 
Kathy Griffin never made any secret of how she feels about former president Donald Trump. And in 2017, months after he took office, she made a strong but silent statement. She appeared in an image, taken by celebrity photographer Tyler Shields, holding a mask in the image of Donald Trump's bloodied head. 
The blood wasn't real. It was ketchup. But the backlash was real. And it was brutal. Conservative Twitter erupted in outrage, with everything from insulting recriminations to full-blown death threats. Industry professionals both left and right distanced themselves from Griffin. The government got involved. 
"My little story is historic," Griffin told CBS News in 2019. "Whether you like it or not, it's the first time a sitting United States president has used the full power of the Oval Office, the first family, the right-wing media and, more importantly, two departments within the Department of Justice to open an investigation on a private citizen who did nothing wrong. Didn't violate the First Amendment, didn't break the law."
Griffin later explained that the photo was her reaction to infamous comments Trump made about then Fox News anchor Megyn Kelly.
An apology didn't stop death threats
In the immediate aftermath, Griffin buckled down into crisis management mode, issuing a swift video apology. "I sincerely apologize," Griffin said. "I am just now seeing the reaction to these images. I'm a comic. I crossed the line. I moved the line, then I crossed it. I went way too far."
But the apology did little to calm growing conservative anger. Trump himself stoked the flames, tweeting that Griffin "should be ashamed of herself" and relentlessly insulting her in public forums. Trump has since been permanently banned from Twitter. 
According to her 2019 CBS News interview with reporter Luke Burbank, the My Life on the D-List star was horrified when the FBI informed her of an "imminent threat" after her name was dropped by the "MAGA bomber" Cesar Sayoc.  
Griffin also said she continues to get death threats, both "online and in person." 
"I was in London a month ago and I had a driver who took myself and my assistant from London Heathrow to the hotel, and he recognized me from the photo and he said that he was from Morocco and that if we were in Morocco he would cut my tongue off," she told Burbank. 
Griffin remains defiant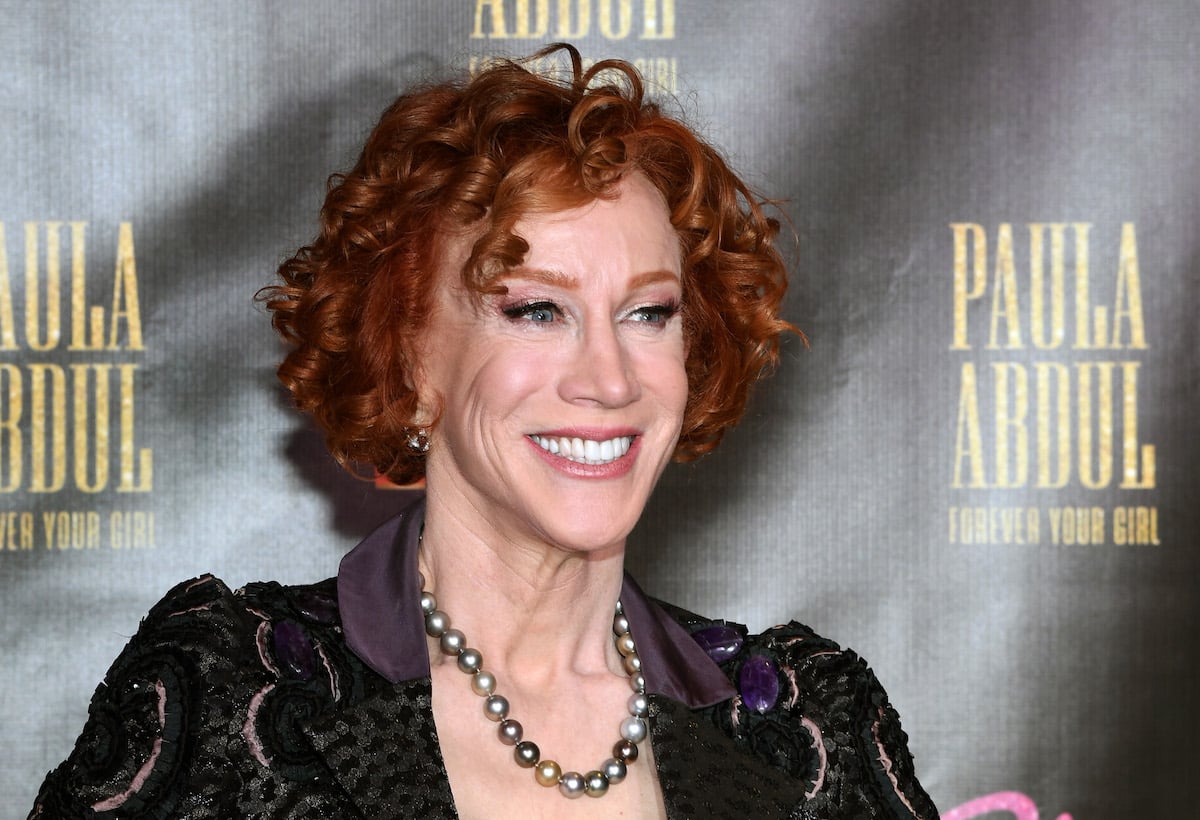 Despite a cancer diagnosis, a bout with severe depression, and a prescription pill addiction, all of which Griffin publicly disclosed in August of 2021, the comedian remains unapologetic. She told Burbank what she did about the driver who threatened her — "I called the president of the company and had him fired!" — and retracted her initial apology over the Trump debacle. 
"I am no longer sorry. The whole outrage was B.S.," Griffin said several months later on Australian TV program Sunrise. "The whole thing got so blown out of proportion, and I lost everybody." 
She's since risen, yet again, to meet her challenges and conquer them. Griffin said on social media that she's been clean and sober for a year following an overdose attempt. She's healing after an inexplicable lung cancer diagnosis and following surgery. And she recently announced a recurring role on Search Party in season 5. 
It appears that nothing can keep Kathy Griffin down. 
How to get help: In the U.S., contact the Substance Abuse and Mental Health Services Administration helpline at 1-800-662-4357.