Inside Kelsea Ballerini's Marriage to Australian Musician Morgan Evans
What started with a shot of tequila has turned into a lasting union between two country music stars. Kelsea Ballerini and Morgan Evans might have had a whirlwind romance after hitting it off over drinks. Still, the two seem as blissfully happy years later as they did when their relationship first became official.
The duo are stars individually and wrangle busy tour schedules between them. But they seem to make plenty of time for each other and cheer each other on along the way. Take a look at the pair's relationship and how they're setting up for long-term success in marriage. 
Kelsea Ballerini and Morgan Evans met in Australia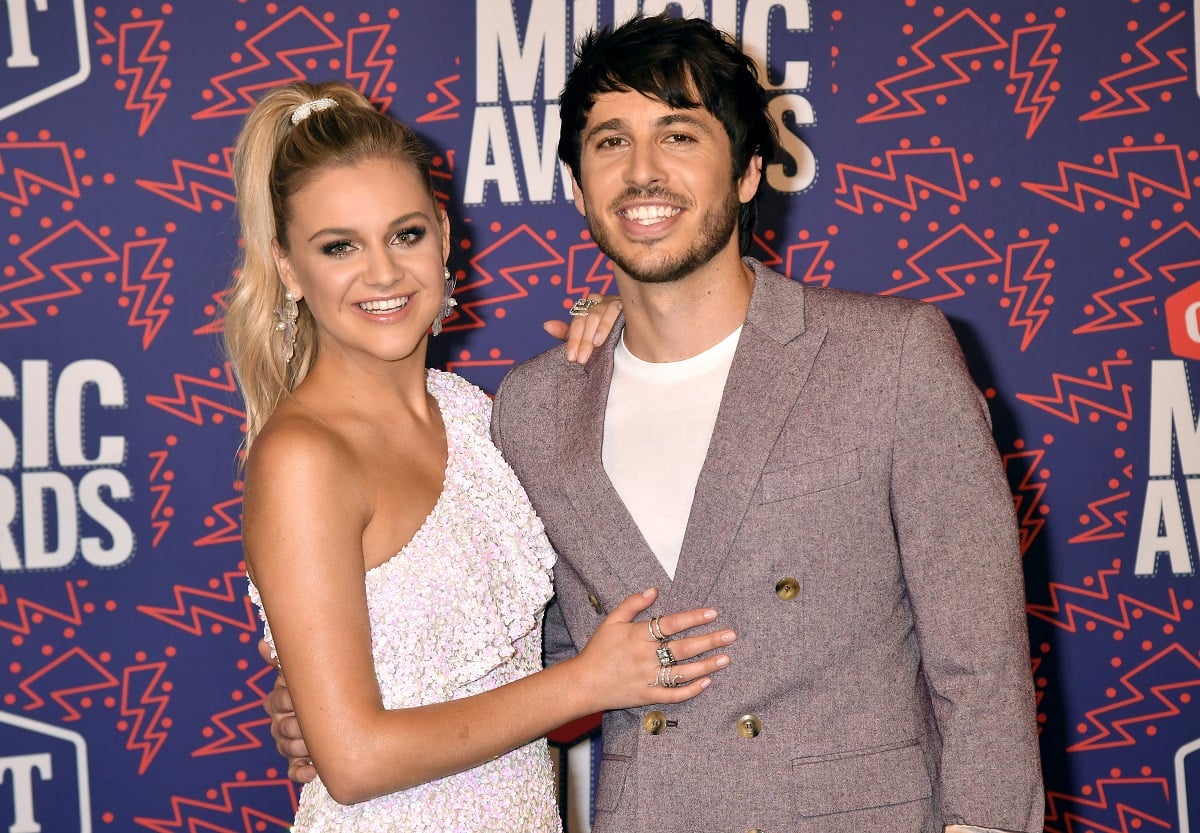 Ballerini and Evans met in Evans' native Australia when the two hosted the Country Music Channel Awards in 2016. Sparks flew at the after-party that night when the couple took tequila shots together.
"I remember taking that shot and putting it down and looking at him like, 'Oh… he's superhot,'" the "Yeah Boy" singer recalled to People. Ballerini said Evans, like a "proper gentleman," asked if he could kiss her later that night — and their whirlwind courtship began.
The couple dated for just over nine months before Evans proposed on Christmas morning that same year. "I GET TO MARRY MY AUSSIE," Ballerini wrote in all caps on Twitter. "…He got down on one knee in the kitchen while I was burning pancakes and asked me to marry him."
Ballerini and Evans tied the knot in 2017 in Mexico
The "I Quit Drinking" songstress and "Love is Real" crooner were married in Cabo San Lucas, Mexico, in December 2017. They celebrated with a tequila shot for each of their 100 guests — a full-circle tribute to how they met. 
Their handwritten vows ended with teary eyes when Evans attempted to recite lines from "Dance With Me," the first song he'd written for Ballerini. "Kelsea's vows were, as you would expect, poetic, sweet — like, mindblowingly good," Evans told People. "I said mine, and I was going to finish with a few lines of the first song I wrote for her. I got halfway through them, and she started to lose it, then I started to lose it — so I ended up having to cut it a little bit short!"
The artists might have had a brief dating history, but the two were much more excited about growing old together than dragging out the process — or worrying too much about the wedding details. "We're not 'wedding people,'" Ballerini admitted. "It's more being married that we're stoked about."
The pair had a busy first two years of marriage since both artists had tour schedules, TV appearances, and other press events to keep them occupied. Still, sharing those things and cheering each other on were a priority. "When you can do everything you want and then share it with someone, that makes for a full life," the "Half of My Hometown" singer said. The coronavirus (COVID-19) pandemic brought public events to a screeching halt — which Ballerini publicly supported. But the duo entertained fans during quarantine by posting cover duets. 
The couple shared sweet messages for their fourth anniversary in December
Ballerini and Evans have put in the work to continue growing in their relationship. "We go to couples therapy all the time," Ballerini told People in a November 2021 interview. "We have really good couples friends that we vacation with, but we also can sit down with and have the hard conversations." The pair also continues to be each other's biggest fans, whether it's promoting their partner's album drops or posting footage of their performances.
"My aussie put out his best work yet today," Ballerini boasted in October on Twitter, when Evans' The Country and the Coast was released. Evans posted a photo of the two at the Academy of Country Music Awards in March, celebrating his wife's iconic performance with legend Dolly Parton for Parton's single "Big Dreams and Faded Jeans."
In December, Ballerini and Evans shared the same photo of the two embracing to celebrate their fourth wedding anniversary. Ballerini waxed poetic on Instagram: "you are etched into me / a carved heart on a tree / permanent."
RELATED: Kelsea Ballerini's $585,000 Nashville Townhouse Is a Modern Farmhouse Dream