Inside Kim Kardashian West and Serena Williams' Low-Key Friendship
Many celebrity friendships have come out of Hollywood over the years.
While it's common for people who are always in the spotlight to strike close bonds with fellow A-listers, lately, unexpected celebrity friendships have been coming out of the woodwork.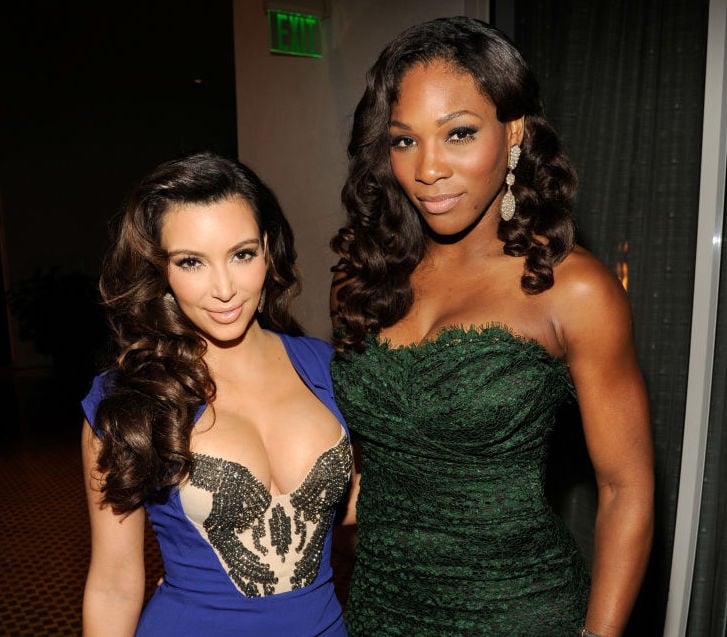 From Martha Stewart's surprisingly chummy friendship with Snoop Dogg to Kevin Hart's bromance with Dwayne "The Rock" Johnson, Hollywood has definitely been at the center of many of the industries' unlikeliest pairs.
But two people we would never have expected to strike up an extremely close bond with one another are Kim Kardashian West and Serena Williams. So how did these two celebs meet, and are they still close friends today?
Kardashian West and Williams have been friends since 2002
Kardashian West may have a ton of celebrity acquaintances she often rubs elbows with while attending star-studded events, but there are only a few A-listers the reality star considers to be her closest friends.
Aside from KKW mogul's famous sisters — who she considers to be her besties — and her BFF La La Anthony, Kardashian West is also close pals with professional tennis player Serena Williams and has been for years.
So how exactly did Kardashian and Williams come to be the best of friends they are today?
Well, it turns out that the pair became friends while the reality star was working for the tennis champion.
Long before Kardashian became a megastar; she was employed by the rich and famous, organizing and cleaning out different celebrities' closets.
One of her bosses happened to be Williams, and though their relationship most likely started out professional, it soon morphed into a bond that has proven to be unbreakable.
Though the A-listers rarely flaunt their friendship, there have been times they've given people a glimpse into their special bond, which still takes some by surprise.
The pair's friendship just works
Although Williams and Kardashian West come from two different worlds, they actually have a lot more in common than many people would think.
In addition to being two of the most famous celebrities in the entertainment industry, they've both achieved a larger than life status all on their own.
Since they both know what it's like to put in work to achieve their dreams, the celebs most likely bonded over that during the early days of their friendship.
The stars also endured much of their young adult lives in the public eye, which not many people can say they've done.
While there are a few things these stars have in common, they continue to be polar opposites in life. But instead of letting that hinder their friendship, their differences only made them closer.
"I wish people could see her [Williams] silly side," Kardashian West shared with Vogue back in 2017. "She is obsessed with karaoke, which personally is my biggest fear in life. I remember a dinner in San Francisco before a DNC fund-raiser. Serena sang, Obama sang, Kanye sang. It was legendary. She gives herself those moments—it's how she recharges. Serena's the girl you can call and say anything to. She'll never judge you, and she's never too busy for you. Oh, and she can keep any secret."
Today, Williams and Kardashian West are still good friends and often get together for playdates with their kids and for Hollywood events.
While they continue to keep their friendshipon the down-low, it definitely seems like these two are going to remain friends for many years to come.