Inside Kim Kardashian West's Longtime Friendship With La La Anthony
Kim Kardashian West's friend circle may be small, but it includes people she knows will be there for her no matter what.
In addition to BFFs Jonathan Cheban, Larsa Pippen, and Malika Haqq, the Keeping Up With the Kardashians star is also very close with television personality La La Anthony, who she looks at as more of a sister than a friend.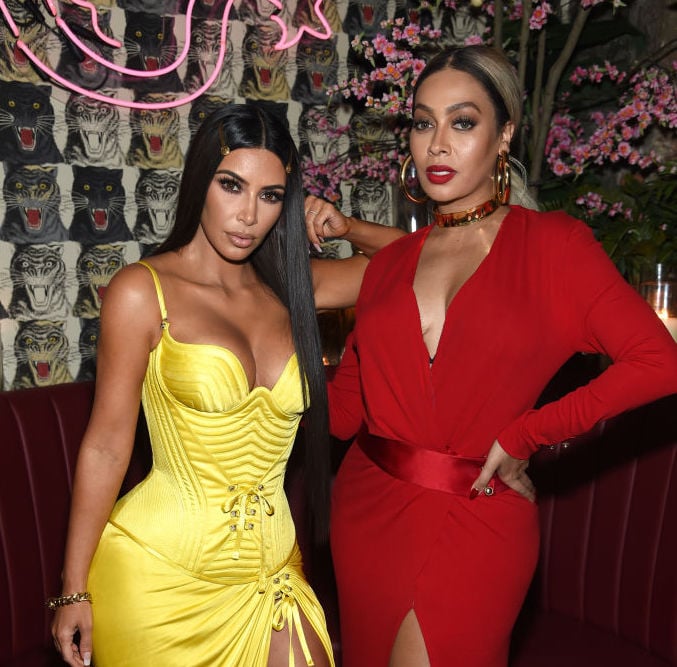 Kardashian and Anthony have been friends for years
When you're rich and famous, it can hard to trust certain people who come into your life.
Aside from family, there are usually a handful of individuals celebrities are close with, and once those people have proven their loyalty, they find themselves becoming more than just a best friend.
When Kardashian and Anthony first became friends, they were both climbing up the social latter while trying to make their mark in the entertainment industry.
Since they were part of the same social circle, it was only a matter of time before the tv personalities established a bond that would carry on well into the future.
Over the years, the A-listers have practically become sisters and continue to prove that no matter what, nothing can come between them.
In 2013, Anthony told E! News that she talks to Kardashian West "every day," and also teased, "I give her advice without her having to ask me."
Though they're always talking on the phone, Kardashian and Anthony are often seen out on the town together. But just as much as they enjoy going out, they also love staying home and getting in some girl talk.
And since girl talk is their thing, Anthony has gotten accustomed to the side of Kardashian she wishes people got to see a lot more of.
"She's a very kind and generous person," the Power actress said while appearing on an episode of The Meredith Vieira Show in 2015. "She's always willing to help whenever I'm working on a project or anything, she's like 'Who's doing that? Do you want me to call them and tell them they should hire you?' She's a very good, good friend."
They lean on each other during difficult times
Just like any best friend would, Kardashian and Anthony have been there for each other through many ups and downs in life.
In addition to going through motherhood and relationships together, the besties have been each other's "rock" through difficult times.
After Anthony separated from her husband of seven years, Carmelo Anthony, in April 2017, Kardashian was one of the television personality's famous friends who'd shown her nothing but love and support as she coped with the breakup.
https://www.instagram.com/kimkardashian/p/Bxf65Prg8cG/
A few months later, Anthony returned the favor following the KKW mogul's Paris robbery. Once Kardashian touched down in NYC after the horrifying experience, Anthony caught the first flight out to the city to check on and comfort her BFF.
They give each other styling tips
It's no surprise that with a long-standing friendship like the one Kardashian and Anthony have, asking your BFF for a bit of style advice starts to feel like second nature.
Though the BFFs have proven time and time again that they have impeccable fashion sense, the Think Like A Man actress previously revealed that she usually looks to Kardashian for styling tips and vice-versa.
"All the time, it's like 'What do you think of this, what do you think of that,' as friends, you know, do," Anthony told Life & Style in 2018. "And she's an amazing friend. She offers great advice, style tips."
As you can tell, Kardashian and Anthony have a beautiful friendship that seems to grow stronger as the years go by.
Though they aren't each other's only friend, these two women have a special bond that proves they're much more than besties — they're family!