Inside 'Little House on the Prairie' Star Michael Landon and Lucille Ball's Historical Connection
Michael Landon and Lucille Ball were TV stars in their own right. Both actors dominated their respective networks with their hit shows Little House on the Prairie, and I Love Lucy.
When Pa Ingalls actor and Lucy Ricardo star died, they left behind historical legacies. But, how did their accomplishments connect them years after their shows stopped production?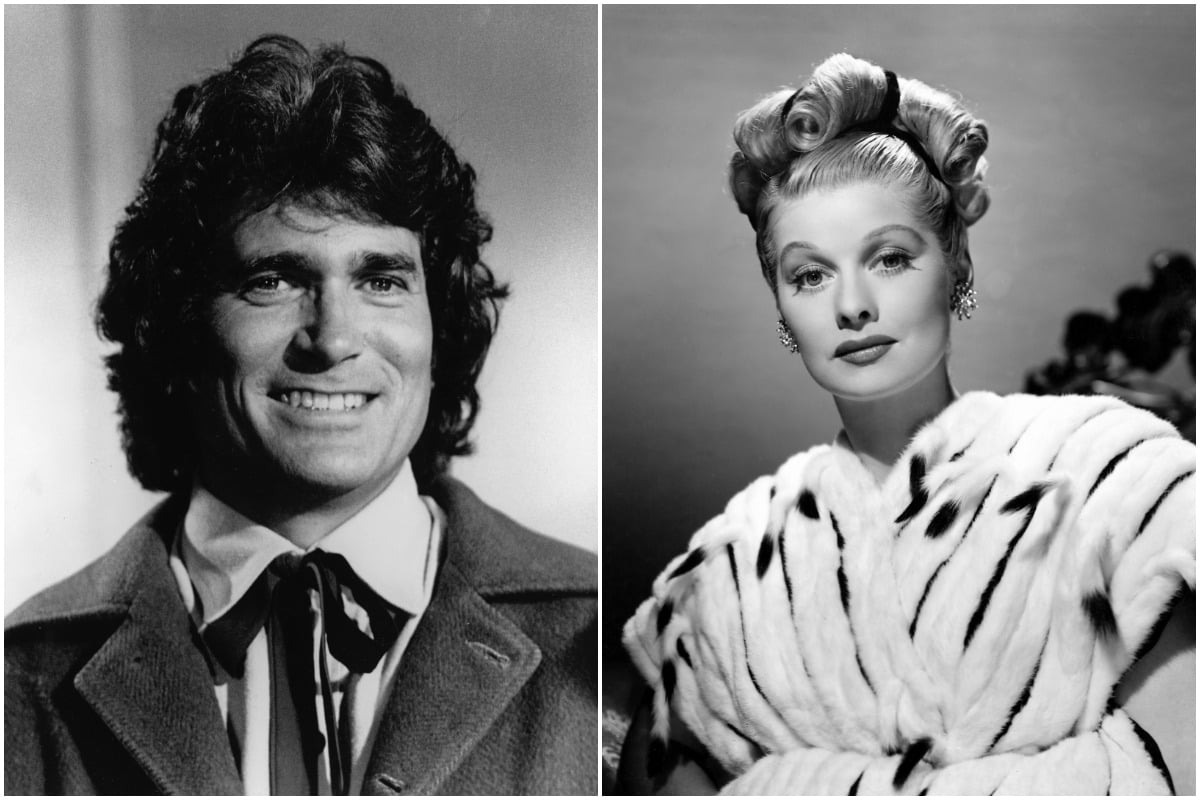 'Little House on the Prairie' star Michael Landon and Lucille Ball executive produced their hit shows
Both Landon and Ball worked diligently to earn respect in the television industry. When the father of nine moved to California in the 1940s, he had zero connections to Hollywood executives. However, he eventually landed a role in Bonanza. Throughout the show's 14 seasons, Landon played Little Joe Cartwright. Once the series ended in 1973, the actor searched for his next project. Soon, NBC made Landon an executive producer and star of Little House on the Prairie.
RELATED: 'Little House on the Prairie': How Much Older Was Michael Landon Than Cindy Landon When They Had An Affair?
According to Little House producer Kent McCray, NBC wanted to keep the Highway to Heaven star under their wing when they offered him control of the series. In the 1960s, Ball had a similar experience with CBS. After her appearance in the CBS radio comedy, My Favorite Husband, the network offered the Wildcat star a show. They also gave Ball executive producer credit. After careful consideration, she agreed to take the lead role in a television comedy for the network. However, CBS had to hire her husband, Desi Arnaz, as her on-screen husband, per Biography. 
The 'I Love Lucy' star had more 'TV Guide' covers than Landon
Throughout their careers, Landon and Ball soared as character actors. After spending 14 years as the lovable, younger Cartwright brother, the actor pivoted into playing a TV dad. During Little House on the Prairie's nine seasons on the air, Landon's character was the voice of reason among his wife and three daughters.
RELATED: 'Little House on the Prairie': Melissa Gilbert Said the Cast Didn't Have Any 'Mugshots' Because They Were Afraid of Michael Landon
Likewise, Ball's role as the loveable, quirky Lucy kept her fans guessing about her real life. In addition to working behind the scenes on I Love Lucy, the actor performed alongside her husband each week, which caused tension. However, she made historic strides while filming the series, including becoming the first woman to head a TV production company: Desilu. 
During their reign, both Ball and Landon frequently graced the cover of TV Guide magazine. The magazine highlights popular TV shows and their stars. According to the Hollywood Walk of Fame, Landon had 22 cover stories for the outlet when he died in July 1991. He came second only to Ball. She first appeared on the outlet's cover with her son, Desi Arnaz Jr, per Everything Lucy.
Michael Landon and Lucille Ball: Who has the higher net worth?
Ball died on April 26, 1989. According to the Los Angeles Times, the actor died of a ruptured abdominal aorta. She was 77. At the time of her death, Ball had a net worth of $60 million. The earnings reportedly came from the actor selling her production company $17 million in 1967. Additionally, Ball worked throughout the 1970s and 1980s on projects including Lucy Gets Lucky, Life With Lucy, and Three for Two. 

RELATED: 'Little House on the Prairie': How Michael Landon's Warehouse Job Launched His Acting Career
Two years after the I Love Lucy star's death, Landon died of pancreatic cancer. He left behind over two decades at NBC. Also, the actor acquired several real estate properties in Malibu. When he died, Landon reportedly had a net worth of $40 million, per Celebrity Net Worth.