Inside Meghan Markle's Insane Handbag Collection
When Prince Harry and Meghan Markle went public with their relationship two years ago, Markle transitioned from a television actress on the USA drama Suits to a future royal and an international style icon pretty much overnight. At this point, nearly every piece of clothing and accessory she wears instantly sells out, and one of the most-coveted trends Markle steps out with are her designer handbags.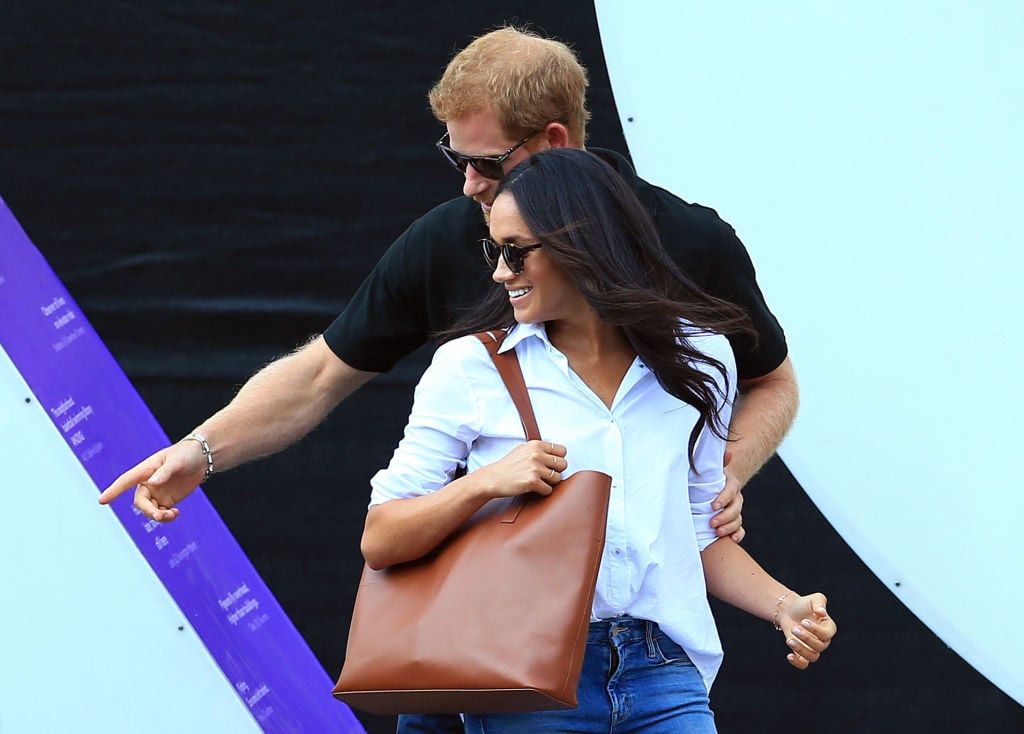 Even though she wasn't officially the Duchess of Sussex at the time, Markle's first official public appearance with Prince Harry was at the 2017 Invictus Games in Toronto. Photos of the couple together at the event were absolutely everywhere, and the actress wore a simple yet chic outfit that featured a tan Everlane Cognac tote. The bag is Italian leather and retails for about $150.
Meghan Markle's handbags range from affordable to pricey
As a global trendsetter, fans are always paying close attention to the bags that Markle wears to her various public appearances, and many hope they will be able to afford one of the styles she carries.
On the pricey side, Markle has carried a $2,000 Gabriela Hearst Nina bag, which featured a unique sculptural shape, suede lining, and satin. Even though it was expensive, it still sold out and is no longer available.
One of the most affordable bags fans couldn't get enough of was the structured black tote from Cuyana that retails for about $195. The Duchess of Sussex carried this bag to Wimbledon this summer, and she added a monogrammed "M" to the tote. Another was the $200 Zip Top Cross-body Oroton that she brought to the Commonwealth Youth Forum, which is a style that has caused some controversy.
Breaking royal tradition
Not long after Prince Harry and Meghan Markle announced their engagement in November 2017, the couple traveled to Edinburgh, Scotland for a royal appearance at the Edinburgh Castle, and Markle wore a Burberry coat with a Strathberry purse that she wore in a cross-body style.
At the time, royal family expert William Hanson told The Daily Mail that wearing a purse this way broke royal family tradition. Instead, females are supposed to carry clutches, like Kate Middleton.
"It is protocol that you do not extend your hand to any member of the royal family (blood royal or those who have married into the family) unless their hand extends first," explained Hanson. "The Duchess of Cambridge may well prefer not to shake hands with certain people—but there are other ways to achieve this, as used by the Queen and other members of the royal family, [rather] than opting for a clutch over a bag with a strap."
Meghan Markle prefers socially conscious brands
Styles and trends are definitely important to the Duchess when she is picking out a handbag, but one of the deciding factors when choosing a brand is the designer's attitude towards the environment.
Markle reportedly carried the Cuyana to Wimbledon so she could show off a brand that employs ethical and sustainable practices. Cuyana's motto is "fewer, better things," and they manufacture high-end bags by using low-impact materials and processes.
Not only has Markle carried Cuyana bags to at least three different public appearances, but she also gave guests at her baby shower a structured Cuyana tote as a gift.
Other brands Markle has worn over the past couple of years include Gucci, Victoria Beckham, DeMellier, Mulberry, and Charlotte Elizabeth.
There were also hints of Meghan Markle's handbag style before she went public with Prince Harry. In 2015, she attended a Vogue event with a Charlotte Olympia box clutch. And in 2016, she stepped out with a Celine bag and a classic Roger Vivier black tote.