Inside Michelle and Barack Obama's D.C. Mansion and Vacation Compound
After living at the most famous address in the U.S. one may wonder just what your next home will look like. Well, for Michelle and Barack Obama it's not exactly a downgrade.
The former president and first lady spent eight years at 1600 Pennsylvania Ave. but when they left the White House they didn't move too far. In 2016, the couple decided to stay in the area so their youngest daughter, Sasha, could finish school there. The home they moved into is absolutely stunning and so is their vacation home in Massachusetts.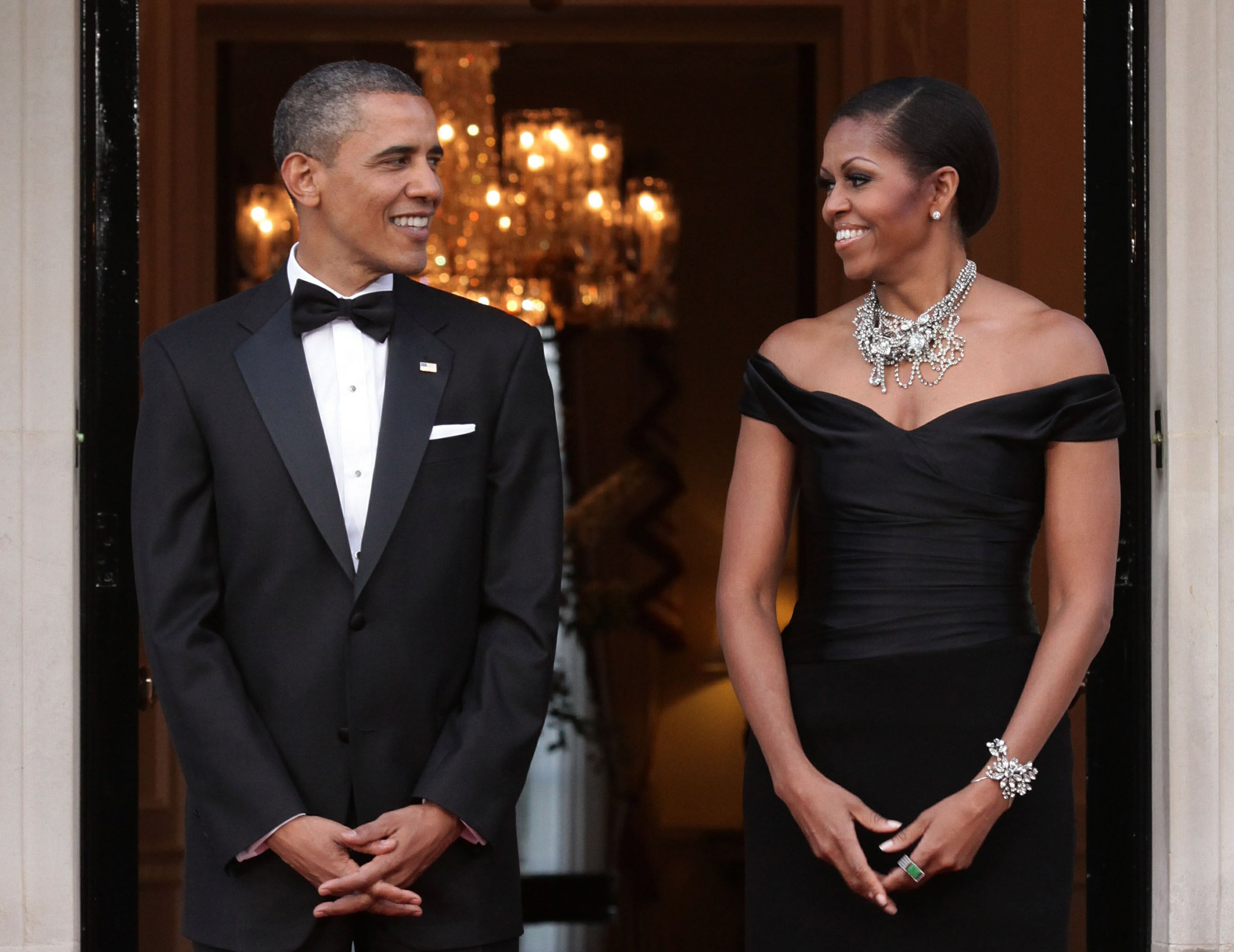 Read on to get a glimpse inside the Obamas' two lavish residences.
The Obamas' D.C. mansion
Hello! Magazine noted that the pair purchased a Tudor-style mansion in the affluent Kalorama neighborhood of Washington D.C. for $8.1 million.
The property is more than 8,000 square feet and boasts nine bedrooms, eight and a half bathrooms, gardens, terraces, and an au pair suite downstairs. It was built in the 1920s and renovated with marble trimmings and modern touches.
In 2018, Mrs. Obama told Ellen DeGeneres: "We were in the White House for eight years, but it wasn't the house, it was us in it. It was our value and our love for each other. We just moved that to another house."
RELATED: George Clooney Joked About His 'Racy' Texts to Barack Obama
Michelle also spoke to the talk show host about how Sasha has her own suite with a separate living area.
"Sasha actually killed in this house," Michelle said. "She has a two-room suite, it's all decked out. She has like a living room area and a bedroom."
The former FLOTUS explained that Sasha even designed it all herself. And what about the space her husband got for his office?
"He's got the smallest room for his office so he's really hating on her," Michelle joked.
Their Martha's Vineyard vacation home
The Obamas also purchased a breathtaking vacation property in Martha's Vineyard. According to TMZ, they bought the beachfront estate, which was formerly owned by Celtics owner Wyc Grousbeck, for $11.75 million in 2019.
The home spans 6,892 square feet with seven bedrooms and sits on 29 acres. The living room has vaulted ceilings, exposed steel beams, and a stone fireplace. There's is also a formal dining area surrounded by floor-to-ceiling windows. Their kitchen features all-white cabinetry and countertops, a stainless-steel topped island, and a breakfast area. There are also two separate guest wings.
There is another fireplace in the master suite, a marble-covered bathroom, and a private sun deck. The compound comes complete with sea views and has a pool and spa. There's also an outdoor fireplace and a boathouse.
Martha's Vineyard had long been a favorite vacation spot for the Obamas even back when they were still at the White House so it makes sense that they would purchase their own pad there.
RELATED: Michelle Obama Dreamed of Living in a House With Stairs — Why Her Father Said No